1965 Corvette Wins 2013 OPTIMA Ultimate Street Car Title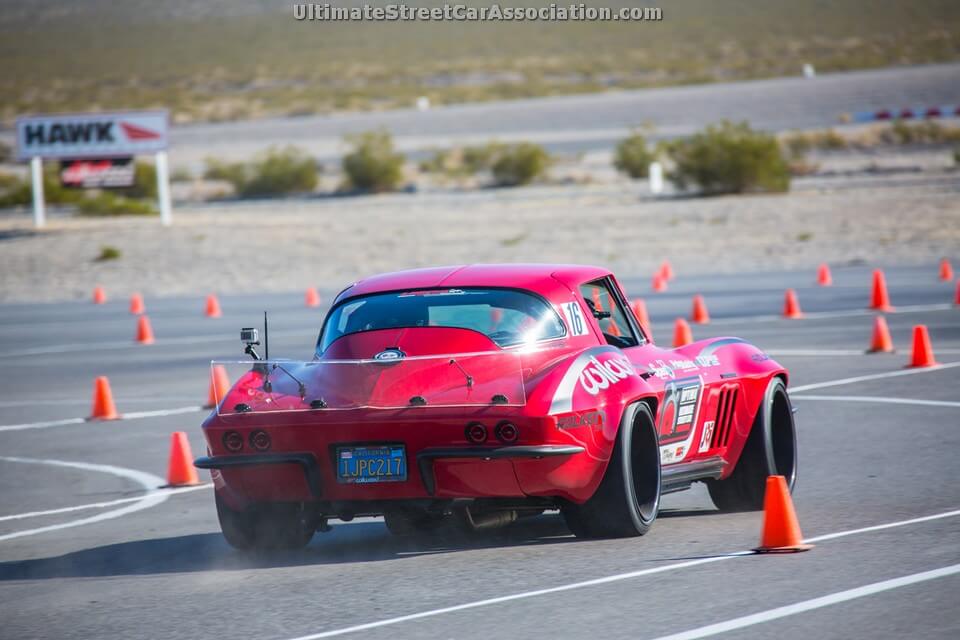 Ultimate Streetcar
Sponsor

OPTIMA Batteries

Location

Pahrump, NV
The Sixth Annual OPTIMA Ultimate Street Car Invitational, presented by Royal Purple Synthetic Oil and K&N Filters, successfully hosted a full field of 58 participants driving the world's best street vehicles, in front of the largest spectator crowd the event has ever seen. A day full of amazing vehicle performances, impressive lap times and surprising finishes made for the most memorable display of competition in OPTIMA Invitational franchise history. Ultimately, Brian Hobaugh was crowned the overall winner, driving his 1965 Corvette to top finishes in the Ridetech Street Challenge Autocross as well as the Wilwood Disc Brakes Speed Stop Challenge. The competition was very close, with defending champion, Mark Stielow driving a 1967 Camaro and former OUSCI Champion, Danny Popp piloting his 2010 Camaro, built by Lingenfelter Performance Engineering.
The 2013 OPTIMA Ultimate Street Car Invitational top 10 overall finishers are listed below. Add the OPTIMA Network on Amazon Fire TV for free, to see all the past TV coverage of this event.
Top Ten Overall Finishers
Brian Hobaugh, 1965 Corvette
Mark Stielow, 1967 Camaro
Danny Popp, 2010 Camaro
Brian Finch, 1971 Camaro
Karl Dunn, 1968 Camaro
Todd Earsley, 2003 Mitsubishi Evo
Steve Kepler, 2013 Nissan GT-R
Kyle Tucker, 2012 Camaro
Bret Voelkel, 1933 Ford Coupe
Larry Woo, 1968 Camaro
Tight Finish in the Top Three
Brian Hobaugh secured the win by a solid ten point margin over last year's champion and second place finisher Mark Stielow. Only one point separated second and third place with Danny Popp completing the top three.
"The drivers pushed their cars as hard as they possibly could, and their lap times show it. All the participants were fantastic, and all of the spectators at the Spring Mountain Motor Resort and Country Club were able to witness a truly exciting event," says Cam Douglass, Director of Marketing for OPTIMA Batteries. "It was a terrific example of how capable and entertaining street-legal cars of all makes can be. All three of the top finishers proved their cars are truly exceptional performers, delivering outstanding results in each of the various driving challenges."
Twin-Turbo Mercedes-Benz Sets the Pace
The BFGoodrich Hot Lap Challenge was once again incredibly popular with both drivers and spectators. The pace-setting lap of 1:50.8 was set by a 2014 Mercedes-Benz E63 AMG S-Model 4MATIC Wagon driven by 4-time SCCA World Challenge GT Champion Randy Pobst. The potent 577 horsepower twin-turbo Wagon also served as a camera car, following competitors as they made their laps and acquiring footage to be seen on an upcoming episode of the recently-announced OPTIMA Batteries Search for the Ultimate Street Car television series.
2013 OPTIMA Ultimate Street Car Invitational Event Sponsors
The OPTIMA Ultimate Street Car Invitational is presented by Royal Purple Synthetic Oil and K&N Filters. This year's event sponsors are BFGoodrich Tires, Detroit Speed and Engineering, Lingenfelter Performance Engineering, Ridetech and Wilwood Disc Brakes. And finally, associate sponsors include Magnaflow Performance Exhaust, The Roadster Shop, Centerforce Performance Clutch, MAC Tools and Jet-Hot Coatings