2010 OPTIMA Ultimate Street Car Invitational TV Coverage Announced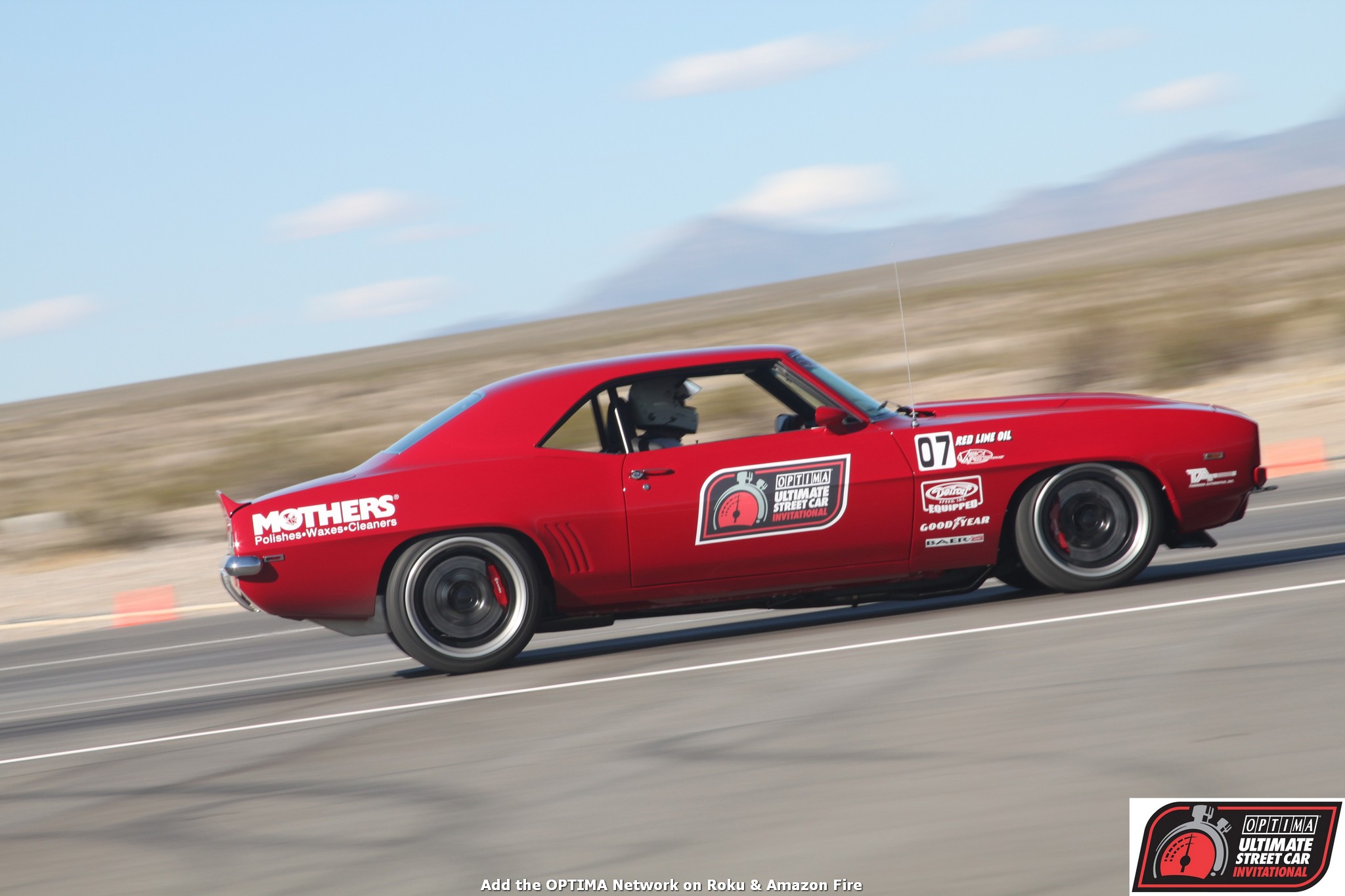 Ultimate Streetcar
Sponsor

OPTIMA Batteries

Location

Pahrump, NV
The 2010 OPTIMA Ultimate Street Car Invitational (OUSCI) will be held immediately following the close of the SEMA Show and take place in Pahrump, Nevada. it will once again be nationally-televised, premiering on SPEED on Friday, March 11, 2011 at 8PM ET. This one-hour, action-packed broadcast brings viewers an insider look into an event that takes a variety of industry-leading vehicles, from both import and domestic manufacturers, and puts them to the test through a series of performance and design events, in order to crown the 2010 OPTIMA Ultimate Street Car.
The 2010 OUSCI TV special will showcase some of the most high-profile and prestigious vehicles from the SEMA Show including the Raybestos 1932 Roadster Pick-up, the Ring Brothers' 1966 Mustang, Tom Ciancitto's 1937 Ford Pick-up, Kevin Kraack's 2009 Mercedes C63 AMG and Brian Finch's 1972 Camaro. Among many others is Mark Stielow's 1969 Camaro, which was selected as the Sony Gran Turismo Awards 'best in show' vehicle winner.
This year's show includes dramatic race footage shot from dozens of in-car, on-track and aerial high-definition cameras along with exclusive interviews with some of the biggest names in the performance automotive industry. The show, hosted by automotive enthusiast and larger-than-life personality Bill Goldberg and regular SPEED contributor and automotive racing reporter, Jamie Howe, will give viewers the feeling that they are there on the track, living in the moment with the participants as they tweak, drive and will their cars to peak performance in pursuit of the OPTIMA Ultimate Street Car title.
"This event is all about giving people a look at what these cars can really do when they are pulled off the show floor and put on the track to compete," said Cam Douglass Director of Marketing for OPTIMA Batteries. "Viewers of the 2010 OUSCI broadcast will get an exclusive look at the people, the parts and the passion that make up this performance automotive lifestyle and will hopefully inspire folks to chase their own dreams of creating their own ultimate street car."
The 2010 OUSCI TV Show is scheduled to be seen on SPEED in 2011 during the following times:
Friday, March 11, 2011 at 8 p.m. ET
Friday, March 11, 2011 at 11 p.m. ET
Saturday, March 12, 2011 at 11 a.m. ET
Saturday, Oct. 29, 2011 at 8 p.m. ET
Sunday, Dec. 4, 2011 at 8 p.m. ET
*Re-air dates and times are subject to change.
If you missed those airings and realized the SPEED channel is now gone, you can always add the OPTIMA Network on Roku and watch this show for free, on-demand.
The list of 2010 OUSCI sponsors includes: (Presenting) MagnaFlow; K&N Filters; (Segment) RideTech; BFGoodrich; Baer Brakes; Detroit Speed Engineering; Raybestos (Official) GoPro; Holley; Vintage Air; Red Line Oil; Centerforce Clutches; Pro-Touring.com; Lateral-G.net; Meguiar's; and Shelby American.