2011 OPTIMA Ultimate Street Car Invitational Preview- Gateway Classic Mustang's '69 Fastback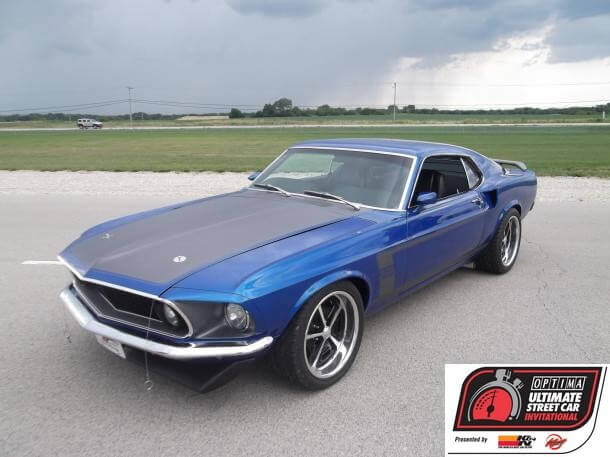 Cars
Sponsor

Location
Wilwood Brakes and KN Filters will be one of the easier ones for us to present. We're not going to try and sell you on the merits of this '69 Mustang Fastback, because Gateway Classic Mustang is going to do it for us.
This ponycar was built in conjunction with AutoTrader Classics Magazine and the Alliance of Auto Artisans and is currently being offered for sale on AutoTraderClassics.com website, with the proceeds of the sale going tobenefit the growth of The Alliance of Auto Artisans mentoring program and make a real impact on future classic car enthusiasts and builders. So with that, here is their description of what the new owner will get withthis '69 Mustang-
FORD RACING 2011 5.0 Coyote engine
DYNACORN INC. sheet metal, all weather striping, trim moldings, interior panels and trim and glass.
BF GOODRICH 275/35/18 front 335/30/18 rear KDW tires
BAER BRAKES T-4 4 piston calipers with Shelby logo and 13-inch drilled and slotted Rotors.
KEISLER RS500five-speed manual transmission with hydraulic clutch kit.
AMERICAN AUTO WIRE Classic Update wiring harness for 1969 Mustang
DYNATECH headers
VINTAGE AIR HVAC
THE 9" FACTORY (JOHNS INDUSTRIES) axle housing, 31 spline axle shaftsnine-inch rear end, 3.50 gears with Tru-Trac limited slip
DUPONT AUTOMOTIVE COATINGS Hot Hues, Blue By You, custom semi flat gray
CURTIS SPEED wheels 18x9 front, 18x12 rear
DYNAMAT IDIDIT steering column
PERFORMANCE ROD CUSTOM radiator with electric fans
QUICK TIME bellhousing
MAGNAFLOW exhaust
GATEWAY PERFORMANCE SUSPENSION street performer strut kit, three-link rear suspension and power rack and pinion.
TANKS INC. in tank fuel pump conversion kit
OPTIMA BATTRIES (of course)
RING BROTHERS outside door handles
DUPLI-COLOR spray paints, pre paint cleaners and guide coat
ACCEL fuel regulator
TMI INDUSTRIES sport seat kit with custom color-matched strip, head liner, sail panels, sunvisors and custom door panel inserts
HAYS CLUTCHES clutch and pressure plate
SCOTT DRAKE reproduction Mustang parts
PHENIX FITTINGS AN fuel and power steering line fittings and hose
If you want to see even more on this car, check out the episode Hot Rod TV filmed on it's creation.
Now that we've shown you the car, we know some of you are thinking, "yeah, it has all the suspension and braking upgrades it needs to be a contender, but is the 5.0 Coyote motor enough?" While that is certainly a valid question, power is only one component to the OUSCI andJason Childress, co-owner of Gateway Classic Mustang, has something many other competitors do not- experience in this event.
Childress is a regular competitor in the OUSCI, he knows the format, knows the track and knows what it takes to be competitive. Participants with knowledge and experience in this event know "tweakers" or those who have had their car finished for a while and are merely "tweaking" and fine-tuning it, tend to perform better than "thrashers," whose cars typically come together in the hours leading up to SEMA.
Childress debuted this Mustang at the Goodguys show in Joliet about five weeks ago and has already spent considerable time on the track, getting things dialed in, finding any shortcoming and addressing them. We think he and the car will be just fine two weeks from today. After that, the car can be all yours. If you'd like to personally inspect this car at the 2011, prior to purchasing it, buy your ticket today!