2011 OPTIMA Ultimate Street Car Invitational Preview- Marty Sokulski's '68 Charger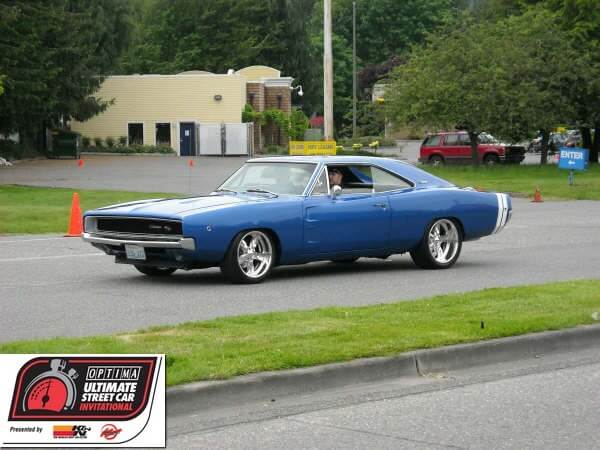 Ultimate Streetcar
Sponsor

OPTIMA Batteries

Location

Pahrump, NV
Marty Sokulski may not have the name recognition that some of our other competitors enjoy, but he is known throughout Moparland, particularly for the "Mr. Angry" Charger, that he sold to Mike Musto. In fact, it was Musto who alerted us to Marty and his '68 Dodge Charger, which is the focus of today's preview for the 2011 OPTIMA Ultimate Street Car Invitational (OUSCI), presented by Wilwood Brakes and K&N Filters.
Marty always builds his cars to be driven anywhere, anytime, which he suggests isn't the case for some of the other OUSCI cars. We love a little pre-event smack talk! Sokulski's Mopar comes to the table with a 440 block, bored .060 over, which produces 525 horsepower and 580 lb.-ft. of torque. The internals feature a steel crank, a Lunati Voodoo cam, h-beam rods, ported Stealth alumnimum heads, Crane roller rockers and 11:1 racing pistons that have no problem with pump gas.
Other upgrades include the following:
Eddy RPM intake manifold
FAST EZ-EFI throttle body injection system
Full electronic return fuel system
Weldon A-600-A fuel pump
Coated Hedmen headers
Full three-inch exhaust with x-pipe
Dynomax mufflers and resonators
Crane ignition
Mallory distributor
Firecore wires
Pat Blais 727 TF tranny
Gear Vendor overdrive unit
2500 Stall converter
3.23 Sure Grip rear end
Tallon Hydraboost brake system
Custom Gen II Viper four-wheel disc brakes
Cross-drilled rotors 12" in the front, 11" in the rear
Firm Feel tubular upper control arms
Hotchkis front sway bar, Firm Feel rear sway bar
Edelbrock IAS shocks
Hotchkis rear springs and hangers
Hotchkis frame connectors
Firm Feel 1.12" torsion bars
Heavy-duty, oversized tie rods
Firm Feel stage 3 steering box
Quick ratio steering arms
Custom Budnik wheels, 18x9 Front 19x10 rear
BF Goodrich KDW-2 tires
Sparco seats and 6-point belts
Custom-built harness bar seat bracket system
Custom-built all-metal center console
Auto Meter gauges
Although he doesn't have any racing experience at Spring Mountain Motorsports Ranch, Marty told us he has quite a bit of experience in heavy cars, banging doors and turning left. We'll be sure he gets plenty of room to operate . Marty would like to thank Speedware Motorsports in Redmond, Washington, Firm Feel and Weldon Racing Pumps, who were all particularly helpful in helping him represent Mopar Nation in the OUSCI. If you'd like to see how he did, add the OPTIMA Network for free on Roku.