2011 OUSCI Preview - Bret Voelkel's '67 Camaro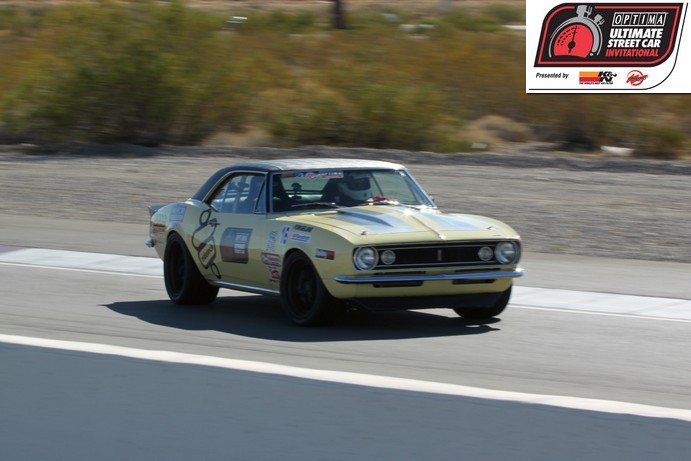 Ultimate Streetcar
Sponsor

Location
Today's look at the field for the 2011 OPTIMA Ultimate Street Car Invitational, presented by KN Filters Wilwood Brakes, brings us Bret Voelkel's 1967 Chevrolet Camaro. Voelkel's Camaro started out as a relatively-straight and clean '67 Camaro. There was nothing particularly remarkable about the car, which made it a perfect candidate for a very interesting build.
Bret Voelkel isn't just the Founder and President of RideTech, he is a diehard gearhead and his motivation for re-building this Camaro in 48 hours came from his desire to demonstrate how many bolt-on parts can be easily installed on these popular F-bodies, which can greatly enhance not only their appearance, but take the car light years ahead in terms of performance.
The list of parts on the Camaro came from many of the popular names within the automotive aftermarket, including an LS engine from Lingenfelter Performance Engineering, an overdrive unit from Gear Vendors, air conditioning from Vintage Air, wheels from Forgeline, brakes from Baer, tires from BF Goodrich, a rearend from Moser, an exhaust system from Cherry Bomb and of course, suspension components from RideTech.
The potential for this combination was great, but the task of putting it all together in 48 hours was daunting. Even more challenging was the fact that Voelkel planned to drive the car down to Nashville immediately following the build and run the car in the autocross competition at the Goodguys show. A website was created and the entire build was broadcast live over the Internet (thanks in part to power from some BLUETOP OPTIMA batteries).
The car came together much as everyone expected and it has been on a whirlwind tour of automotive events ever since it was completed. We saw it on the Hot Rod magazine Power Tour, at the Sandhills Open Road Challenge as well as Holley's LS Fest.
RideTech is sponsoring the autocross portion of the 2011 OPTIMA Ultimate Street Car Invitational, so there was a very good chance Bret's Camaro was going to be invited to Nevada. However, Voelkel wanted to earn his way into the competition. He thrashed the car at qualifying events all summer long, before finally getting his ticket punched at Holley's LS Fest. "Suprised" would be the best word to describe the look on Bret's face when his name was announced in Bowling Green and we're looking forward to seeing him in Nevada later this year.