2011 OUSCI Preview - Goldberg's '70 Trans Am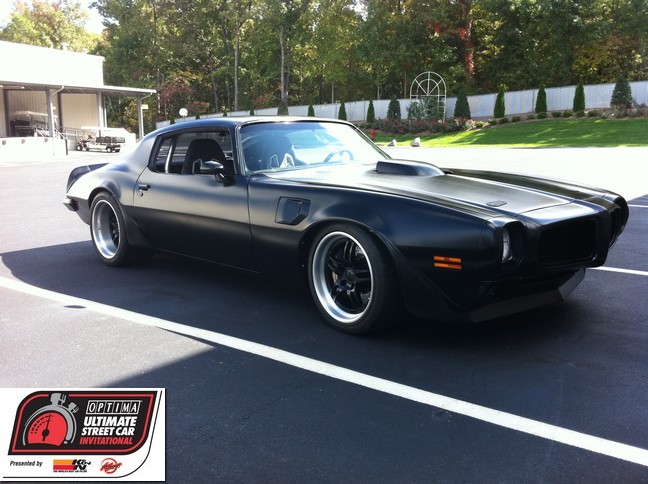 Ultimate Streetcar
Sponsor

Location
So last year, the OPTIMA crew had this crazy idea. They knew Bill Goldberg was a hardcore gearhead. What were the chances he'd be interested in coming out and doing some TV work on the 2010 OPTIMA Ultimate Street Car Invitational? As it turned out, he wasn't just interested in covering the event, he wanted in! Hence we have today's preview for the 2011 OPTIMA Ultimate Street Car Invitational, presented by KN Filters and Wilwood Brakes. This is Goldberg's 1970 Pontiac Trans Am, also known as "ERNREE."
Goldberg knew if he was going to go for this event, he should go big. He did just that, bringing in Demented Customs to handle the build and heading straight to NASCAR legends, Papa Hendrick, Ray Evernham, Steve Crisp, who put together a killer LS7 (custom dry sump, of course), backed by a Tremec T56.
Goldberg saw what happened at last year's event with Stielow's winning Camaro and knew how well Detroit Speed's products worked on other early F-bodies, so he called on Kyle Stacy Tucker to produce a complete hydra-formed subframe, tubular control arms, coilovers, rear quadra-link, frame connectors, headers, a transmission cross brace, bay bars and even a wiper motor. From that point forward, parts flowed in from all the top names in the business and Demented Customs went to work putting it all together, along with some special assistance from Ron Mangus (wrapping the dash) and Duane Mayer and the boys at American Hot Rods, who were happy to throw a life preserver Goldberg's way, when the build waters got rough.
In addition to the work already mentioned, Goldberg was nice enough to share his parts list with us, which we'll let you take a peak at-
CenterForce-Dyad DS multi-disc clutch
RideTech's TigerCage, fender braces and other miscelleaneous goods
BF Goodrich 275/35/18 front, 335/30/18's rear
Carbon Customs/Anvil- nose, fenders, hood, valance, rear deck lid, spoilers
Sparco R700P seats, steering wheel harnesses
Tilton 900 series pedal assembly
Ring Brothers hood hinges, hood stops, and miscellaneous hardware
Baer Brakes 6R competition race calipers, Tracker floating rear axle system
Strange Engineering-Pro iron case, Strange aluminum Daytona style support, axle shafts, 35 series Strange Trac, S series 1350 series yoke
Autometer 6001 Street Dash Display with Stack ST8320 DVL
Custom Autosound's hidden radio
Tons of parts from the Year One catalog
Replacement glass from AutoCity Classic
2Go Keyless push button start system
Fuel tank from Rock Valley
Vaporworx-fuel system
Ididit tilt steering column
VintageAir air conditioning
American Autowire custom wiring harness
HurstDriveline sidewinder shifter, driveshaft, throwout bearing
Flowmaster/Warner Mufflers custom three-inch exhaust
OPTIMA Batteries providing the juice
Forgeline-DS3 wheels (18x10 front, 18x12 rear)
Dynamat sound insulation
QuickTime bellhousing
BeCool radiator
and tons of hoses, fittings and other doodads from the JEGS catalog
Perhaps the biggest surprise in this build is that as soon as the car is completed, Bill is handing the reigns to his wife, Wanda, who will drive the TA in the 2011 OUSCI. The car certainly has all the right ingredients, but can Wanda handle the challenge? We think if she can handle Bill, she'll have no trouble handling just about any car out there. If you'd like to see her take on some of the world's toughest street cars, don't wait until the last minute to get what could end up being one of the toughest tickets in a city known for tough tickets. Order your tickets today!