2011 OUSCI Preview - Terry Neuville's '68 Camaro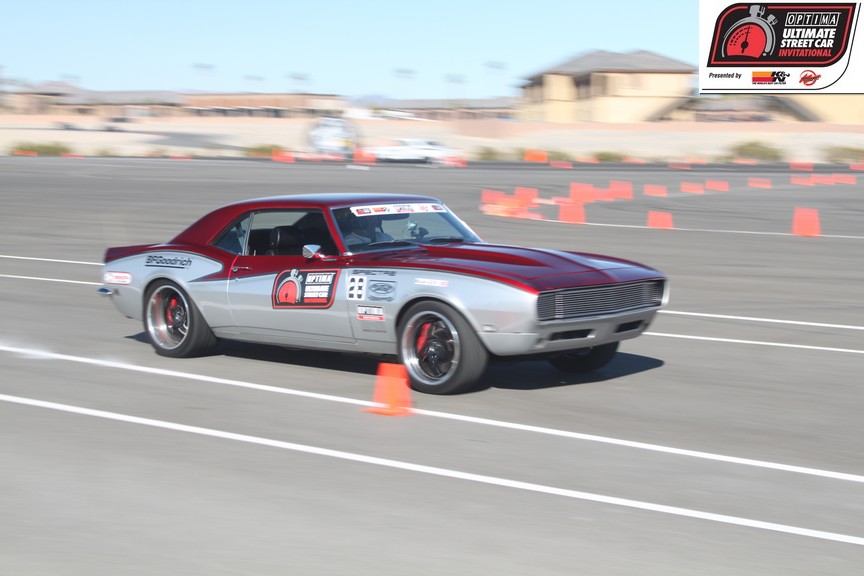 Ultimate Streetcar
Sponsor

OPTIMA Batteries

Location

Las Vegas, NV
There aren't many cars entered in the 2011 OPTIMA Ultimate Street Car Invitational, presented by Wilwood Brakes and KN Filters, that have spent more time on the street in the last two years, than Terry Neuville's '68 Camaro. This F-body has always been a driver for Terry, since he paid $400 for it back in 1980, when it had 125,000 miles on the odometer and four different hues of paint showing.
Terry drove the Camaro as his primary car for the next ten years, before finally deciding to re-paint it and turn it into more of a weekend fun car. For the next 18 years, the Camaro saw plenty of action on the dragstrip, as well as five long hauls on the Hot Rod magazine Power Tour.
As the Pro-Touring movement began to gain momentum, Terry decided to once again re-build his ride, this time taking 18 months, including a six-month stint in paint jail, but he did it all in his two-car garage in rural Louisiana. Terry's first foray in autocrossing came just a month after finishing the car, when he took it to the Run Thru the Hills event in 2009.
Neuville was hooked from that point forward and in 2010, he took to a road course for the first time at the Midwest Musclecar Challenge and later that year, he notched a top-10 finish at Run Thru the Hills. In 2011, Terry ratcheted up his competitive efforts, finishing third in the first Dallas Goodguys autocross and runner-up to the One Lap Camaro in the second.
He also picked up a sixth-place finish at the Run to Music City and a fifth-place finish at Holley's LS Fest. It was this year's Run Thru the Hills event, where Terry was the top-finishing, non-qualifier in a field of more than 70 cars, earning him an invite to Pahrump.
So we've talked about how Terry punched his ticket for Nevada, but what do we know about his Camaro? It weighs in at just over 3,600 pounds and is powered by a 6.0 LQ4 (a Gen III LS engine, originally offered in GM trucks). Terry has made several upgrades to both the engine and his Camaro and sent us the following list:
OPTIMA Red Top Battery (he put it at the top of the list, not us)
KN air filter
L92 heads with an LS3 intake
Futral F13 camshaft, tuned by Futral Motorsports
AutoKraft oil pan
Speartech engine wiring harness
Gearstar 4L65E with a 3,000 RPM Yank stall converter
Hooker coated headers, running into a Magnaflow 2.5 exhaust with an x-pipe
12-bolt rear end with 3.73 gears from Detroit Speed
Detroit Speed Quadralink w/coilovers
Detroit Speed subframe connectors
Global West upper and lower front control arms
QA1 front coilovers
Hotchkis front sway bar
Baer 6P 14-inch cross-drilled and slotted rotors on all four corners
SSBC master cylinder
Forgeline SP3P 18-inch wheels
BF Goodrich KDW tires- 245/40/18 front 335/30/18 rear
American Autowire Classic update wiring harness
Detroit Speed electric RS headlight kit
Detroit Speed Selecta wiper kit
Detroit Speed 600 steering gear
Detroit Speed deep rear tubs
Detroit Speed core support closeout cover
BeCool radiator
Rock Valley stainless gas tank and pump
Vintage Air GEN IV air conditioning
JVC double din radio with DVD, GPS navigation, reverse camera and 10-inch subwoofer with an Alpine amp
Cruise control
Gentex rearview mirror with auto dimming, temp display and three button garage door remote
Ididit tilt steering
Dynamat
Power windows and door locks
Marquez door panels
Car alarm with remote start
HID head lights
Kesler Billet taillights, hood trunk hinges
Autometer Ultra Light gauges
In case you were wondering, his paint is House of Kolor Kandy Apple Red over Silver with ghost stripes. The question is, with 410 horsepower at the wheels, is Terry bringing enough power to be competitive? Magazine editors will tell you there is often an inverse relationship between horsepower and reliability and Terry's car has added more than 20,000 miles on the odometer, since completion. If we had to bet money on who would be running at the end of the day, we'd feel safe betting on Terry.
Neuville has also demonstrated a steep learning curve at previous events and he is familiar with the OUSCI format. The importance of that familiarity cannot be emphasized enough in this event, especially in the Wilwood Disc Brakes Speed Stop Challenge.
A look at last year's results will show three cars in the top-1o, who finished outside the top-20 in the Speed Stop Challenge and failed to score any points in that category. Two of those cars were late-model vehicle, equipped with ABS.
Judging by their times, those cars spent either their first pass or their first two passes learning where to stop and how to make a clean pass. The third car was Brian Finch's Camaro and after laying down a seven-second pass in his first run, he followed it up with a pair of 12-second passes, suggesting all was not well with his car.
A top-20 finish in the Speed Stop would've likely moved any of those three cars into a top-5 finish overall. Will the Wilwood Brakes Speed Stop Challenge be the difference-maker again this year and allow a guy like Terry Neuville to make his way into a top-5 finish through a combination reliability and experience? Come to Pahrump and see for yourself. Tickets are still available.