2012 OPTIMA Ultimate Street Car Invitational Captivates Sold Out Crowd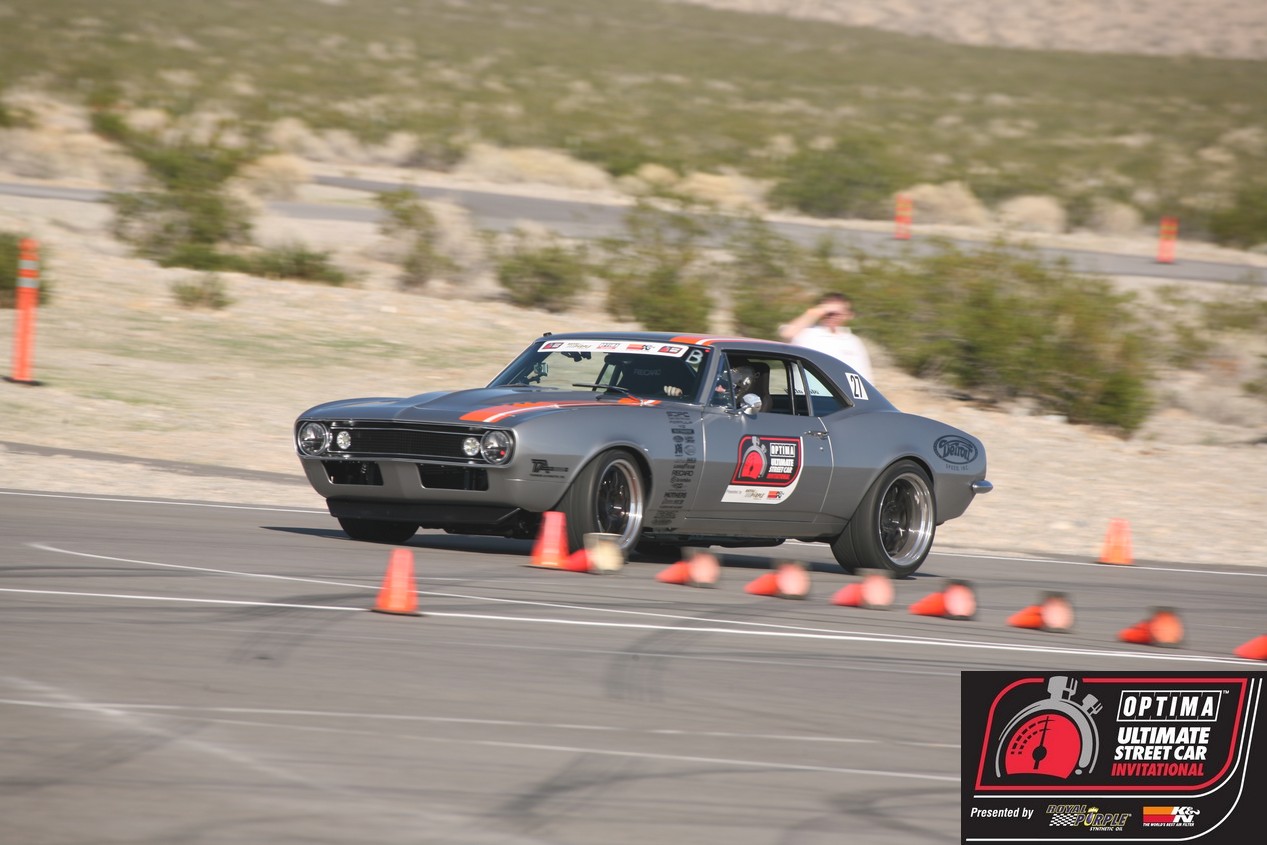 Ultimate Streetcar
Sponsor

OPTIMA Batteries

Location

Pahrump, NV
The fifth annual OPTIMA Ultimate Street Car Invitational, presented by K&N Filters and Royal Purple, brought in massive crowds with a sold out event, more thrilling moments and record times, ultimately crowning Mark Stielow and his 1967 Chevrolet Camaro as the 2012 OPTIMA Ultimate Street Car. It was a year for close competition with the top two participants separated by a single point and a tie for third place overall. Additionally, there was a more diverse showing of vehicles this year with nearly 20 percent of the field falling under the import category.
The OPTIMA Invitational packed the grandstands with non-stop activity, something for everyone in the manufacturer midway, on-the-ground excitement of television personalities (Amanda Salas and Bill Goldberg) filming the miniseries finale of the OPTIMA Ultimate Street Car Invitational broadcast series, which you can watch for free on the OPTIMA Network on Roku.
The main events of the OPTIMA Ultimate Street Car Invitational took place Saturday, November 3rd, with the BFGoodrich Hot Lap Challenge, Ridetech Autocross Challenge, Wilwood Disc Brakes Speed Stop Challenge, and the Lingenfelter Performance Design & Engineering Challenge. The Detroit Speed and Engineering/JRI Shocks Road Rally occurred following the close of the SEMA Show Friday, November 2nd.
Final Results
The 2012 OPTIMA Invitational top 25 ranking participants are listed below
1. Mark Stielow (1967 Chevrolet Camaro)
2. Brian Hobaugh (1973 Chevrolet Camaro)
3. Todd Earsley* (2003 Mitsubishi Evo)
3. Bret Voelkel* (1933 Ford Coupe)
5. Travis Hill (2013 Nissan GT-R)
6. Steven Rupp (1968 Chevrolet Camaro)
7. Danny Popp (2010 Chevrolet Camaro)
7. Kyle Tucker (1970 Chevrolet Camaro)
7. Karl Dunn (2007 Ford Mustang)
10. Brian Finch (1972 Chevrolet Camaro)
10. Jim Holloway (2013 Ford Mustang)
12. Phil Gerber (1970 Chevrolet C10)
12. Ryan Mathews (1966 Ford Mustang)
14. Bob Bertelsen (1971 Chevrolet Camaro)
15. Rob McGregor (1970 Chevrolet C10)
16. Chris Smith (1967 Chevrolet C10)
17. Joey Seely (1986 Porsche Carrera)
18. Dale Akuszewski (1964 Sunbeam Tiger)
18. Jeff Cleary (1967 Chevrolet Corvette)
20. David Brandt (1969 Chevrolet Camaro)
20. Todd Foust (1965 Ford Mustang)
22. Todd Rumpke (2010 Chevrolet Camaro)
23. Curt Hill (1972 Chevrolet Blazer)
24. Brad Coomer (1970 Chevrolet C10)
25. Stacy Tucker (1969 Chevrolet Camaro)
*Third place was a tie; Per the rules, Todd Earsley earned the official third place because of his placement in the BFGoodrich Hot Lap Challenge
The Strength of Stielow
With only a point to spare, Mark Stielow, known to some as the 'Godfather of the Pro-Touring movement,' claimed his second OPTIMA Ultimate Street Car Invitational title in four attempts. Stielow scored a total of 83 points, out of a total 110 possible across all events, beating second-place finisher, Brian Hobaugh.
Both Stielow and Hobaugh picked up 10 points each in the Detroit Speed Engineering/JRI Shocks Road Rally. Stielow saw a 16-12 advantage in the Lingenfelter Performance Design Challenge and a 25-22 edge in the RideTech Autocross. Hobaugh topped Stielow 25-22 in the BFGoodrich Hot Lap Challenge and 13-10 in the Wilwood Disc Brakes Speed Stop Challenge.
"For a car I just got running four weeks ago, I felt we did better than I dreamed of in the OPTIMA Invitational. I give a lot of the credit to my partners on assembling the car, and a cast of friends that really helped out when the timing was tight. The thing that pushed this car over the top to win was its styling and the street usability of the car," said Stielow. Finally, Stielow acknowledged how much the event has evolved saying, "This event is an incredibly fun yet competitive experience, and the versatility and performance of the vehicles are better than ever."
Mark started auto crossing at the age of 18 in a 1966 MGB, which he purchased for $300. Now Mark, who has built seven magazine quality cars, has been featured in high profile publications such as Car and Driver and Hot Rod and has authored Pro Touring Engineered Performance.
OPTIMA Invitational Automotive Celebrity Integrations
New this year, OPTIMA Batteries welcomed a number of well-known automotive celebrity racers to run in the event exhibition class including NASCAR racer Dylan Kwasniewski, Freightliner racer Mike Ryan and Erik Buell Racing rider Geoff May.
Up-and-coming NASCAR favorite Dylan Kwasniewski set the tone for the day with a pace lap of 1 minute 38 seconds on the OPTIMA Invitational road course, with the next best participant coming in at 1 minute 46 seconds. At 17 years old, Kwasniewski has already been named NASCAR's Next 9, an elite list of top NASCAR prospects. For the past two years he has piloted the No. 03 Rockstar Energy/Royal Purple Ford for Gene Price Motorsports in the NASCAR K&N Pro Series West.
A favorite with spectators was professional race driver and Hollywood stuntman Mike Ryan driving a Freightliner on the road course as part of an exhibition round.
Another first in OPTIMA Invitational history was a battle of two-wheel vs. four-wheel. The exhibition match-up featured Mark Stielow's high-performing 1969 Chevrolet Camaro and a 2013 1190RS Erik Buell Racing (EBR) motorcycle, which was street-prepped and driven by Geoff May. Stielow beat May by one split second, and the thrill of the competition got the crowd to their feet with excitement.
Charitable Elements
Many of the OPTIMA Invitational participants teamed up for a never-been-done-before, heart warming charitable effort. Beginning at the SEMA Show Pro-Touring dinner, Rob McGregor initiated the movement by committing a designated dollar amount to the Wounded Warrior Project for every participant he placed ahead of in the OPTIMA Invitational. The group learned that the cause is near and dear to McGregor's heart as his nephew is currently serving in Afghanistan. Several other participants followed and together OPTIMA Invitational participants raised more than $20,000 for the Wounded Warrior Project over the weekend.
Additionally, OPTIMA Batteries and the Golden State Foods Foundation wrapped up their final OPTIMA Build-A-Bike event of the year at the famed Shelby Museum, a stop on the Detroit Speed and Engineering/JRI Shocks Road Rally. The OPTIMA Invitational participants cheered along as volunteers assembled bicycles along with 50 children from the local Boys Girls Club chapter.
OPTIMA Invitational Sponsors
Sponsors of the 2012 OPTIMA Ultimate Street Car Invitational include presenting sponsors K&N Filters and Royal Purple; race event sponsors BFGoodrich, Ridetech, Wilwood Disc Brakes, Lingenfelter Performance Engineering and Detroit Speed and Engineering/JRI Shocks. Additionally, The Roadster Shop, MagnaFlow, RECARO, Centerforce Clutches and Mothers are associate sponsors. Beyond sponsoring the event, all of the performance automotive aftermarket companies provided additional prizing for the top winners in each category and the overall winners, providing a rewarding and memorable experience for all participants involved. For more information on the OPTIMA Ultimate Street Car Invitational qualifying series, please visit www.DriveOPTIMA.com