2012 OPTIMA® Ultimate Street Car Invitational Final Participants Revealed at SEMA Show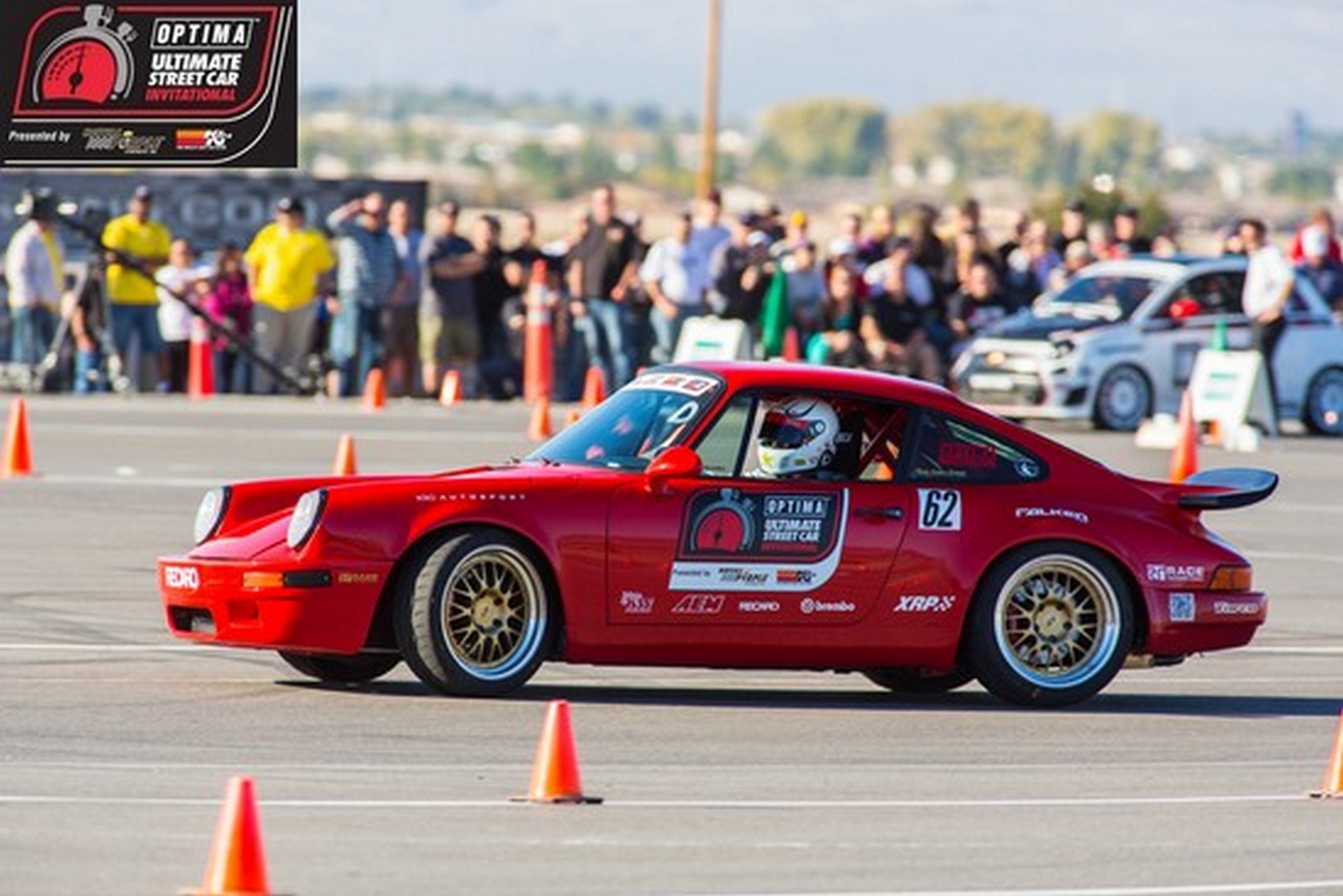 Ultimate Streetcar
Sponsor

OPTIMA Batteries

Location

Las Vegas, NV
Nov. 1, 2012 (GLENDALE) – OPTIMA® Batteries, the global leader in high-performance automotive and marine batteries, announced the final participating vehicles for the fifth annual OPTIMA Ultimate Street Car Invitational today to a packed press conference crowd of performance automotive media and enthusiasts at the 2012 SEMA Show. This year's elite group of feature vehicles, chosen directly from the show floor by a committee of OPTIMA and industry representatives, account for the remaining ten invitations and represent the best of what can be seen at the show:
1986 Porsche Carrera (Joey Seely)
2012 Cadillac CTS-V (Richard Caleel)
1967 Pontiac Firebird (Mike Ardito)
1970 Chevrolet C10 Pickup (Rob McGregor)
1940 Ford Coupe (Nick Licata)
1968 Chevrolet Camaro (Mike Atkins)
1965 Ford Mustang (Todd Foust)
2012 Fiat Abarth (Chris Frick)
2010 Ford Mustang Shelby GT500 (Dave Pulley)
2012 Audi RS5 (Fabryce Kutyba)

The OPTIMA Ultimate Street Car Invitational, presented by K&N Filters and Royal Purple, will feature vehicles that represent a wide variety of industry-leading muscle cars, pro-touring cars, hot rods and street trucks, from both import and domestic manufacturers. The participants range from newcomer enthusiasts to seasoned industry veterans.
"It was difficult to select a limited number of vehicles for this year's OPTIMA Invitational," said Cam Douglass, Director of Product Development and Marketing for OPTIMA Batteries. "There are so many extraordinary vehicles at SEMA and we are always impressed with the quality of unique vehicles that are at the show. However, we did have some standout selections that will be the perfect addition to competition."
OPTIMA Invitational Automotive Celebrity Integrations
New this year, OPTIMA is welcoming a number of well-known automotive celebrity racers to its event to run in the exhibition class including NASCAR racer Dylan Kwasniewski and race car driver Ian Baas.
As this is the fifth anniversary of the OPTIMA Invitational, and the competition, cars and drivers have continued to push the envelope of speed and time, Dylan Kwasniewski will help to raise the bar and give drivers a speed to chase. Despite being only 17 years old, Dylan from Las Vegas is already a force to be reckoned with in the NASCAR world. Named one of NASCAR's Next 9, an elite list of top NASCAR prospects, for the past two years he currently pilots the No. 03 Rockstar Energy/Royal Purple Ford for Gene Price Motorsports in the NASCAR KN Pro Series West.
Ian Baas will be driving a 2012 Volkswagen Golf R in this year's exhibition class. He has previously competed in the American Le Mans Series, Petite Le Mans, KONI Challenge Series and Continental Tire Sports Car Challenge to name a few.
For the first time in OPTIMA Invitational history and announced today, the OPTIMA Invitational will feature a battle of American muscle; two wheel vs. four-wheel. This match-up will feature Mark Stielow's high-performing 1969 Chevrolet Camaro and a 2013 1190RS Erik Buell Racing (EBR) motorcycle. Erik Buell Racing builds motorcycles without compromise and is the very definition of the American spirit. Like OPTIMA Batteries, EBR is committed to ongoing innovation and advanced technology to offer the most competitive performance products manufactured today.
OPTIMA Invitational Details
The main race events of the OPTIMA Ultimate Street Car Invitational take place Saturday, Nov. 3, and will offer something for every race fan with the BFGoodrich Hot Lap Challenge, Ridetech Autocross Challenge, Wilwood Disc Brakes Speed Stop Challenge, and the Lingenfelter Performance Engineering Performance and Design Challenge. The Detroit Speed and Engineering/JRI Shocks Road Rally will occur following the close of the SEMA Show Friday, Nov. 2.
The event has received a tremendous amount of support this year and is now sold out. Spectators should note that no additional tickets will be available onsite.
Sponsors of the 2012 OPTIMA Ultimate Street Car Invitational include presenting sponsors K&N Filters and Royal Purple; race event sponsors BFGoodrich, Ridetech, Wilwood Disc Brakes, Lingenfelter Performance Engineering, Detroit Speed and Engineering/JRI Shocks. Additionally, The Roadster Shop, MagnaFlow, RECARO, Centerforce Clutches and Mothers are associate sponsors for the OPTIMA Invitational. For more information on the OPTIMA Ultimate Street Car Invitational participants, official rules and more, visit http://www.ousci.com/