2012 OPTIMA® Ultimate Street Car Invitational: First List of Vehicle Finalists Revealed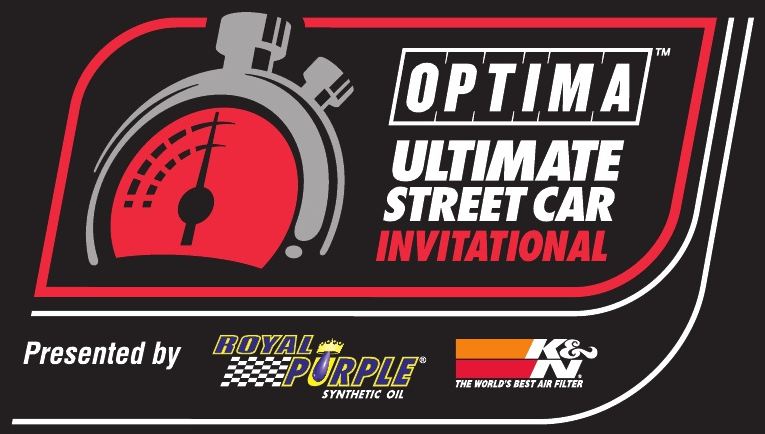 Ultimate Streetcar
Sponsor

Location
OPTIMABatteries, the global leader in high-performance automotive and marine batteries, gears up for the fifth annual OPTIMA Ultimate Street Car Invitational, presented by KN Filters and Royal Purple, by revealing the initial list of drivers and vehicles that have qualified for and have been selected to compete in the event. OPTIMA has long been the battery of choice for many automotive enthusiasts looking for better power, longer life and greater resistance to the use and abuse of extreme applications.
The OPTIMA Invitational has evolved to become one of the most-highly anticipated and widely-covered events in the automotive performance world. This year it included nine qualifying events, where automotive enthusiasts were offered a chance to earn a spot in the OPTIMA Invitational.
From Dan Howe competing with his 1984 Chevrolet Monte Carlo SS, who was part of a heart-warming father/son team at the OPTIMA Faceoff at Sandhills Open Road Challenge to Pedro Gonzales driving a 1979 Pontiac Trans Am, whose first competitive event ever was at this years OPTIMA Faceoff at Road America, the participant selections represent a lot of diversity. The vehicle selections include a variety of industry-leading muscle cars, pro-touring cars, hot rods and street trucks, from both import and domestic manufacturers. Initial qualifiers were recruited through a series of events with a similar format that tested drivers skills and vehicle performance.
The following participants all from different walks of life and different experience levels - have earned a spot to compete in this years OPTIMA Ultimate Street Car Invitational:
Dale Akuszewski (1964 Sunbeam Tiger)
Larry Boughter (1962 Chevrolet Wagon)
Jeff Cleary (1967 Chevrolet Corvette)
Brian Davis (1999 Pontiac Trans Am)
Greg Davison (2010 Chevrolet Camaro)
Karl Dunn (2007 Ford Mustang)
Todd Earsley (2003 Mitsubishi EVO)
Cliff Elliot (2011 Ford Mustang)
Max Gerson (2007 Audi RS4)
Pedro Gonzales (1979 Pontiac Trans Am)
Dan Howe (1984 Chevrolet Monte Carlo SS)
Matt Jamojedny (2003 BMW M3)
Albert Melchior (1973 Pontiac Trans Am)
Cole Quinnell (1966 Chevrolet Chevelle)
Grant Reierson (1966 Chevrolet Nova)
Ron Schwarz (1966 Ford Mustang)
Chris Smith (1967 Chevrolet C10)
Marty Sokulski (1969 Dodge Superbee)
Herb Stuart (1968 Mercury Cougar)
Ben Therrien (1995 Nissan Skyline)
Dave Tucci (1941 Cadillac)
Paul Welch (1978 Pontiac Trans Am)
World-Class Talent
In celebrating our fifth anniversary of the event, we are incredibly pleased with the talent that has risen to the top to compete in the OPTIMA Ultimate Street Car Invitational, says Cam Douglass, Director of Product Development and Marketing for OPTIMA Batteries. These drivers have all come to realize the supreme performance and reliability that come with an OPTIMA Battery and many of them have inspiring stories about their batteries lasting through extreme conditions and standing the test of time.
In addition to competing in the OPTIMA Invitational, participants also get an automatic invitation to feature their vehicle at the 2012 SEMA Show and gain awareness through hundreds of print and online articles.
Full List of Finalists
The next round of finalists will be announced in October. After that point, there will still be one additional opportunity to secure a spot in the OPTIMA Invitational. As in years past, a committee made up of OPTIMA and industry representatives will walk the SEMA Show floor in Las Vegas, looking for the best of the best across all vehicle segments. The final search will be promoted during the show, and the final vehicle invitations will be awarded Thursday, during a press conference in the OPTIMA Batteries booth.
Sponsors of the 2012 OPTIMA Ultimate Street Car Invitational include presenting sponsors Royal Purple and KN Filters; Invitational event sponsors BFGoodrich, RideTech, Wilwood Disc Brakes, Lingenfelter Performance Engineering, Detroit Speed and Engineering/JRI Shocks; and associate sponsors MagnaFlow, Roadster Shop, Centerforce Clutches and Mothers Polishes Waxes Cleaners, Inc. the official car care sponsor.
2012 OPTIMA Ultimate Street Car Invitational Details
The OPTIMA Invitational will take place at Spring Mountain Motor Ranch, a state-of-the-art racing facility in Pahrump, Nevada on Saturday, November 3rd.
The Invitational activities will offer something for every fan with the BFGoodrich Hot Lap Challenge, RideTech Autocross Challenge, Wilwood Disc Brakes Speed Stop Challenge and the Lingenfelter Performance and Design Challenge. The Detroit Speed and Engineering/JRI Shocks Road Rally will occur the day before, following the close of the SEMA Show.
Introduced last year, but continuing this year, fans will be able to view the action from the front row. A limited number of spectator tickets are on sale now through November 1st. Spectators can purchase tickets to the OPTIMA Invitational athttp://optimainvitational.com/for $30 per person, which includes a free event T-shirt.
For more information on OPTIMA Ultimate Street Car Invitational participants, official rules and ticket purchase information, please visithttp://www.optimainvitational.com/.