2012 OPTIMA Ultimate Street Car Invitational Qualifiers Announced!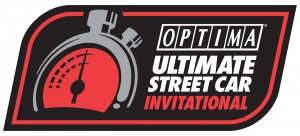 Ultimate Streetcar
Sponsor

OPTIMA Batteries

Location

Nationwide
Now going into its fifth year, the OPTIMA Ultimate Street Car Invitational (OUSCI), has evolved to become one of the most highly-anticipated and widely-covered events in the automotive performance world. Today, OPTIMA Batteries announces the first round of events that will serve as qualifiers for the OUSCI. During the qualifying events, participants can earn the opportunity to compete in the now world-famous OPTIMA Ultimate Street Car Invitational, which takes place annually in Nevada immediately following the SEMA Show.
The 2012 OPTIMA Ultimate Street Car Invitational qualifying events are:
Run to the Alamo (San Marcos, TX): February 17th-19th
Run to the Coast (Irvine, CA): March 9th-11th
The OPTIMA Faceoff at HOT ROD Power Tour* (Arlington, TX): June 9th
The OPTIMA Faceoff at Road America* (Elkhart Lake, WI): June 22nd-24th
Motorstate Challenge (South Haven, MI): July 13th-15th
The Sandhills Open Road Challenge: August 8th-12th
LSFest (Bowling Green, KY): September 7th-9th
Silver State Classic Challenge* (Ely, NV): September 12th-16th
Lingenfelter Performance Engineering Nationals (Norwalk, OH): September 21st-23rd
Qualifying events are open to the public and offer a great way for automotive enthusiasts to preview the top talent that will move on to OPTIMA's Ultimate Street Car Invitational. Some regional qualifying events will follow a format similar to the OPTIMA Ultimate Street Car Invitational with a combination of segments to include autocross, road course, braking and acceleration, style design competition and road rally, with additional activities, which will vary per event. The OPTIMA Ultimate Street Car Invitational implements regional qualifying events in order to increase diversity among vehicles, drivers and enthusiast segments. OPTIMA encourages all street-legal vehicle year, makes and models to participate.
"We are always humbled by the talent that comes out for our events. In addition to the skilled participants, it also brings awareness to the enthusiast dedication and passion within the aftermarket performance automotive industry," says Cam Douglass, Director of Product Marketing for OPTIMA Batteries. If the regional events from last year are any indication of whats in store for 2012, I think its safe to say that each of these events will turn out some amazing entrants.
Some of the top-placing competitors from the 2011 OPTIMA Ultimate Street Car Invitational were discovered at regional qualifier events, including the Invitational winner Danny Popp, who was a regional qualifier from the 2011 Motor State Challenge.
For more information on the qualifying events, the OPTIMA Ultimate Street Car Invitational and ways to get involved as a participant volunteer or sponsor, please visit www.DriveOPTIMA.com