2013 OUSCI Preview- Bret Voelkel's 1933 Ford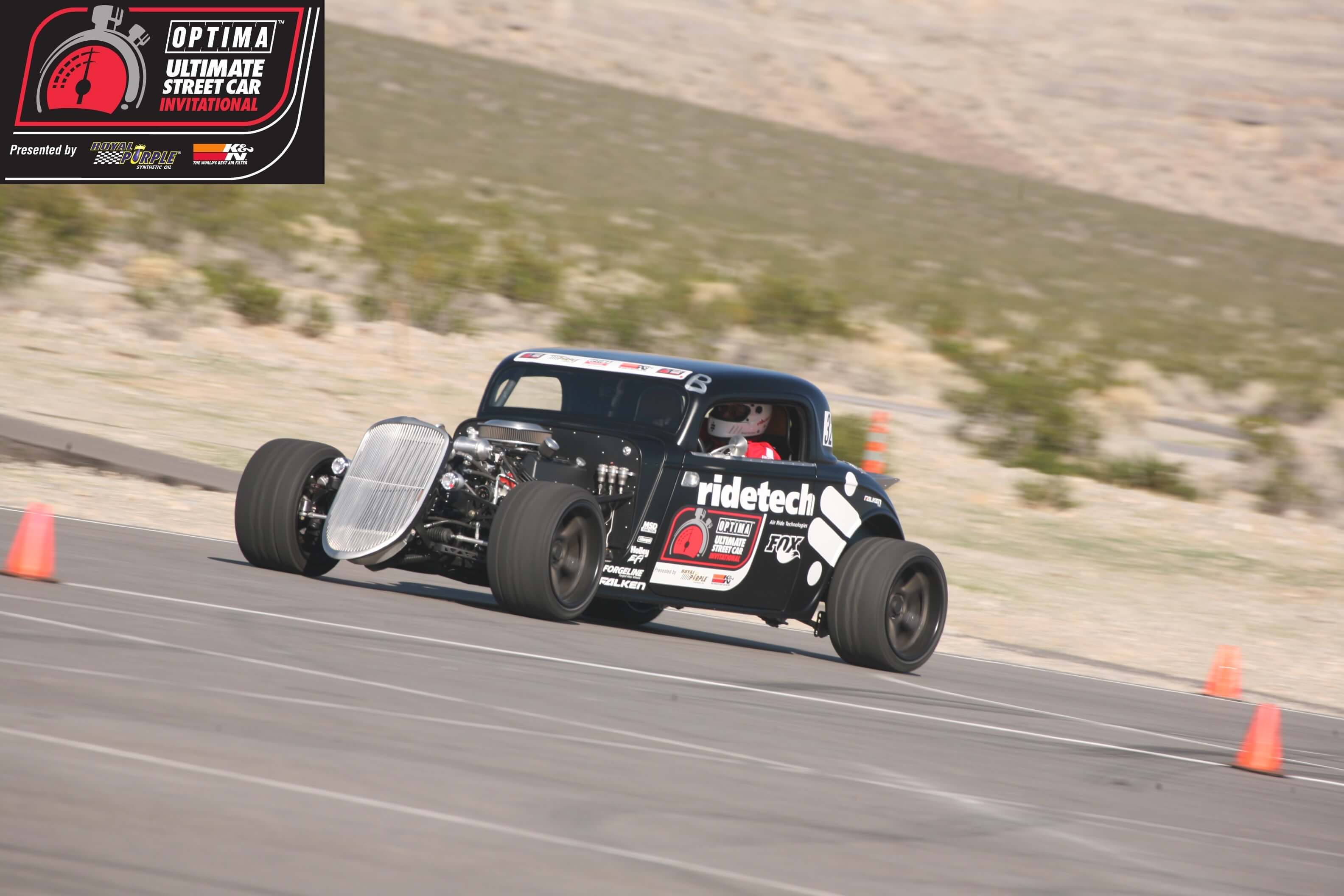 Ultimate Streetcar
Sponsor

OPTIMA Batteries

Location

Pahrump, NV
Bret Voelkel has had a busy year, since finishing third in the 2013 OPTIMA Ultimate Street Car Invitational, presented by Royal Purple and K&N Filters. Voelkel has continued to refine his killer coupe and ended up winning the OPTIMA Faceoff at Road America earlier this year. His car also graced the cover of the August issue of Hot Rod magazine and had a 10-page feature article written up on it.
When we look at the competitors in the 2013 OUSCI, Voelkel's name is always amongst those considered to be favorites to win and he seems to get closer to the title with each passing year. One of the keys to winning the OUSCI is scoring points in every event, from the Detroit Speed Road Rally to the BFGoodrich Hot Lap Challenge. Bret did that in 2012 and we don't see any reason why he and his car wouldn't be capable of repeating that in 2013. The question is whether Voelkel can score even more points than he did last year?
The competition will be tough, but Bret has spent a good portion of the year continuing to refine both his 1933 Ford and his driving skills at events around the country. Meanwhile, there has been a mixed bag of changes with some of the other top competitors from last year. Todd Earsley tied with Voelkel and totally re-built his Mitsubishi Evo from the ground up. Brian Hobaugh, who finished one position ahead of Bret is bringing a new (to our event) Corvette in 2013. Last year's winner, Mark Stielow, is returning to defend his title with his 1967 Mayhem Camaro, which may not have seen many significant changes, but may not have needed many either. Add in the other competitors coming into the 2013 mix and Bret will have his hands full.
However, past experience has shown us that dialed-in combinations tend to fare better in the OUSCI, than fresh builds, which should favor Voelkel. If you'd like to see how Bret's coupe did in the OPTIMA Ultimate Street Car Invitational, add the OPTIMA Network for free on Roku and watch all the past TV coverage. If you'd like all the specifics on Bret's incredible coupe, check this out-
Engine
427 cubic inch small block Ford engine 510 RWHP, 496 RWTQ built by Sunset Racecraft in Lubbock Texas.
Dart aluminum block
Brodix Neal heads
Holley Dominator EFI system with RideTech custom built fuel rails and integrated regulator device
All accessory drive systems custom built by RideTech
MSD crank trigger and dual pickup distributor
MSD 6AL digital ignition box w/ MSD plug wires
MSD EFI throttle body
Fuelsafe fuel cell with internal pump
Earls 650 Proflex plumbing
Earls oil cooler
RideTech custom-built radiator thermostat and plumbing
Transmission
Rankin clutchless 4 speed from Jasper Engine former NASCAR program
Centerforce DYAD dual disc clutch
Roush magnesium bellhousing
Long shifter that has been moved back by 8" and to the passenger side by 6"
Rearend - Winters quickchange with 4:56 primary and gearsets from 3.04 to 6.11
Brakes
Baer 6P calipers with Hawk blue pads and 14-inch rotors
Tilton floor mount pedal assembly and master cylinders
Front suspension
Factory Five OEM chassis attachment points
Factory Five spindles with a SN197 Mustang spindle pin and bearing pack
RideTech custom-built upper and lower control arms
RideTech custom-built steering arms
RideTech triple-adjustable coilover shocks with 450-pound springs
RideTech custom-built swaybar
RideTech customer-built steering system with Woodward power rack, remote Woodward servo, GM power steering pump, custom-built remote fluid reservoir and front steer architecture
Rear suspension
RideTech custom built "wishbone" 3 link – 2 lower links with a single "A" arm on top
RideTech triple-adjustable coilover shocks with a 225 spring rate
RideTech custom-built swaybar
Exhaust – RideTech custom-built stainless headers with stainless oval exhaust and Flowmaster custom stainless mufflers and custom built stainless center dump exhaust tips
Wheels – 18x12 with seven-inch backspacing Forgeline CF3C with bronze spokes and satin black hoops all around
Tires – 315/35-18 Falken RT615K all around [Factory Five had Bret use Toyo R888 for the Hot Rod Magazine test]
Interior
RideTech custom-built sheetmetal. Dual-paneled with three layers of 3000-degree ceramic insulation between panels
IDIDIT shorty tilt steering column
Racepack digital dash
RideTech custom-built console mounted switch panel
RideTech-modified Kirkey seats with Recovery Room elephant scrotum leather seat inserts
RideTech-fabricated stainless rollcage
OEM Factory Five power windows
RideTech custom-built interior door panels and door handles
RideTech custom-fabricated sheetmetal headliner with insulation panels
10lb Fuelsafe fire suppression system with 6 nozzles
RideTech custom wiring installation
Momo steering wheel and shifter knob
Exterior
Factory Five fiberglass body and top
Top was bolted, glued, and molded to body after roll cage was completed
RideTech handformed aluminum door handles, doortop trim, trunk hinges, trunk latch, license plate bezel, side mirror mounts,
Radiator and grille shell moved 5" forward to clear front steer rack system
Color is currently Sikkens black with satin clear, but expect to see a very new look for the 2013 OUSCI