2013 OUSCI Preview- Brian Hobaugh's 1965 Chevrolet Corvette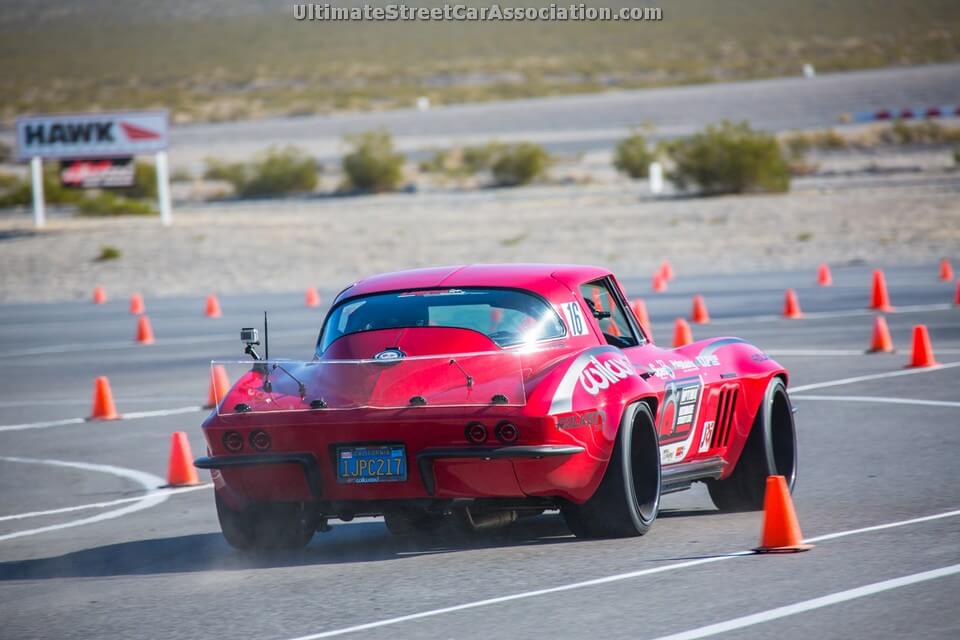 Ultimate Streetcar
Sponsor

OPTIMA Batteries

Location

Danville, CA
You'd never know by looking at this absolutely stunning 1965 Corvette Stringray, but it has lived as hard a life as any '65 out there. This Stingray has been owned by the Hobaugh family for more than 30 years and the previous owners all autocrossed it since the day it was first purchased. That is a lot of use for the kind of car that at this point in the automotive world is typically kept in a Corvette-decorated garage and gently wiped down with a diaper. In fact, this could be the most-raced '65 Corvette in existence.
The Hobaughs are a family of racers and if you've spent any time at SCCA autocross events, especially in Northern California, you've probably laid eyes on this car before, although it may not have looked quite as nice as it does now. Brian's personal history with this car goes back to driving it with a learner's permit when he was 15 and autocrossing it four days after his 16th birthday back in 1985. How cool is his dad and is he looking to adopt?
With a background like that, it's safe to say Hobaugh has an extensive resume of competitive driving. In fact, Brian finished second in this car at the 1996 SCCA National Championship to 2011 OUSCI Champion Danny Popp, who was driving his '72 Corvette. The Stingray has gone through some significant changes since then and Brian has had it back out on the road and at the track, enjoying significant success.
Just this year, Hobaugh picked up a half dozen trophies at the American Street Car Series Run to the Coast event, where he won the autocross (naturally), speed/stop and road course. He has also won multiple Goodguys autocross events, including Scottsdale, where he became the first qualifier for the Goodguys Shootout.
What has led to this success? Although the car was an original fuelie, it now harbors at 364 cubic-inch small block, topped with Brodix heads and TPiS fuel injection and Accel DFI Gen 7 engine management. Internally, it is stuffed with all kinds of goodies, including a lightweight crankshaft from Scat, and a cam, connecting rods and rocker arms from Crower.
The whole combination is good for 525 horsepower and 500 lb.-ft. of torque, which Brian acknowledges leaves him on the low end of the OUSCI horsepower totem pole. However, he still feels his chances are as good as they've ever been to win the OPTIMA Ultimate Street Car Invitational, presented by Royal Purple and K&N Filters. What gives him such confidence? Well, he finished second last year and third the year before. We'd say he probably has a pretty good feel for his car and how it might fare in the OUSCI.
How does it compare to the Camaro that he previously ran? The Corvette weighs about the same and has less power, but it also has a shorter wheelbase, which Brian thinks will help in the Ridetech Autocross and Wilwood Speed/Stop Challenge. Since Hobaugh won the BFGoodrich Hot Lap Challenge last year, we have to consider him an early favorite, even if he is down on power.
Hobaugh also feels the fresh paint job laid down by his shop, Car West Elite and the hand-laid fender flares should help him in the Lingenfelter Performance Design Challenge. The matte black bumper wrap from Elite Auto Films also offers stunning contrast that really sets the car apart from the crowd (while offering some nice protection for the chrome.
The 18-inch wheels are from the Aristo Collection and they are wrapped in massive 315-series Falken rubber all the way around. Since Brian is the driver of choice for Wilwood brakes, you would expect he has their six-piston grippers in the front and fours in the rear, mated to Spec 37 rotors and adjusted with a Wilwood proportioning valve.
Other performance tweaks include Hooker headers, Edelbrock mufflers and shocks from JRi, but not a whole lot else. The interior is largely stock, except for a Kirkey seat covered by 02 Creations and gears are still shifted through a Muncie M-21 four-speed. Radically-altered in some ways, but factory original in others. That is the essence of the Hobaugh family Corvette, a vehicle unlikely to ever be owned by another family.
Brian says for years folks have been telling him that this Corvette is their favorite autocross car of all-time and it has a lot of other admirers as well. Put former OUSCI competitor, Mike Musto in that group, as he recently profiled the car on
Big Muscle
. Chevy High Performance is running a full feature on it in their September 2013 issue and YouTube is already littered with videos of it on the autocross.
Could Brian win the 2013 OUSCI? If you didn't make it out to Pahrump to find out, you can watch the TV coverage of the 2013 OUSCI free anytime on the
OPTIMA Network on Amazon Fire TV.