2013 OUSCI Preview- Bruce Raymond's 2006 Pontiac GTO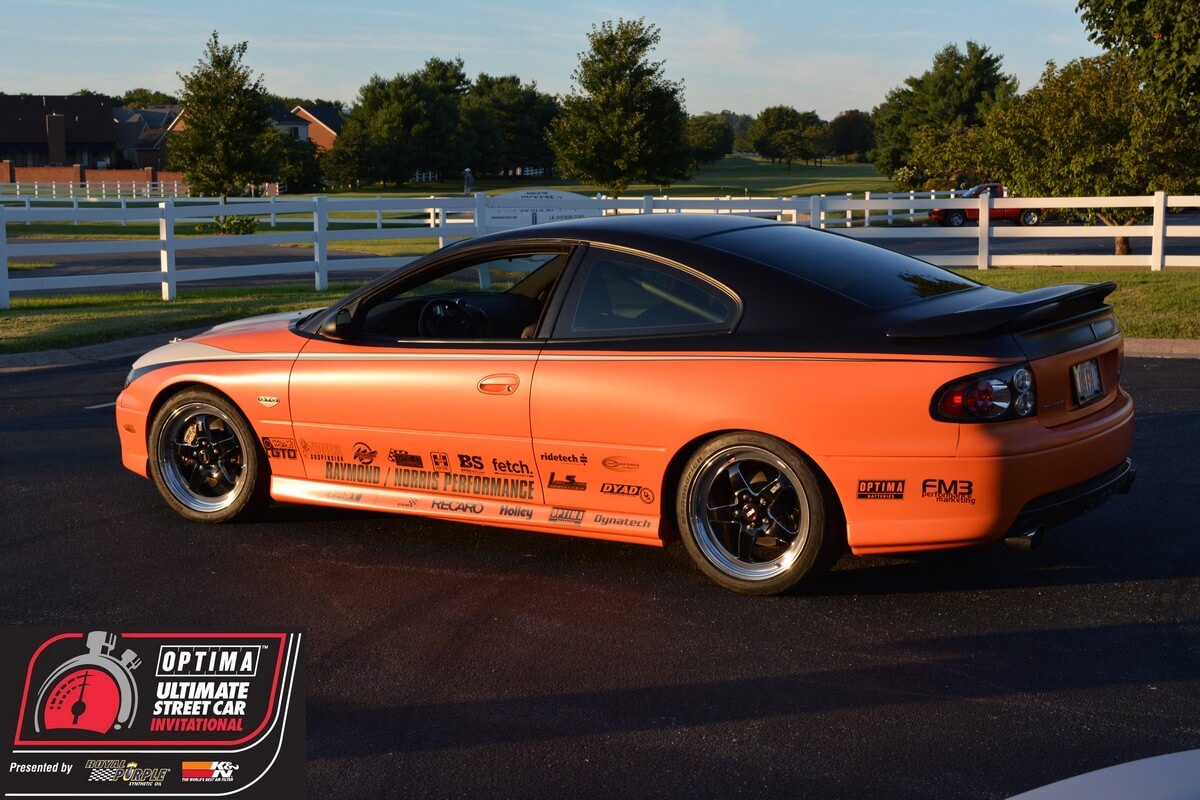 Ultimate Streetcar
Sponsor

OPTIMA Batteries

Location

Plainfield, IN
The 2006 Pontiac GTO you see before you was completed in just five weeks at Bruce Raymond's shop & Mike Norris Motorsports. That time doesn't include it's original construction, but it is still an impressive feat and one that was fully-documented on Bangshift.com where the 60,000-mile driver was literally transformed into a hardcore street machine capable of mixing it up on the track. Although the car is owned by Wally Olczak, it will be driven in the OPTIMA Ultimate Street Car Invitational, presented by Royal Purple and K&N Filters, by it's builder of record, Bruce Raymond.
Obvious time constraints limited the modifications Bruce's team were able to perform, so the short block remains stock. However, the LS2 heads were ported and polished by Land Speed and paired with a new cam and valvetrain parts from Comp. A new intake from F.A.S.T. was added for better airflow on the intake, while Dynatech long-tube headers move things out in a hurry. A Melling high-pressure oil pump keeps everything slick and cool and the whole package was topped off with Holley valve covers.
The GTO is still running the stock drivetrain, although the Tremec transmission is now mated to a Centerforce DYAD clutch and the rear differential and axles have been replaced with components from G-Force, as well as a Harrop differential cover. The new engine combination now generates 452 horsepower and 438 lb.-ft. of torque at the wheels. While that is probably on the low end of what we'll see in the OUSCI field, this isn't Raymond's first rodeo and he had made some upgrades in other areas that should enhance the GTO's chances of rising to the top.
The suspension system has been totally upgraded with a complete coil-over package from Pedders, a custom RideTech Tiger Cage surrounds RECARO seats and has added rigidity to the chassis, super-sticky BFG Rivals now wrap a set of Weld wheels and Wilwood six-piston calipers bring everything to a screeching halt. That includes Wally's hefty stereo system, which Bruce points out has swelled the car's weight above 3,900 pounds. Maybe he'll get some points back for that in the Lingenfelter Performance Design Challenge? He'll definitely be riding in style during the Detroit Speed Road Rally.
All of that is well and good, but we've watched many capable vehicles fall short in the OUSCI, due to lack of driver ability. The last car Raymond prepped for the OUSCI, Todd Rumpke's 2010 Camaro, did quite well. Todd notched two top-15 finishes in the BFGoodrich Hot Lap Challenge and the RideTech Autocross, finishing just outside the top-20 overall, but Todd is a very accomplished driver.
Bruce is no slouch though, having been a competitive road racer since 2001. In addition, Bruce has competed in Great Lakes region NASA time trial events, finishing runner-up in the TTA points chase in 2009 and winning the title outright in 2010.
An experienced builder, a capable driver and a well-sorted out car make Bruce Raymond and this GTO just the kind of triple threat that can cause all kinds of headaches for OUSCI competitors. Will they topple some of the G-Machine giants? If you missed seeing the OUSCI in person, add the OPTIMA Network for free on Roku and watch all the past TV shows on-demand.