2013 OUSCI Preview- Damion Campbell's 1963 Pontiac LeMans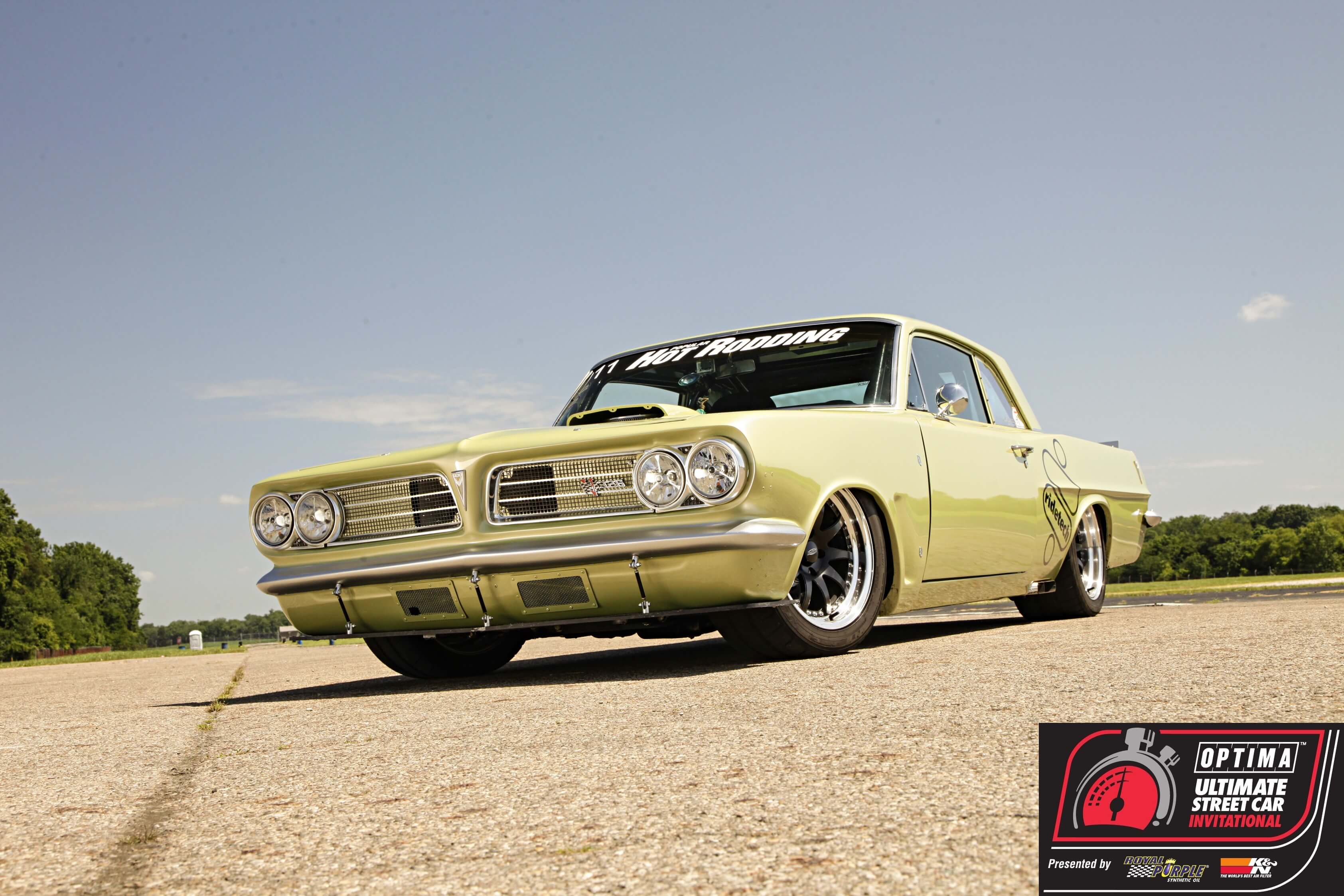 Ultimate Streetcar
Sponsor

OPTIMA Batteries

Location

Elkhart Lake, WI
If you asked Damion Campbell about his experience in Pro-Touring events, he'd likely characterize himself as a "rookie." After all, this 1963 Pontiac LeMans is his first Pro-Touring build and before this year, his experience on road courses was almost nill. However, at some point, a certain amount of experience moves someone beyond the status of "rookie." Is a first-year outfielder starting his 100th game more of a rookie than a three-year vet, who has only started a handful of games? That's probably the analogy that best represents how Campbell has spent his "rookie season" in Pro-Touring.
We first saw Campbell's car back at the OPTIMA Faceoff at Road America, presented by K&N Filters and Royal Purple synthetic oil. Campbell's ride stood out immediately, because it was not a Camaro or a Mustang. His relatively-unique, home-built ride continued to impress upon further inspection, even if he didn't place higher than 38th in any event on the track. By the end of the weekend, the OUSCI Race Directors were impressed enough with his ride and enthusiasm for hot rodding, that they invited him to SEMA and the 2013 OUSCI.
Things really started to snowball for Campbell from there. Even though he's been building cars out of his home garage for 20 years, the LeMans was his first foray into Pro-Touring and he was hooked fairly quickly. Goodguys shows were familiar territory already, but once Damion picked up his OUSCI invite, he knew he needed more time behind the wheel in competitive scenarios.
The Poncho was soon signed up for the Heidt's Challenge and the Car Craft Nationals, where it picked up a Pro-Touring award and won best Buick/Olds/Pontiac. Bigger things were still on the horizon, as Damion soon found himself invited to Popular Hot Rodding's Muscle Car of the Year event. Campbell's steep learning curve was beginning to pay off, as he finished seventh in the drag racing competition and Speed/Stop competiton and third in the autocross, notching a fourth-place overall finish. Not bad, especially considering some of the competitors included 2013 OUSCI invitee, Larry Woo, past OUSCI champion, Danny Popp and past OUSCI competitor, Herb Stuart. Damion also pointed out that all the cars that finished ahead of him and the car that finished in fifth were all built by professional shops.
So what motivates Campbell's Poncho? Starting under the hood, we'll find a 383 machined by AMS Racing in Waukesha, Wisconsin, topped with an Edelbrock intake manifold and a good old-fashioned Holley 750 Double Pumper. The result is 490 horsepower and 380 lb.-ft. of torque- impressive numbers by just about any standard. However, in the OUSCI, those numbers will leave a competitor on the low end of the power scale in all but the most lightweight vehicles.
Damion knows this and already has an LS3/TR6060 swap planned for next year. If there's one rookie mistake Campbell won't make, that is to change too much leading up to the OUSCI. History has already proven competitors are far better off dialing in the combination they already have, than trying to make too many changes leading up to the event. Campbell freshened up his engine and transmission, but has made no major mechanical changes. He also replaced wheels and tires, but did nothing that would require major shakedowns. He has enlisted the assistance of a former Indycar driver, to help sharpen his skills on the road course though, which is one of the smarter tactics we've heard of from an OUSCI competitor.
For what Campbell's car may lack in power, it does compensate to some degree with a surprisingly light weight- less than 3,000 pounds! How did he do it, even with a mild steel roll cage? It starts with a custom tube frame chassis, but the VFN fiberglass hood and front end really lighten things up and help equalize weight distribution in the car. In the quarter mile, Campbell has run a best of 12.5 seconds, but the 117 mph trap speed suggests stickier tires could net a lower ET.
While that may have been the intent of past builds, Campbell wants all-around performance with this car. Ridetech shocks and sway bars, along with Wilwood Forged Dynalite brakes help with the handling and halting, along with Rushforth wheels wrapped in Nitto rubber.
Where can you see more of this car? Add the OPTIMA Network on Roku for free and watch the 2013 OUSCI. You can also look for it in the December 2013 issue of Popular Hot Rodding as well as the January 2014 issue of Car Craft magazine.