2013 OUSCI Preview- Dave Eckert's 1969 Ford Mustang Mach 40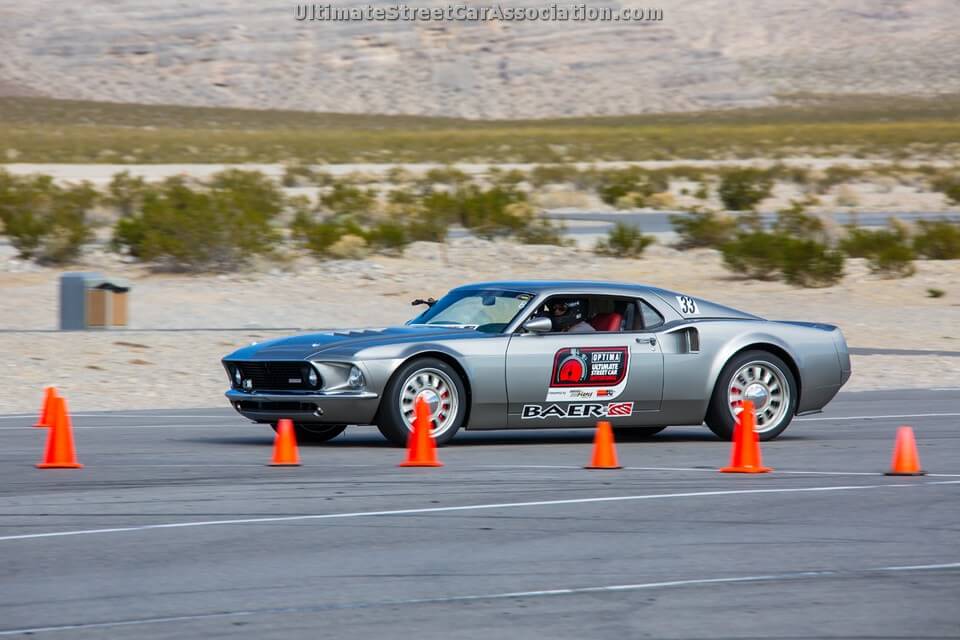 Ultimate Streetcar
Sponsor

OPTIMA Batteries

Location

Las Vegas, NV
We first spotted Dave Eckert's Mach Forty Ford Mustang at the 2012 SEMA Show and we wanted it in the OPTIMA Ultimate Street Car Invitational, presented by Royal Purple and K&N Filters, as soon as we laid eyes on it. Unfortunately, the car was only SEMA-ready last year and couldn't make our event. 2013 is a different story and this amazing Mustang (if we can still call it that) will be the latest Gran Turismo award winner to be invited to the OUSCI.
To the casual observer, the Mach 40 will probably look like a Mustang, but any blue oval fan will almost immediately tilt their head sideways, trying to figure out what happened to this car. The short answer is a whole lot. Almost every body panel on this car has been modified in some way, almost all of them hand-formed. As it sits, the Mustang is four inches wider and nearly ten inches lower than a stock Mach 1, two of those ten inches coming right out of the roof line and the entire roof was moved forward by two inches.
The dashboard and center console were mocked up in foam before being custom-made in fiberglass and the front trim is chrome-plated, solid aluminum. The radiator ducts are made from hand-formed steel. The bumpers have five layers of copper plating, hand-sanded between each layer and the large rear air inlets have electric motors that close them at high speed, so the rear hatch glass doesn't blow out. The rear deck also has an electrically-operated spoiler for increased stability at high speed.
That brief description of the body modifications really doesn't begin to do this car justice or describe the great care and attention to detail that went into this three-year build, but we'll give you more links at the end of this preview if you'd like to do further reading.
For now, we'll move into more detail on the chassis. The front and rear suspension mounts to a C6 Corvette aluminum subframe. Up front, Corvette control arms and uprights mount QA1 coilover shocks and XXX springs, which also appear in the rear. Likewise a C6 was also sourced for a power rack pinion steering unit and Pfadt C6 sway bars are in the front and the rear.
The Schott two-piece custom aluminum wheels were custom-designed to pay tribute to the Ford Magnum 500 GT wheels from the late-60s. The front wheels measure 18 inches wide and roll on 275 series Michelin rubber, while the rear wheels are 19 inches wide and have 325-series tires, all of which are stopped with Baer's six-piston calipers clamping onto 14-inch rotors. The rear axle is a modified Ford GT unit with Corvette C6 half-shafts.
The engine is a 2006 Ford GT motor- 5.4-liter, 32 valves and four overhead cams, all topped off with a 4-liter Whipple supercharger. Dual drive-by-wire Lamborghini throttle bodies and billet dual-injection fuel rails are just a few of the highlights of the fuel and air delivery system. A MoTec computer system allows for real-time horsepower changes, ranging from 600 horsepower up to 850 horsepower and also adjusts for different types of fuel, including E85. The transaxle is a Ford GT Ricardo unit, with a Stillen high-capacity clutch. Amazingly, the engine, transaxle and exhaust unit can all be dropped out of the car as a single unit for service.
The dashboard we previously-mentioned isn't just a custom fiberglass piece. That would be too easy. It also has carbon fiber substrates for the European leather cap. The gauge cluster and glove box door are covered in leather with stainless trim and all the gauges have custom faces and mount to the cluster with polished stainless bezels. Just about everything else inside the car is covered in European leather and trimmed with stainless steel, except for the door panels, which also feature Italian suede and pigskin-textured inserts. The steering wheel and pedals are crafted from billet aluminum with matching holes and the car carries all the expected ammenities from Vintage Air and a Pioneer touchscreen audio system.
The total weight on the Mach Forty is 3,900 pounds with a 52/48 weight distributon. Just from this brief description, it becomes easy to see why Eckert's Rod Custom took three years to complete the project. We don't know if this car is a lock for the Lingenfelter Performance Design Challenge, but the only way it won't be in the conversation is if it gets lost on the Detroit Speed Road Rally and never makes it to Pahrump.
The Mach Forty's performance numbers would suggest it is a very capable performer on the track, although David Eckert has very limited racing experience. However, Eckert is confident the car will carry the driver. "This car is so amazing, I think even an inexperienced racer like myself can win this thing with the Mach Forty or at least finish in the top-10." That is a bold prediction to make, but based on what we've seen of this car already, if any entry were capable of carrying the day as Dave suggests, it would be this car.
This car is based in the Pacific Northwest and the 2013 OUSCI will be a rare opportunity to not only see it in person, but see it perform on the track. You don't want to miss this chance! We would also be remiss if we didn't mention some of the other companies involved in the creation of this incredible machine, including Miernik Design, Hardison Metal Shaping, Griffin Interiors, Ben's Custom Paint and City Machine Shop.
Do you think Eckert's creation will win the OUSCI?