2013 OUSCI Preview- Ken Edwards' 1966 Ford Mustang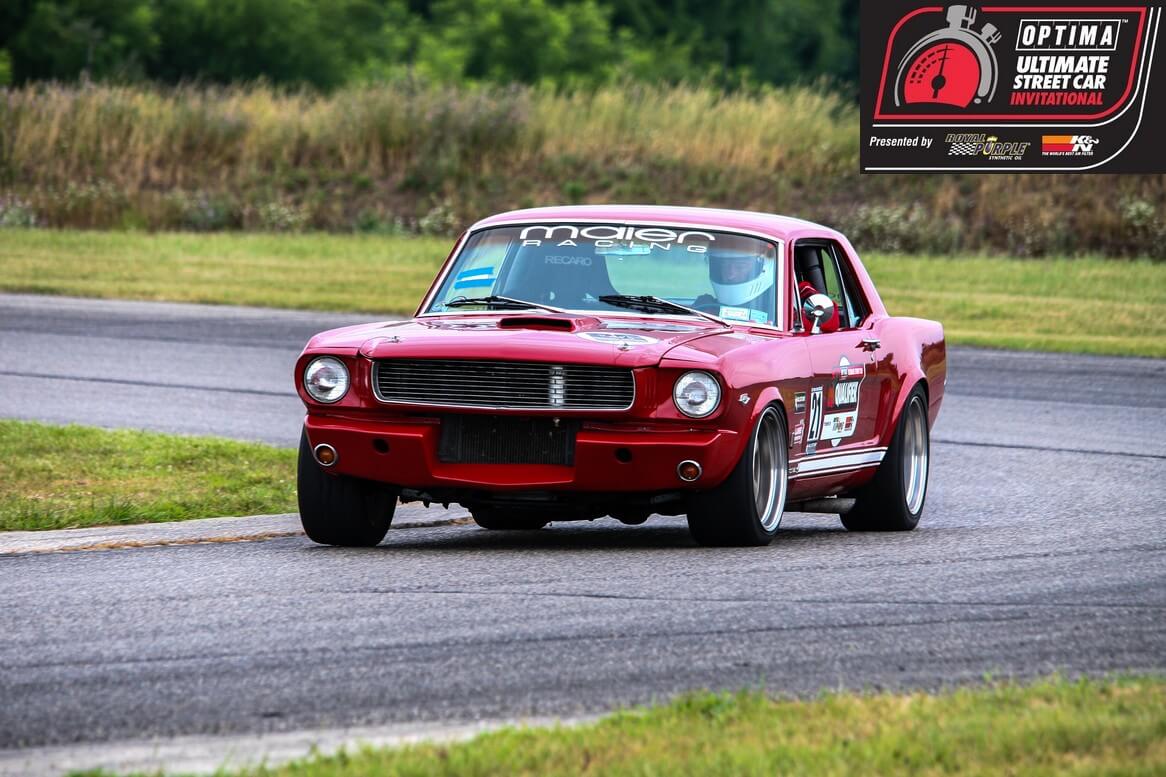 Ultimate Streetcar
Sponsor

OPTIMA Batteries

Location

Las Vegas, NV
Long treks are nothing new for New Yorker Ken Edwards. He has been building hot rods and running them on long-distance adventures for more than 20 years. That's why it wasn't a surprise to see him make the journey all the way to Michigan for the Motorstate Challenge, where he picked up an invite to the 2013 OPTIMA Ultimate Street Car Invitational, presented by Royal Purple and KN Filters.
Ken has racked up a ton of miles and a lot of track time in his Mustang, hitting American Street Car Series events and Goodguys autocrosses all over the Eastern seaboard. This is for a guy who has been racing competitively since the 1970s in everything from street stocks to nostalgia dragsters. Ken's expectations for the OUSCI seem very realistic. He has competed against many of these drivers before, he knows them and their cars very well and he knows what it takes to win against them.
Ken knows his strong events will be the Ridetech Autocross and the Wilwood Speed/Stop Challenge, due to the Mustang's light weight of just over 3,000 pounds. However, he also knows his 364 cubic-inch V8 will be underpowered in the BFGoodrich Hot Lap Challenge, where it takes a lot more ponies than the 392 Ken has on tap to lay down a top lap time.
Past OUSCI competitor, Mike Maier, has been assisting in prepping Ken's ride for the OUSCI, outfitting it with Maier Racing swaybars in the front and rear, as well as an upgraded steering box, front A-frames, rear leaf springs and new shocks from JRi.
In addition to the less-visible mods, like the Centerforce clutch and Wilwood disc brakes, Edwards has also made some more obvious refinements that he hopes will catch the eye of the judges in the Lingenfelter Performance Design Challenge. These would include Autometer gauges, RECARO seats, flared front fenders, lengthened wheel well openings, flared rear quarters and a fiberglass hood and valance from Shelby.
The bottom line is that Ken knows this event and the top competitors very well. He also knows what it will take for him to have a really good showing. Every point is important, from the Detroit Speed Road Rally to the Autocross to the Road Course. Ken already had mechanical gremlins plague his efforts in the Popular Hotrodding Muscle Car of the Year competiton earlier this year, so he'll be sure to have his bases covered for the OUSCI. He also knows who the top contenders are and specifically cited Danny Popp and Mark Stielow as two of the guys to beat.
Will Ken be able to overcome the odds and take home the title of the 2013 OPTIMA Ultimate Street Car? If you missed the TV show when it originally aired, catch it on-demand for free on the OPTIMA Network on Roku.