2013 OUSCI Preview- Lou Krukar's 2009 Ford Mustang GT500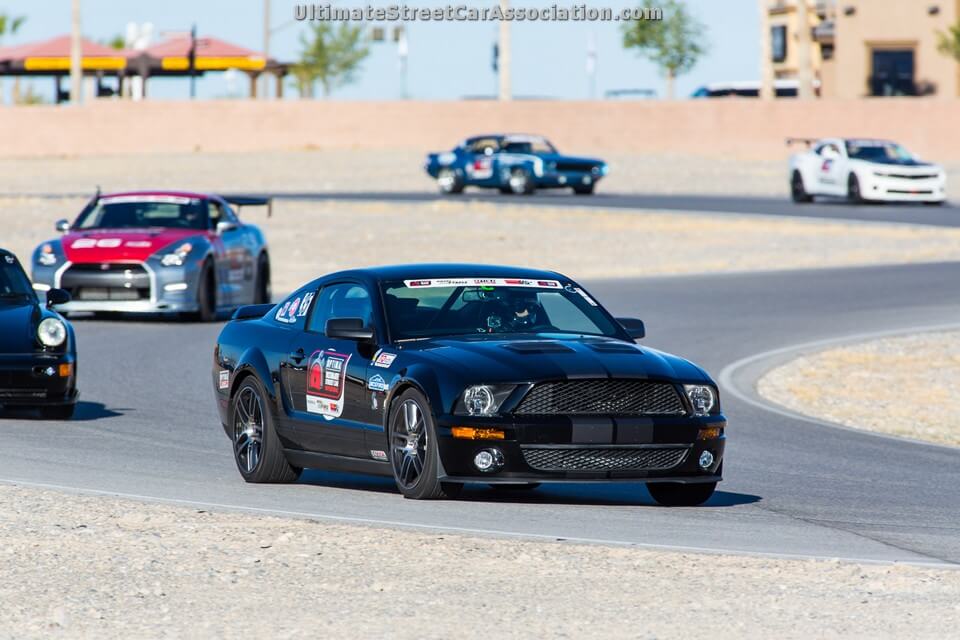 Ultimate Streetcar
Sponsor

OPTIMA Batteries

Location

Pahrump, NV
Lou Krukar is bringing a very cool 2009 Ford Mustang GT500 to the 2013 OPTIMA Ultimate Street Car Invitational (OUSCI), presented by Royal Purple and K&N Filters, but that is only part of his colorful story. Lou tells us he has been racing since his mom let him driving her Plymouth Valiant when he was just 13 years old. Lou didn't specify what kind of racing he did with the Valiant, but he said from that point forward, if it had wheels and an engine, he was willing to race it.
His first racing experience on a track came at the Winter Carnival in Willow, Alaska, back in 1974. The event was billed as a "Jalopy Race" and while Lou concedes his car was nothing special, it was his daily driver. We don't know how that turned out for him, but Krukar tells us he ended up building an Oldsmobile F-85, which he raced on the dirt track at Capitol Speedway in Willow, Alaska, for three years.
When Lou returned to Seattle in the early-1980s, he ended up building a 1968 Datsun 510 two-door, which he ran at the 5/8-mile in Monroe, Washington, as well as other venues around the Pacific Northwest. While this type of racing background is not typical of an OUSCI competitor, it is not unique. In fact, Lou isn't the only driver in the competition this year with prior oval track experience (Dennis Prunty).
Lou did go a little more traditional in 1984, when he bought an old Brabam BT21 open wheel club racer, which he campaigned in the Northwest Region, winning first place for Formula Continental and getting an invite from the SCCA to the Supercuts West Coast Championships. Lou called that milestone his swan song, as family responsibilities soon took priority in Lou's life.
When his children were fully-grown and out on their own, Krukar did return to his hot rodding roots, picking up a Dodge Coronet 440, followed by a '67 LeMans convertible and then he transitioned into Fords with a 2007 Mustang GT, which he converted into a Saleen Stage 3. From there, Lou added a Superperformance GT40 to his garage and then the 600-horsepower GT500 he is bringing to the OUSCI.
Krukar started out running the car in the 1/8th-mile drags at Forks, Washington, but Lou had bigger plans. He installed a Ford FR3 handling pack and went to the rookie driving school for the Silver State Classic Challenge open road race.
While Lou is thrilled to be invited to the OUSCI, he did want to thank a lot of folks, who helped make this all possible for him, starting with Kyra, his kids and grandchildren. Even though Krukar isn't sponsored by Ford, he does appreciate the awesome cars they've built and the fact that they're still honoring his factory warranty at Bickford Ford. Krukar would especially like to thank Timmy Piecuch at Kingston Collision (we're afraid to ask why).
One thing is for sure, Krukar is a character. Watching Krukar in action alone may be worth the price of OUSCI admission, but if you missed out on seeing it live, add the OPTIMA Network on Amazon Fire TV for free and re-watch it at your leisure!