2013 OUSCI Preview- Mark Stielow's 1967 Chevrolet Camaro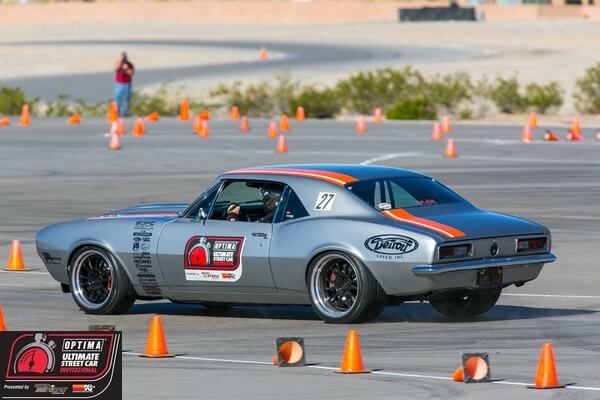 Ultimate Streetcar
Sponsor

OPTIMA Batteries

Location

Pahrump, NV
Quiet confidence. That might best describe Mark Stielow's approach to the 2013 OPTIMA Ultimate Street Car Invitational, presented by Royal Purple and K&N Filters. Stielow has always been a man who has let his cars do his talking for him and when they do, they scream excellence. It's been a busy year away from cars for Mr. Stielow (congratulations to Mark & his new bride), so the Mayhem Camaro that returns to the 2013 OUSCI to defend it's title will be very similar to what we saw last year.
The list of 2013 modifications begins with one of the most-popular that we've seen in the 2013 field, BFGoodrich Rivals, and ends with leather RECARO seats replacing the hard shell models from the previous year. The question really isn't whether Stielow should have done more to the car between last year and now, but could he have done more if he wanted?
The car already has 887 horses of supercharged LS9 perfection (maybe he could've sought out that one more pony to get to 888?). It has ABS onboard probably five to ten years before that becomes a common modification with cars of this generation. His Borla exhaust is stainless steel, but even if it wasn't, we don't think it would rust out and need replacing in a year. Stielow knows how to drive as well as anyone, so it's not like he smoked his Centerforce clutch so much in the last year, that it needs replacing.
What can the guy who builds Camaros as close to perfection as anyone has ever seen do to improve his builds further? That may be Mark's biggest challenge. He has moved the needle so far already, anything that he could come up with that would move it any further probably wouldn't be noticed by most folks. So, we head back to the changes Mark did make to the car.
Stielow hit the road this year for Hot Rod Magazine's Power Tour, proving once again, that his Camaro isn't just a race car that is technically street-legal (as if that ever needed proving). The change in seats probably made those long haul transits a lot more comfortable. The other difference is the BFGoodrich g-Force Rivals Mark installed. That tire seems to be the hot ticket item that every OUSCI competitor is either talking about or installing on their vehicle.
What is so special about the Rivals? No one has told us exactly, but we know when Mark made his previous tire choice, he didn't do it until after he had actually taken multiple brands to the track to test against each other. Make no mistake about it, Stielow is a competitor and wants to win, so we expect he ran the numbers on the Rivals and didn't pull the trigger on them as his tire of choice until after he confirmed they were his best option.
Although Mark has kept himself busy, he did take in some of the action at the Run To The Coast event earlier this year and came away very impressed with Brian Hobaugh's Corvette. Stielow beat Hobaugh last year by the narrowest of margins and he expects Hobaugh (and the other competitors) will do everything they can to close that gap in 2013.
The 2013 OUSCI should prove to be the most-exciting and most-competitive yet, with car's like the Mayhem Camaro clashing with other iconic and intimidating vehicles, from George Poteet's Torino to Steve Kepler's 800-horsepower Nissan GT-R. If you missed this iconic event, download the OPTIMA Network on Roku for free and watch all the past TV coverage on-demand.