2013 OUSCI Preview- Mike Holleman's 1965 Chevrolet El Camino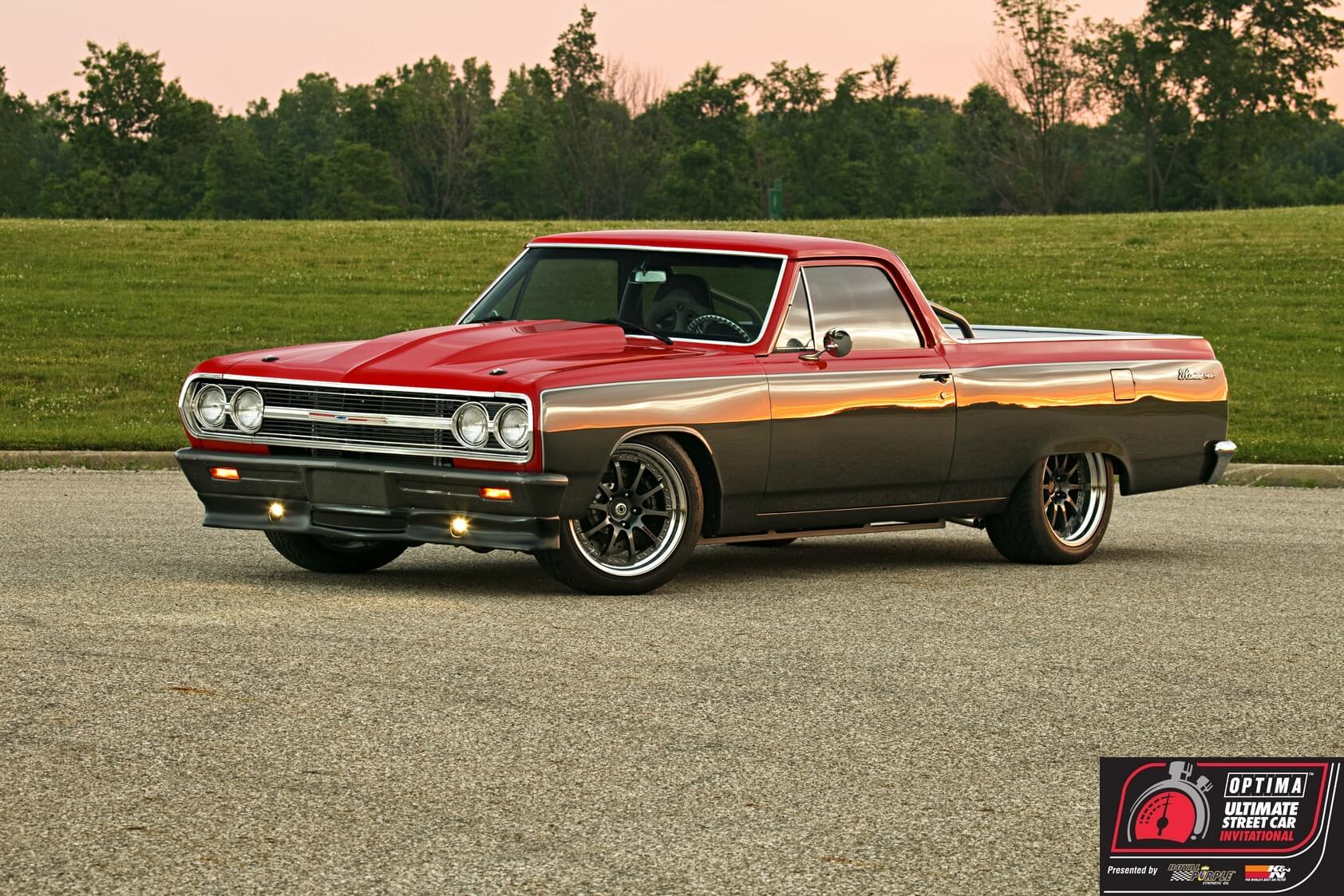 Ultimate Streetcar
Sponsor

OPTIMA Batteries

Location

Las Vegas, NV
The urge to mess with a good thing can be too much for some to overcome. It is the nature of hot rodders- projects are never really finished, someone else is always faster and the automotive aftermarket is always coming out with new products to tempt you. Mike Holleman and his 1965 Chevy El Camino were invited to the 2013 OPTIMA Ultimate Street Car Invitational (OUSCI), presented by Royal Purple and K&N Filters way back in April. Six months is a long time to stand pat on a car headed to Sin City.
When Holleman received his invite, he did indicate the clutch was going to need to be replaced, but didn't think he'd go much beyond that in terms of changes prior to the OUSCI. We know better than that. Six months later and Mike tells us he has replaced the windshield, due to the old one getting sandblasted by 30,000 hard miles in track events and open road races. When the speedometer hits 150 mph, even the smallest projectiles will leave a mark.
Mike has his finger on the pulse of the Pro-Touring community and with all the buzz surrounding BFGoodrich's new g-Force Rival tire, Holleman knew he wanted a piece of the action. That resulted in Mike re-hooping his Forgeline ZX3R wheels, as he chased 300-series rubber. His mission was accomplished, as he now runs 315-series tires in the back and 275-series up front. Mike also tells us Jet-Hot did a great job coating his headers and tips.
Beyond that, Holleman has largely (and wisely) resisted the urge to substantially change his combination in the weeks and months leading up to the OUSCI. His painter, Tom Ray, recently came out to buff out and touch up Holleman's two-tone paint, which should help him score well in the Lingenfelter Performance Design & Engineering Challenge and Mike has been frequenting VIR, to keep his driving skills sharp.
When the field heads to the track, Holleman could end up being a dark horse contender. Although his LS2-powered Elky only produces about 450 horsepower in his 3,368-lb. ride, the weight balance is nearly 50/50. That is due in part to the state-of-the-art chassis and suspension components from Schwartz Performance. His Wilwood brakes will give him the stopping power he needs in the Wilwood Speed/Stop Challenge and the Ridetech Autocross and his extensive driving experience will help him in all the events, including the BFGoodrich Hot Lap Challenge.
On paper, Mike Holleman is doing all the right things in preparing for the OUSCI. He's not making major changes, he's dialing in his current combination, he's paying attention to the details and he's keeping his driving skills sharpened. Will it be enough to win the 2013 OPTIMA Ultimate Street Car Invitational? See for yourself! Add the OPTIMA Network for free on Roku and watch all the past episodes on-demand, also for free.