2013 OUSCI Preview- Rick Hoback's 2007 BMW M6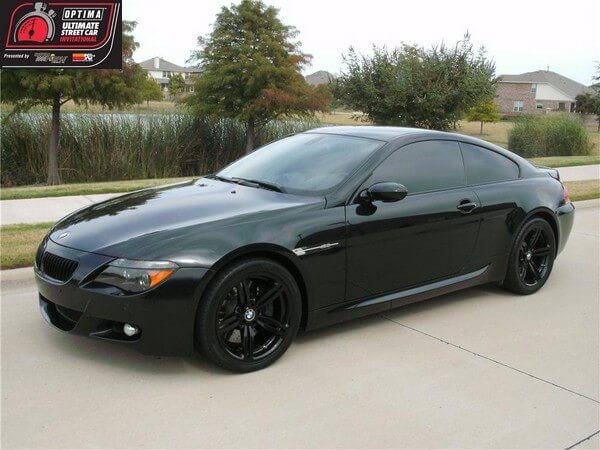 Ultimate Streetcar
Sponsor

OPTIMA Batteries

Location

Pahrump, NV
Each year, the Race Directors for the OPTIMA Ultimate Street Car Invitational (OUSCI), presented by Royal Purple and K&N Filters, strive to assemble a field that represents a broad spectrum of street cars and trucks. Some have said the OUSCI should have an age cut-off, splitting the field into two classes, one for older vehicles and one for newer vehicles, like Rick Hoback's 2007 BMW M6. They argue that older cars never came with anti-lock brakes, traction control and high-tech suspension systems, which puts them at a distinct disadvantage. To that, we say man up.
While being invited to the OUSCI is an accomplishment in itself, this isn't a politically-correct event, where everyone wins a ribbon at the end of the day. One car wins, we call it "The Ultimate Street Car" and we call it a day. There are no asteriks in that title, no exceptions and no excuses. If a vehicle is street-legal, runs 200+ treadwear tires and has the proper safety equipment, we want to see what they can do against the very best the world has to offer and frankly, so do our competitors.
That puts a very big target on the back of a guy like Rick Hoback, whether he realizes it or not. After all, the BMW M6 stickered for about $100,000 and features all of those modern accessories, plus a 500-horsepower V10 capable of propelling this car well past 200 mph. While we always crown a single champion, there are small victories within the event for the other competitors and we're not talking about winning the Wilwood Brakes Speed/Stop challenge or BFGoodrich Hot Lap Challenge. We're talking about the feather that goes into the cap of the guy who re-built a 40-year old car in his garage, made his way into the OUSCI and knocked off one of the best modern supercars Germany has to offer and did it for a fraction of the price.
It happens every year, as capable drivers with proven combinations come in and tangle with the big boys in the OUSCI and come out on top and that's one of the things that makes this event unique. However, just showing up doesn't get the job done and we don't exactly invite bone-stock OE examples with novice drivers behind the wheel.
Rick made his way into the OUSCI through the Silver State Classic Challenge open road race, so he has some background in competitive, high-performance driving and his BMW is not exactly stock. The exact performance numbers Rick provided to us show 507 horsepower at 7,750 rpms and 384 lb.-ft. of torque at 6,100 rpms. That sounds to us like someone who has had their car tuned and dyno-tested.
In fact, Rick does have a custom tune, underdrive pulley and custom exhaust system to help extract even more power out of his already potent power plant. He has also modified his air intake and added K&N filters for easier breathing. While it is often-overlooked, having a secure seat that allows you to use your arms to steer your car, rather than hanging onto it can also make a significant difference in lap times. To that end, Rick has added NRG racing seats and Crow five-point harnesses, attached to a four-point rollbar.
Handling has been upgraded with Eibach springs and already exceptional braking has been further enhanced by Hawk pads, Motul fluid and braided stainless steel brake lines. While other OUSCI competitors scramble to shave weight with aluminum and carbon fiber parts, Rick's ride came from the factory with lightweight bumpers and roof panels that not only reduce his overall weight but lower the BMW's center of gravity and reduce the moment of inertia, which improves the overall handling of the car.
Likewise, Rick didn't need to swap in a T56 transmission, because he already has a seven-speed SMG. Wheels and tires? No minitubbing or massaging was needed to fit 19-inch hoops or 285-series Michelin rubber on his M6. When one looks at the common modifications made to Pro-Touring cars, many of them basically amount to what the OEs are doing with their supercars today. Handle like today's performance cars with the styling lines of a classic is the challenge and Hoback's BMW will put them to the test.
BMW only built about 9,000 of these cars during their five-year production run, so the chances of anyone ever being able to do anything beyond magazine racing with them are few and far between. However, the 2013 OUSCI field will have a chance to see how they stack up in Pahrump. If you weren't able to make it in person, add the OPTIMA Network on Roku for free and watch all the past TV coverage.