2013 OUSCI Preview- Scott Sengpiel's 1993 Mazda RX7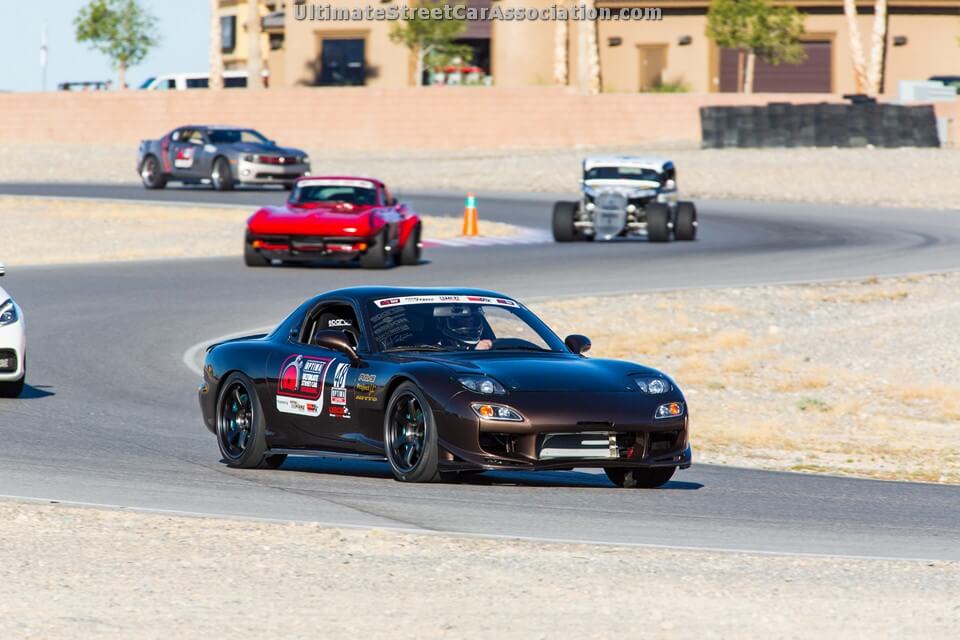 Ultimate Streetcar
Sponsor

OPTIMA Batteries

Location

Pahrump, NV
The SEMA Show is filled with a vast assortment of cars and trucks, which always makes it a challenge for the OUSCI Race Directors to select just ten vehicles to invite to the OPTIMA Ultimate Street Car Invitational (OUSCI), presented by K&N Filters and Royal Purple Synthetic Oil. However, Scott Sengpiel's 1993 Mazda RX-7 was one of the cars that really stood out and he ended up getting the nod to head to Pahrump.
Scott purchased the car as a roller back in 2009 and quickly swapped in a new LS1 and T56 transmission. He drove it for most of that year and the next, but sent it to the JC Kustoms at the end of 2010 to address some nagging paint and body issues. As things usually go when cars enter the body shop, one thing leads to another and before Sengpiel knew it, he was giving the go ahead to shave the engine bay, repaint the entire car and install what he describes as, "a full mil-spec custom engine and chassis harness."
Scott removed all the factory wiring and ABS and re-ran his own lines. He also built the engine to get more power out of it on the road course. The car was finally buttoned up in June and Sengpiel has been driving it ever since. His other sponsors include Rays Engineering Volk Racing wheels for supplying the custom-painted 18-inch GT-S wheels for the street and limited-edition TE37SL's for the track and Project Mu for supplying four-piston calipers, rotors and pads on the front and rear.
Jordan Innovations provided the custom mil-spec chassis and engine harness with custom a bulkhead connector and Evo 2 seats, four-point race harnesses and the 300-mm custom steering wheel all came from Sparco. For weight savings, a carbon hatch was added from Seibon and Shine Auto project was sourced for a carbon front bumper, fenders and hood. The weight savings result in a curb weight of about 2,900 pounds wet, with the driver.
The engine upgrades include a custom cam from Comp, ultra gold rockers, hardened pushrods, RHS heads and ARP hardware, which resulted in 451 horsepower and 417 lb.-ft. of torque. An ACT twin-plate clutch and lightweight flywheel also help make for a quick and responsive transfer of power.
Sengpiel's combination sounds robust enough to be competitive, but the question then always turns to how capable of a driver he might be? The answer sounds fairly good in Scott's favor. Sengpiel has been road racing for about five years, primarily in endurance competition, but also some SCCA and NASA-sanctioned events. He used to campaign a spec E30, but sold that to start a new build, which he hopes to campaign at the 25 Hours of Thunderhill in 2015.
Scott sounds conservative, but confident in how he expect he and his car will perform at the OUSCI. While he admits it is not fully-sorted out, he hopes to be able to further dial it in throughout the day and he hopes it will take adjustments well. He feels his biggest competition will be the shop cars, as he believes they have a significant amount of time, prep and money behind them.
Sengpiel feels the Mazda may do it's very best in the Wilwood Speed/Stop Challenge, because that will take place after the lunch break and will allow him extra time to dial in his brakes, tires and suspension on the RideTech Autocross. We just hope he doesn't overlook the importance of the Detroit Speed Road Rally and the ten points associated with successfully completing that event.
It does sound like Scott is taking the right approach to the OUSCI, in that he is looking forward to having a lot of fun and beating on a car that he spent the last 18 months build. We're glad he is taking that approach and we applaud him for his willingness to enjoy his car in a way so few others at SEMA seem willing or able to do! Watch the TV coverage from this OUSCI for free, anytime on the OPTIMA Network on Roku.