2013 OUSCI Preview- SKRAPE's 1966 Nova Wagon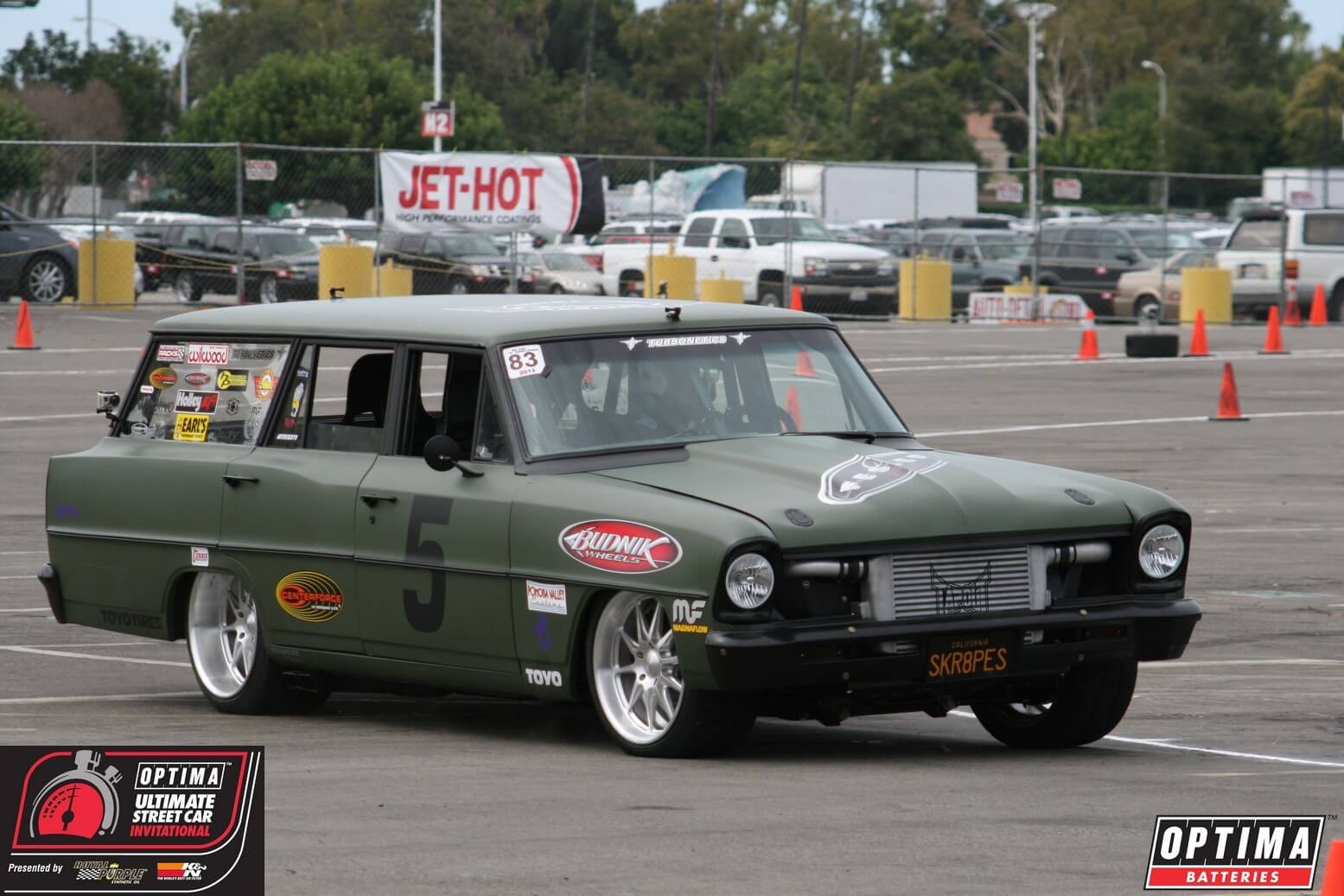 Ultimate Streetcar
Sponsor

OPTIMA Batteries

Location

Las Vegas, NV
We first spotted Timothy "SKRAPE" Katz's 1966 Chevy II Nova wagon at the 2012 SEMA Show, although at that time, the wagon was only "SEMA-ready." If you're not sure what SEMA-ready is, understand the origins of the OPTIMA Ultimate Street Car Invitational, presented by Royal Purple and K&N Filters, were to find out if the cars at SEMA were actually capable of not only be driven on public roads, but pushed hard on race tracks. What we've found over the years is that many of the vehicles at SEMA are not quite ready to let it all hang out and that was the case with SKRAPE's Nova last year- looked great at SEMA, but needed further tweaking before hitting the track.
So before we get into SKRAPE's Nova, we suppose it would be appropriate to explain why we would refer to someone as "SKRAPE." Way back in the 1990s, shortly after Al Gore created the internet, Timothy Katz and two friends took a gamble on a little-known sport that was beginning to gain popularity in the United States. No one knew at that point how big the sport might eventually get, but these three knew that if it exploded in popularity, the apparel company they started would be in on the ground floor.
Their gamble paid off, as Mixed Martial Arts did explode and along with it, their company, TapouT, of which SKRAPE was the Co-Founder and Vice President. Each of the founders had nicknames and SKRAPE presumably earned his nickname (aka SKY SKRAPE) because he was considered really tall (if he is shorter than 6'10 without the hair, OPTIMA Jim would disagree).
Anyway, fast forward one year later and SKRAPE's Nova has been buttoned up and dialed in for competition. While we'd like to give you a detailed rundown on it, information is somewhat limited at this time. We can tell you that a boosted LS3 is under the hood. With a Turbonetics 76 mm turbo dialed in at five pounds, the engine generates 540 horsepower at the wheels, which are from Budnik. The tires are a different story, as SKRAPE cites both BFGoodrich and Toyo for assistance there, although we don't know which it will be wearing at the OUSCI.
While "celebrity" builds can often go awry, the folks SKRAPE listed as assisting in his build give us the confidence to believe he had good people in his corner, starting with Dr. Jamie Meyer, Performance Marketing Manager at General Motors and Jason from G-Machine Racing. Others on the list include OUSCI sponsors, Wilwood, Ridetech, Magnaflow and Centerforce Clutches.
We like to recognize all the folks who helped create the field for the OUSCI, so we'll also mention TCI Engineering, Fesler, Currie rear ends, Rick's Tanks, Holley, Earl's Performance Plumbing, Heatshield Products, DanZio Performance, James Crosby Design and Dynamat as having components on SKRAPE's Nova. That list should make it obvious that SKRAPE didn't trust some fly-by-night shop to build his ride, only to see it show up with cut springs, painted stock calipers and a wheezing engine. In keeping with the MMA theme, the wagon weighed in at just 3,450 pounds.
We like to get a little background on our competitors, as well as their cars, although SKRAPE has remained somewhat of a mystery. He lists his driving experience as "driving every day on the freeway in my '55 Chevy lowrider and all my other cars around town." However, he did admit to running in some SoCal Challenge events, so we're sensing he may be sandbagging a bit on his experience. When we asked SKRAPE how he thought he'd fare in the OUSCI and he responsed that he would, "probably get last place," we knew he was sandbagging.
Although SKRAPE doesn't have any idea where his wagon might struggle or shine in the OUSCI, we doubt it will struggle in the Detroit Speed Road Rally and may score very well in the Lingenfelter Performance Design Challenge. However it turns out, SKRAPE knows his hair looks awesome and his wagon is pretty cool and we know more than a few guys who would love to have either one of those things going for them.
You can see SKRAPE in action and Goldberg calling all the action at the 2013 OUSCI, but you need to add the OPTIMA Network on Roku.