2013 OUSCI Preview- Steve Mott's 2003 Nissan 350Z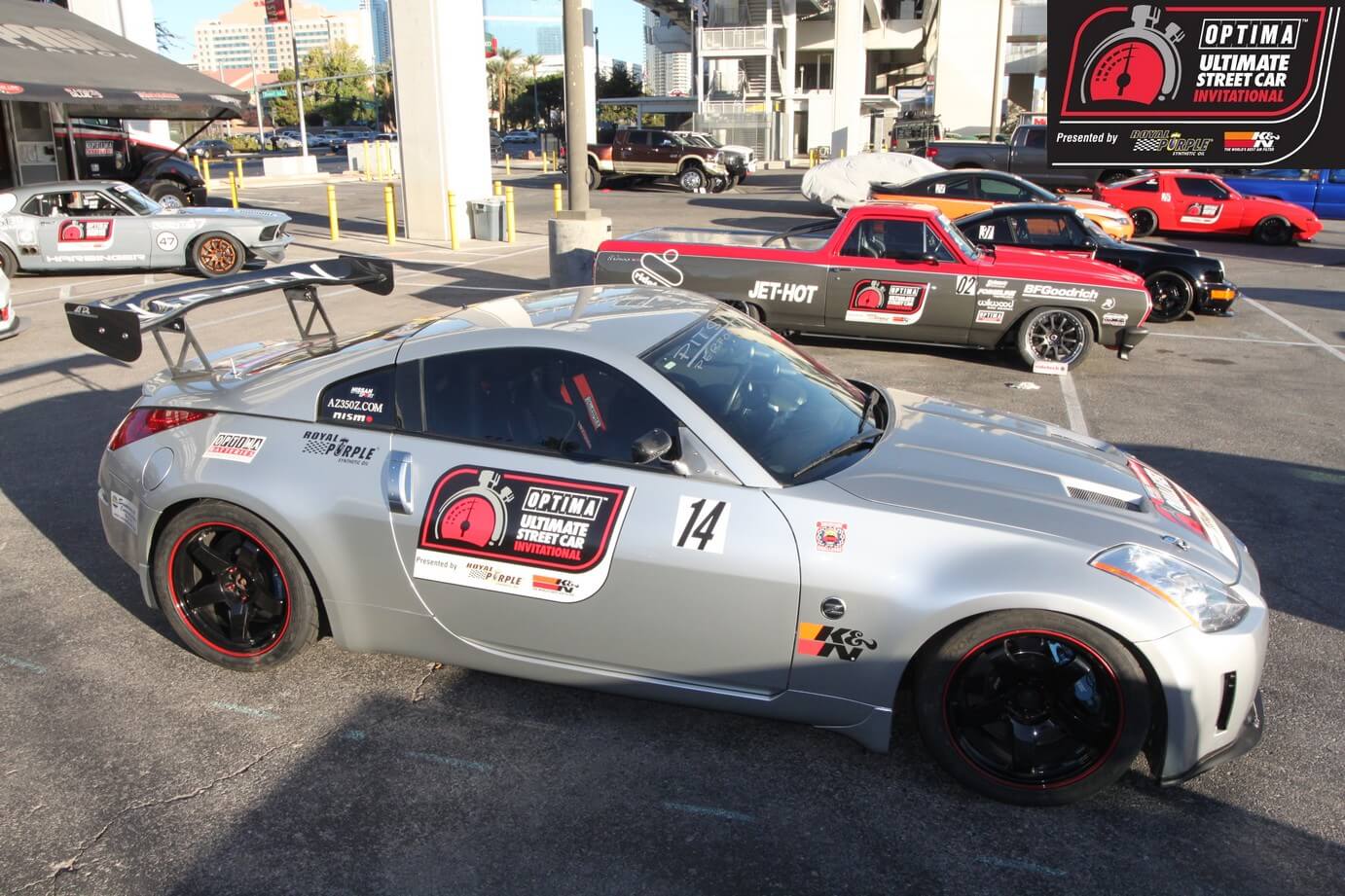 Ultimate Streetcar
Sponsor

Location
There are a lot of great cars and drivers out there and every year we seem to end up inviting a few to the OPTIMA Ultimate Street Car Invitational, presented by Royal Purple and KN Filters, that are relative unknowns to fans of the OUSCI. While they may be very well-known in the circles they run in, if folks only follow Pro-Touring events or Goodguys Autocross standings, they may not be as familiar with someone who runs open road races or SCCA autocrosses.
Last year, Travis Hill and his 1000+ horsepower Nissan GTR would probably fit that bill. People could see that he had a Nissan GTR, if they were familiar with Switzer Performance, they'd know the car was probably very well-built, but would driver and car combine to contend for the title in the OUSCI? Hill finished an impressive fifth overall last year. We could see a repeat of that performance with Steve Mott and his 2003 Nissan 350Z or perhaps the first import winner in OUSCI history. What makes Mott such a contender? Read on and we'll explain.
Steve started road racing motorcycles in the early 1980s at places like Sears Point, Willow Springs and the old Riverside raceway. It was great fun, but a few falls from high speed told him that maybe it was better to race something with a cage around him. He then started out autocrossing a Mazda RX-7 in the late 1980s. He did well, winning a South Florida C-Stock championship and becoming an SCCA autocross instructor, but he wanted more seat time than 40 seconds at a pop.
In 1988 he took a Skip Barber three-day competition school at Sebring. From then on, he was hooked on road racing. He then went to SCCA driver's school and earned his Novice license. He had car troubles early on, racing a newly-built and unsorted car (an old Mazda RX-2), but the first race that the car finished, Steve won. He then went on to get many competition licenses, including an SCCA National license, an IMSA license and an FIA International license and even drove in the 1994 12 Hours of Sebring.
He later acquired licenses from NASA, ASA and even a Mexican rally license and won his class in the first rally that he entered- the Chihuahua Express in Mexico in 2008. He also entered the 25 hours of Thunderhill in 2008, but his car developed problems and did not finish. He had plans to compete in the Targa Newfoundland that year, but the deal fell through.
Even though that would seem like more than enough experience for Steve to be considered a serious threat on the track in the OUSCI, we're not done telling his story yet. He has done quite a few track days in his Nissan and became a performance driving instructor with ProAutoSports in Phoenix. He has also done pretty well in time attacks too, having podiumed twice in the Redline time attack series.
He has also been competing in the Silver State Classic Challenge since 2004, which is where we found him and extended an invite. He has entered 20 open road races with this car, winning his class five times, including an overall win in 2011. He also has several second and third-place finishes. He was the 2008 International Series Champion and also became the Chief of Tech for the Silver State Classic Challenge events. This was due in part due to his engineering background (he is a nuclear engineer by profession), but also his emphasis on safety that he saw was lacking.
At this point, we're convinced Steve's driving resume will make him a threat in any car in the field, but we haven't even gotten to his Nissan yet. Before we do that, we'll tell you how Mott thinks he will do in the event. Just as most of our competitors are unfamiliar with Steve, the same is true on his end. His knowledge of most of the OUSCI drivers begins and ends with what he watched on YouTube. He does consider himself to be a decent driver (we agree) and he believes his car has been well sorted out, having gone through four different suspensions, trying to find one he liked.
Steve thinks he has a shot at a top-five finish in the RideTech autocross, but concedes that the tight limited-slip differential that helps him on the track will be a liability on the autocross. Even though he doesn't have much, if any experience in an event like the Wilwood Speed/Stop Challenge, it is similar enough to an autocross, that we think he'll get it sorted out within his allotted three runs.
Mott feels his best event will be the BFGoodrich Hot Lap Challenge, as he knows his Nissan is quite fast (at least faster than stock GTRs and Lotus Elises) and he certainly has the experience behind the wheel needed to be successful. The Lingenfelter Performance Design Challenge could be his downfall in all of this, as his 350Z has been driven hard and is not a show car. That means there are scratches, dents, scrapes and other imperfections that prove the Z is not a trailer queen. So can we finally learn more about his Nissan? Yes.
Let's start with the simple numbers and explain how he arrived there- 613 horsepower and 638 lb.-ft. of torque.
Jim Wolf Technology twin-turbo kit – 700BB Garrett turbos
Arias 8.5:1 compression forged pistons
Eagle forged connecting rods
RS Engineering 440cc injectors
Rotora-sponsored 14-inch Big Brake Kit Front/Rear
Autometer Ultra-Lite gauges and gauge pod
Split Second Box tuning controller
Greddy boost controller
JIC Magic Spartan DE Type 1 titanium exhaust
Stillen stainless steel Y-pipe
Jim Wolf Technology C2 racing camshafts
Jim Wolf Technology competition clutch
Jim Wolf Technology lightweight flywheel
Jim Wolf Technology custom ECU tuning
PWR racing oil cooler with braided stainless lines
PWR all aluminum racing radiator
Samco silicone coolant hoses
Tom Motorsport coilover competition springs
Tokico D-Spec 16-way adjustable shocks
Cusco adjustable front upper control arms
Hotchkis front and rear sway bars
Crawford Z Performance strut tower bar
Unorthodox Racing lightweight crank pulley
NISMO limited slip differential
NISMO racing radiator cap
APR carbon-fiber racing mirrors
Seibon carbon-fiber hatch
Custom GG Racing grounding kit
Stillen front splitter
APR GT-300 carbon fiber wing
Kirk Racing roll bar
Corbeau FX-1 racing seats
G-Force competition six-point harnesses
Rota P45R wheels
Hankook R-S3 tires tires
Gorilla forged lightweight lug nuts
Do you think Mott and his car can contend for a win in the OUSCI? Buy your OUSCI ticket and find out!