2013 OUSCI Preview- Troy Ladd's 2014 Ford Mustang GT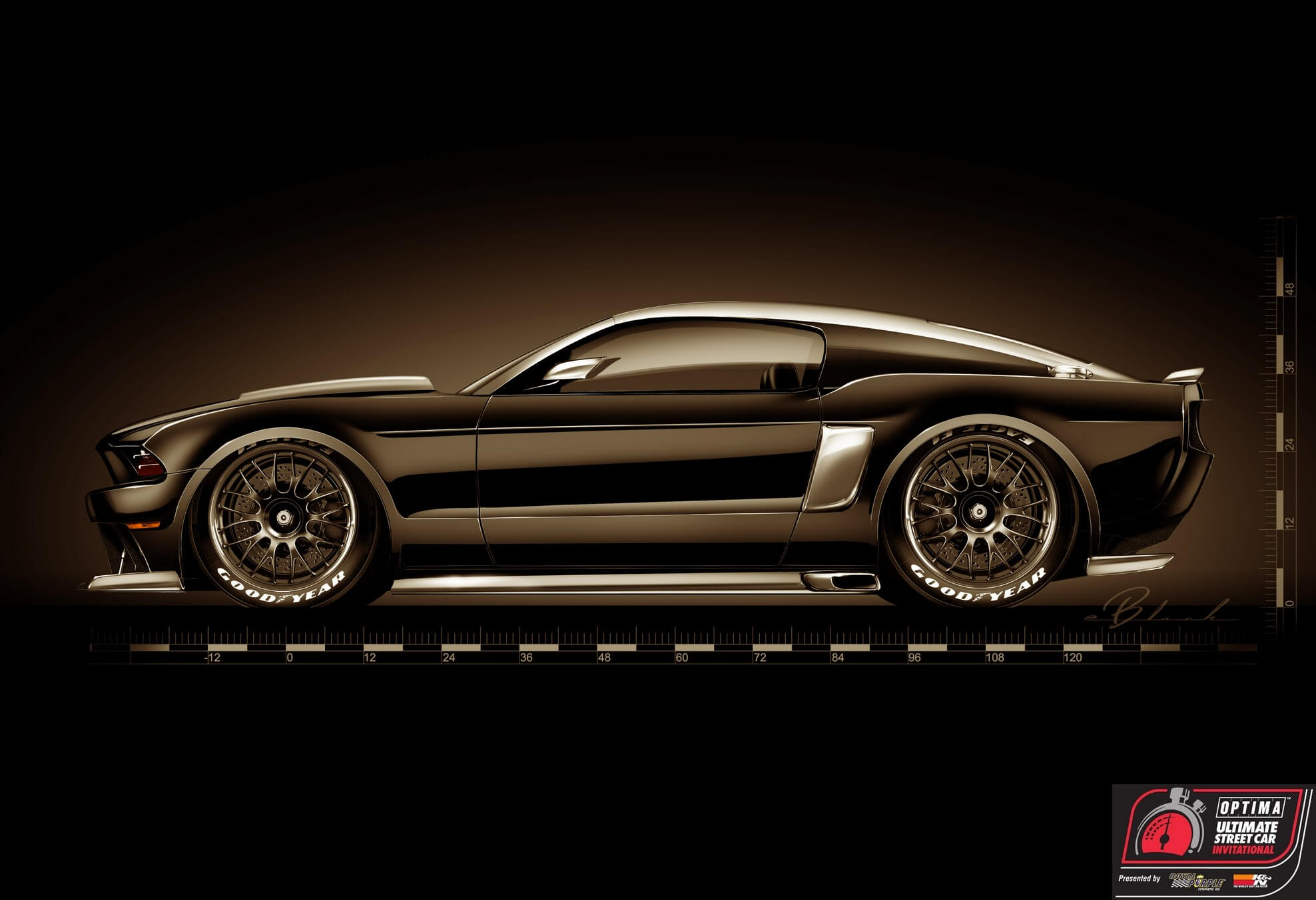 Ultimate Streetcar
Sponsor

OPTIMA Batteries

Location

Hollywood, CA
Troy Ladd is returning for yet another trip to the OPTIMA Ultimate Street Car Invitational (OUSCI), presented by Royal Purple and K&N Filters, but this time it is in a way unlike we've ever seen from him before. While many folks (including some OUSCI fans) may associate Troy and Hollywood Hot Rods with classic and vintage builds, the 2014 Ford Mustang GT Ladd built for SEMA represents a step well outside of the box.
This 2014 Mustang GT takes an extreme custom and performance approach to re-styling. It encompasses a super-car style of re-design that takes even the visual appeal of an iconic pony car to a whole new level. This Hollywood Hot Rods creation respects the tradition of previous designers such as Shelby, takes the best of an already performance based vehicle such as the Mustang GT and propels it to new visual heights. The centerpiece is the lowered roof line, created by a brushed aluminum lift off top and completely re-designed rear section, accented by matching aluminum race and super-car inspired pieces.
By accenting the base lines with complimenting detail accessories, converting the suspension and chassis to full race capabilities, and dramatically increasing horsepower, Hollywood Hot Rods dramatically transformed a base Mustang GT convertible vehicle into something that will put some exclusive European cars to shame! The overall package creates a Mustang masterpiece to rival the style, performance and overall visual impact of any modern "super car!"
While the era may be different than what we've seen from Hollywood Hot Rods in the past, there is one thing we expect will definitely carry over- consistency. One of the things that made Ladd's builds so unique, were that they were absolute works of rolling art, yet when it came time to hit the track, they were all-in.
As many cars as there are at SEMA, it is surprisingly difficult to find any that are willing or capable of doing much more than driving to and from car shows. We applaud Troy Ladd and his crew at Hollywood Hot Rods for their willingness to prove that there is more to the cars they build, than just the beauty you see as you walk by them at a show. The new Mustang platform should give Ladd even more of an opportunity to flex his muscle on the track and we look forward to seeing him out there. Here are the specs on what he's bringing to the fight-
Base Vehicle
2014 Mustang GT convertible
5.0L 4V Ti-VCT engine
6- speed manual transmission
Powertrain
Ford Racing Performance Parts

Supercharger and intercooler kit
Throttle body
Banks, Straight Shot water/methanol injection system
HHR custom stainless oval tube side exhaust
California Pony Cars engine dress up accessories
Chassis
Cortex Racing, X-treme grip complete front coil over suspension system
Cortex Racing, X-treme grip rear torque arm coil over suspension and watts link
JRI coil over shocks with PAC performance coil springs, front and rear
Stoptech, front Big Brake kit, six-piston calipers, 15" rotors
Steeda , rear brake kit, 13-inch rotors
Rollbar by Hollywood Hot Rods
Wheels Tires
Forgiatto Maglia- ECL, (21x9 front 22 x11 rear) wheels
Pirelli P Zero tires, (255/30/21 front, 305/30/22 rear) tires
Exterior
Hollywood Hot Rods, hand-made aluminum lift-off roof
AM Hot Rod Glass acrylic rear and side windows
Hollywood Hot Rods, aluminum mesh grill and brake duct assemblies
Hollywood Hot Rods, aluminum front splitter, rear diffuser, side skirts and wing assembly
Paint by John Harb of "The Shop"
Interior
Sparco Ford Factory Ford GT seats
Elegance Auto Interiors, custom interior
Art of Sound design, fabrication and installation of sound system
Art of Sound, subwoofer enclosure
Kicker Audio

6.5" component sets
12" L7 subwoofers
4 - 1000 watt IX amps

Banks, iQ Man-Machine Interface
Design by:
e. Black Design Co.
Created by:
Hollywood Hot Rods, Inc. Burbank, California