2013 OUSCI Recap- Lingenfelter Performance Design Challenge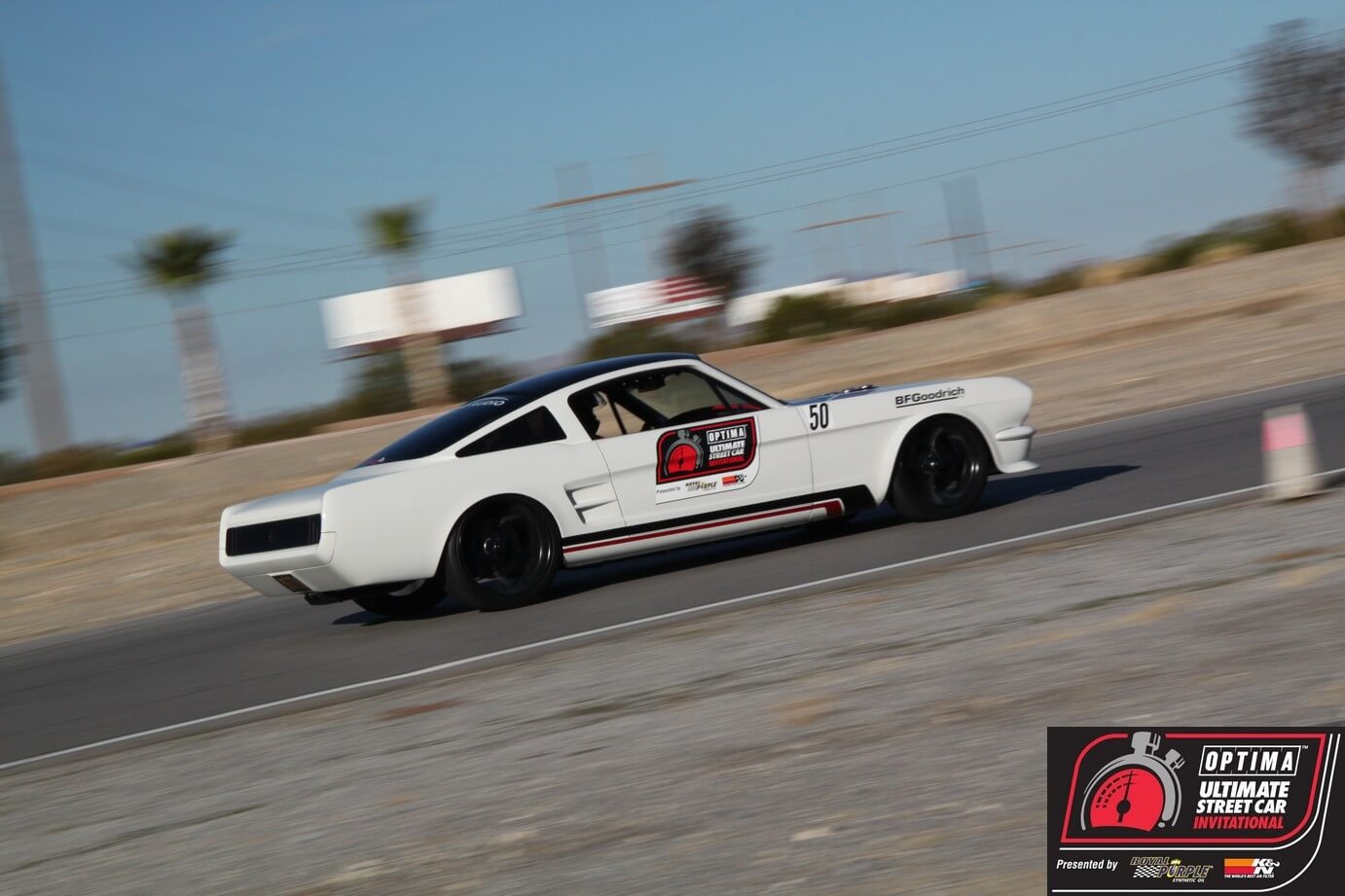 Ultimate Streetcar
Sponsor

OPTIMA Batteries

Location

Pahrump, NV
This is the second blog post in a five-part series, recapping the 2013 OPTIMA Ultimate Street Car Invitational (OUSCI), presented by Royal Purple and K&N Filters. Following these posts, we will delve deeper into individual results and interviews with competitors that will shed some additional light on the hows and whys relating to where everyone finished in the event.
Today, we would like to focus on the Lingenfelter Performance Design Challenge segment of the OUSCI. While each competitor vehicle is awarded judging points within this event, the way OUSCI scoring is set up, only the top-20 competitors in each event receive overall "tally" points for that event.
Some may question the absence of a few cars in these final results, that were definitely at the event. As we mentioned in yesterday's blog about the Detroit Speed Road Rally, according to OUSCI rules, all competitors must at least attempt to compete in all of the events in order to compete for or win any awards.
As a result, anyone who did not at least attempt to complete the Detroit Speed Road Rally was excluded from the final results, as were all competitors who were unable to get their vehicles to Spring Mountain for judging. See the TV coverage from the OUSCI for free on the OPTIMA Network on Roku.
| | | | | |
| --- | --- | --- | --- | --- |
| Driver/Vehicle | Car # | Design Points | Position | OUSCI Points |
| Alan Palmer- 1965 Ford Mustang | 50 | 174 | 1 | 25 |
| Dave Eckert- 1969 Ford Mach 40 | 33 | 171 | 2 | 22 |
| William Horan- 2010 Audi R8 | 45 | 148 | 3 | 20 |
| Darren Nickleson- 1969 Pontiac GTO | 54 | 146 | 4 | 18 |
| Mark Stielow- 1967 Chevrolet Camaro | 01 | 140 | 5 | 16 |
| Ed Moss- 1967 Ford Mustang | 51 | 137 | 6 | 15 |
| Karl Dunn- 1968 Chevrolet Camaro | 52 | 137 | 6 | 15 |
| Todd Treffert- 2012 Mercedes-Benz SLS | 36 | 136 | 8 | 13 |
| Boris Tilim- 2012 Fiat Abarth | 61 | 130 | 9 | 12 |
| Cheryl Herrick- 1966 Chevrolet Nova | 60 | 126 | 10 | 11 |
| Brian Hobaugh- 1965 Chevrolet Corvette | 16 | 125 | 11 | 10 |
| Jonathan Ward- 1950 Chevrolet Thriftmaster | 46 | 124 | 12 | 9 |
| Chris Smith- 1967 Chevrolet C10 | 32 | 122 | 13 | 8 |
| Troy Ladd- 2014 Ford Mustang | 27 | 119 | 14 | 7 |
| Brian Finch- 1971 Chevrolet Camaro | 17 | 116 | 15 | 6 |
| Danny Popp- 2010 Chevrolet Camaro | 21 | 115 | 16 | 5 |
| Randy Johnson 1973 Chevrolet Camaro | 29 | 113 | 17 | 4 |
| Corey Weber- 1969 Ford Mustang | 47 | 109 | 18 | 3 |
| Matt Alcala- 1969 Chevrolet Camaro | 03 | 107 | 19 | 2 |
| Bret Voelkel- 1933 Ford Coupe | 20 | 105 | 20 | 1 |
| Larry Woo- 1968 Chevrolet Camaro | 10 | 103 | 21 | 0 |
| Robert Benson- 1972 DeTomaso Pantera | 30 | 101 | 22 | 0 |
| Joe Delgado- 1995 Toyota Supra | 53 | 100 | 23 | 0 |
| John Kundrat- 1964 Chevrolet Corvette | 04 | 99 | 24 | 0 |
| Matt Adams- 1977 Chevrolet Camaro | 39 | 99 | 24 | 0 |
| James Shipka- 1967 Chevrolet Camaro | 18 | 98 | 26 | 0 |
| Mark German- 2013 Ford Focus ST | 49 | 97 | 27 | 0 |
| Dennis Prunty- 1981 Pontiac Trans Am | 07 | 95 | 28 | 0 |
| Kyle Tucker- 2012 Chevrolet Camaro | 19 | 91 | 29 | 0 |
| Damion Campbell- 1963 Pontiac LeMans | 06 | 90 | 30 | 0 |
| Mike Holleman- 1965 Chevrolet El Camino | 02 | 89 | 31 | 0 |
| Steve Kepler- 2013 Nissan GT-R | 05 | 89 | 31 | 0 |
| Richard Caleel- 2010 Cadillac CTS-V | 34 | 89 | 31 | 0 |
| Jonathan Ward- 1946 Lincoln Club Coupe | 40 | 87 | 34 | 0 |
| Betim Berisha- 2008 Porsche 997TT | 42 | 83 | 35 | 0 |
| Dax Snow- 2009 Lamborghini Gallardo | 44 | 82 | 36 | 0 |
| David Stundon- 2009 Shelby Mustang | 37 | 80 | 37 | 0 |
| Lynda Jacobs- 1966 Chevrolet Chevelle | 12 | 75 | 38 | 0 |
| Tim Katz- 1966 Chevrolet Nova | 23 | 75 | 38 | 0 |
| Richard Hoback- 2007 BMW M6 | 13 | 73 | 40 | 0 |
| Chris Moore- 1972 Ford Maverick | 15 | 73 | 40 | 0 |
| Stacy Tucker- 1969 Chevrolet Camaro | 22 | 72 | 42 | 0 |
| Mark Capener- 2013 Dodge Viper | 25 | 72 | 42 | 0 |
| John Lazorack- 1988 Chrysler Conquest | 26 | 72 | 42 | 0 |
| Ken Edwards- 1966 Ford Mustang | 09 | 71 | 45 | 0 |
| Bruce Raymond- 2006 Pontiac GTO | 24 | 70 | 46 | 0 |
| Jason Overell- 2013 Subaru Sti | 41 | 69 | 47 | 0 |
| Todd Earsley- 2003 Mitsubishi Lancer | 28 | 63 | 48 | 0 |
| Steve Mott- 2003 Nissan 350Z | 14 | 61 | 49 | 0 |
| Lou Krukar- 2010 Ford GT500 | 35 | 61 | 49 | 0 |
| Jason Crouch- 2012 Volkswagen Golf R | 55 | 48 | 51 | 0 |
| Josh Smith- 1996 BMW 320i Touring | 38 | 46 | 52 | 0 |