2014 OUSCI Preview- Bob Bertelsen's 1969 Chevrolet C10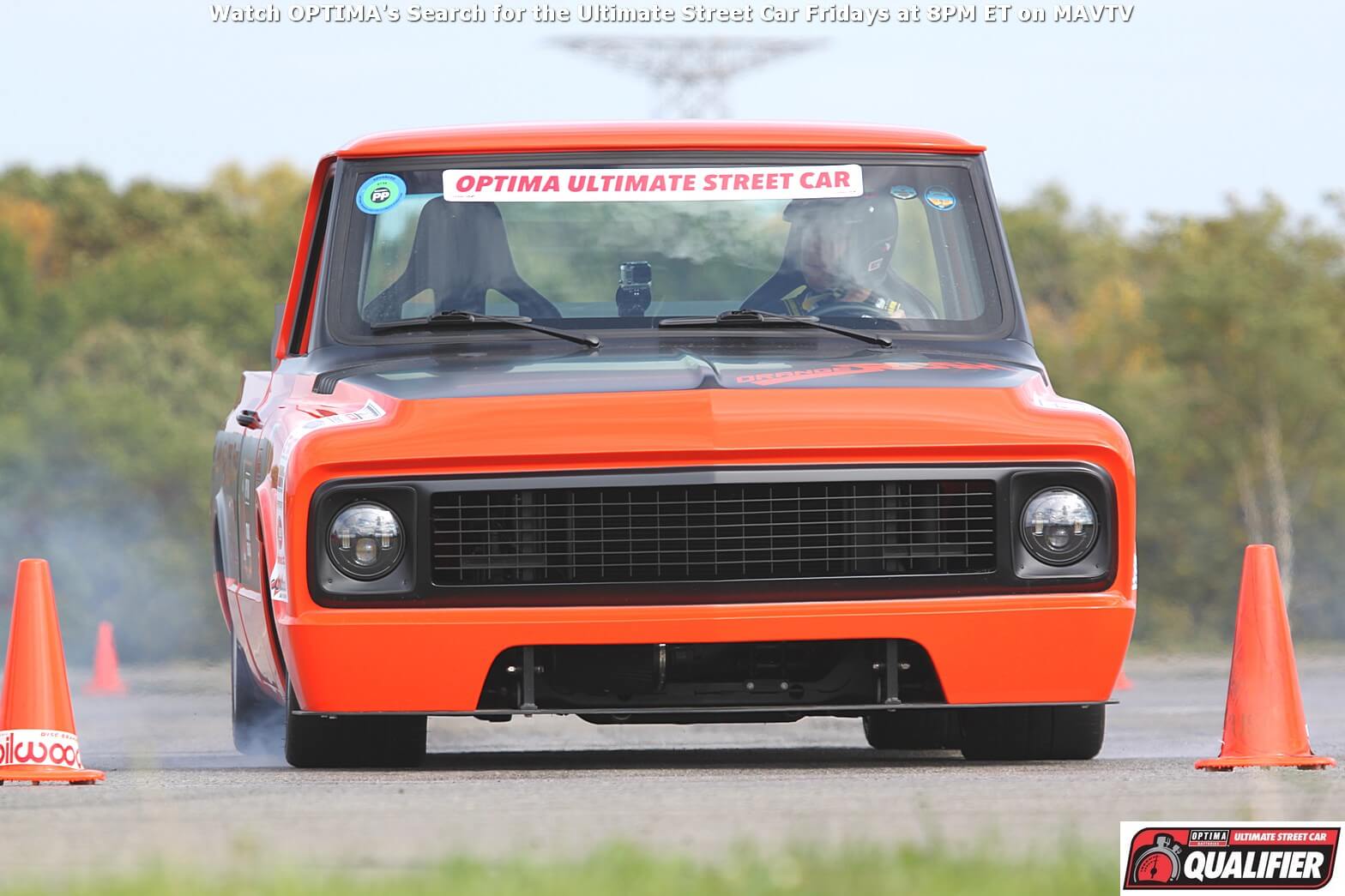 Ultimate Streetcar
Sponsor

OPTIMA Batteries

Location

Las Vegas, NV
Bob Bertelsen is no stranger to the OPTIMA Ultimate Street Car Inviational (OUSCI), having previously-fielded two different entries (both F-bodies). His third trip to the OUSCI will be in a much different vehicle- a 1969 Chevrolet C10 pickup truck. If there is one thing Bob has learned from his previous experince, it is that preparation is key- in order to finish first, you must first finish. Bob has spent a good portion of the summer months shaking down his C10 and he encountered mechanical difficulties at the Ultimate Street Car Association event in Michigan.
Fortunately, his valiant effort to compete was rewarded with a K&N Filters Spirit of the Event invitation at Michigan and he locked his spot in for SEMA and the OUSCI. Bertelsen knew that was just the beginning and he wanted to make sure the C10 was ready, so he continued to run in events after Michigan, including Holley's LS Fest. It was a good thing he did that, as he lost a couple of cylinders during the Friday morning autocross and spent the next two days trying to sort out the issue- not something he'd want to have happen in Las Vegas!
Bob eventualy got things squared away and entered the truck in the Pittsburgh USCA event, where he notched a 13th-place finish in one of the largest GT3K fields we've seen all year. That effort was headlined by his win in the Lingenfelter Performance Design Engineering Challenge. Bertelsen was solid across all three on-track competitions as well, just missing the top-20 in the BFGoodrich Hot Lap Challenge by .402 thousandths of a second. Bob did finish inside the top-20 on the RideTech Autocross and inside the top-10 on the Wilwood Speed Stop Challenge.
That all-around consistency and the ability to complete the Detroit Speed Road Rally will be key to a strong performance in an OUSCI competition that has watched more than a few competitors fall by the wayside (literally) over the years, due to shortcomings or mechanical issues in one or more disciplines. Bob isn't one to be happy with just being in the event and he tells us he plans on experimenting with different spring rates to improve his on-track performance, as well as some touch-up work and cleaning to remove the track grime accumulated this summer.
Performance-wise, the heavy Chevy (4,096 pounds wet) dynoed at 529 horsepower to the wheels and Bob has added a 100-shot of nitrous, although he doesn't expect to use that at the Las Vegas Motor Speedway. This will be Bob's first visit to LVMS, but he does plan on watching some videos of the road course in preparation for his trip. Bob understands the field will be stacked with great drivers and incredible machines, but he believes the winner will be the one who has their car (or truck) dialed in, both in terms of power and handling, for the conditions at LVMS and brings their "A game" to the event.
Bertlesen knows he may be a longshot to win the OUSCI title, but he is confident he can score well in the Lingenfelter Performance Design Engineering Challenge. He also believes he is capable of notching top-10 finishes in both the RideTech Autocross and Wilwood Speed Stop Challenge if he keeps his head in the game. The BFGoodrich Hot Lap Challenge will truly be the most-challenging event for him, as he knows he doesn't have the seat time that other competitors do and just isn't familiar with the track.
While Bertelsen would like to win the OUSCI, his realistic goal for the 2014 edition is a top-10 finish and we think he is certainly capable of that. We'd like to tell you to follow Bob on Instagram, Twitter or some other social media site, but he isn't really that active in the digital space. "I chose to be in the garage, building vehicles, rather than being online, talking about what I should be building," says Bertelsen. We can't argue with that logic!
Bob would like to thank a long list of folks, who have been very helpful in the construction of this truck, including Kurt Urban Performance, Baer brakes, BASF, Detroit Speed, JRi shocks, Tremec Transmissions, Bowler Transmissions, Jet-Hot Coatings, Forgeline wheels, BFGoodrich Tires, Auto Meter, Holley, Bonell's Rod Shop, A Plus Power Coaters, PAC Racing, American Autowire, Speedliner and DIGI-TAILS.
If you are a C10 truck fan or just want to see some of the coolest street-legal cars and trucks on the planet go at it on a race track, be sure to check out all the past TV shows covering the OUSCI for free on the OPTIMA Network on Roku.