2014 OUSCI Preview- Brandon Ranvek's 2006 Mitsubishi Evo RS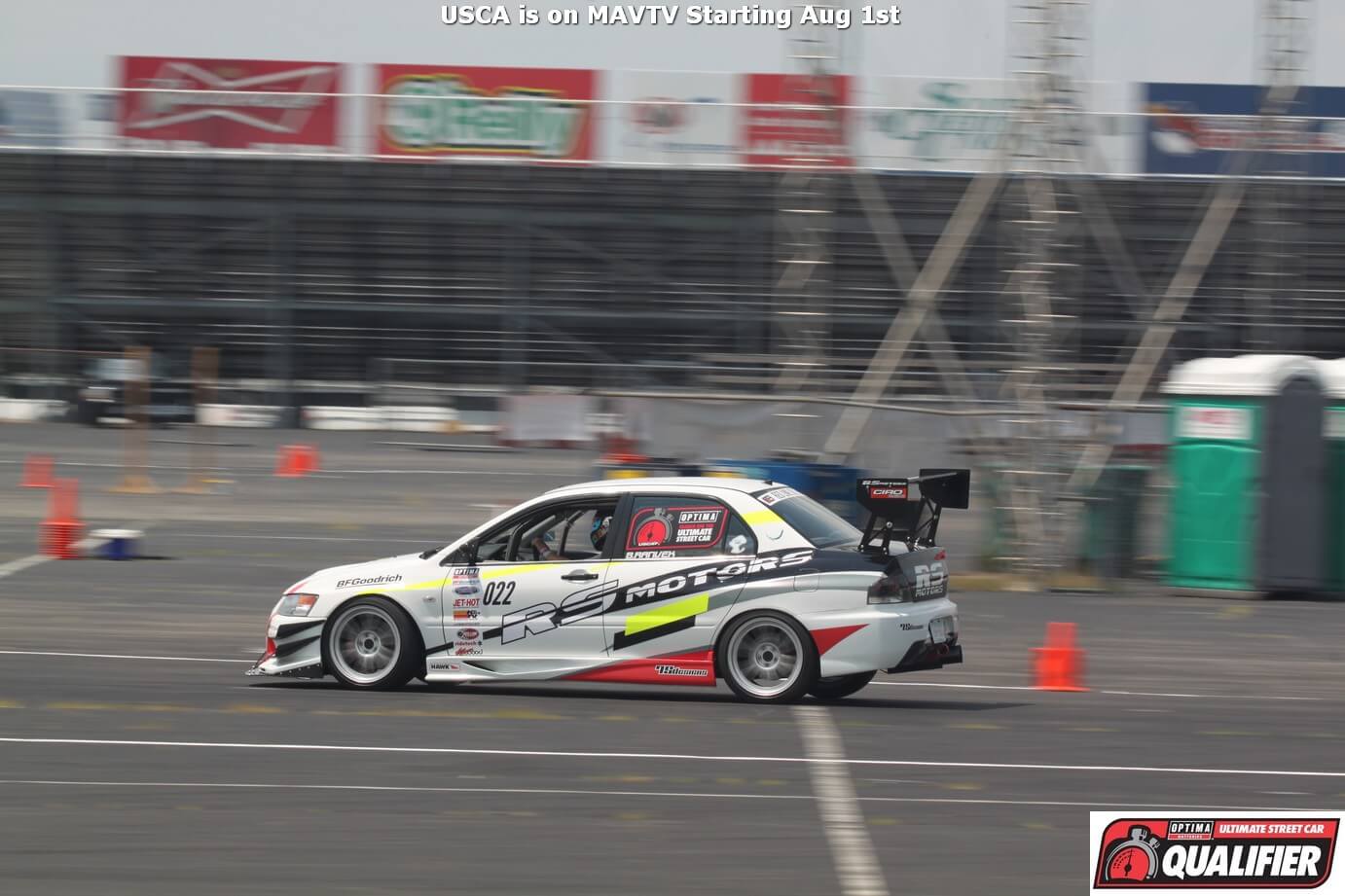 Ultimate Streetcar
Sponsor

OPTIMA Batteries

Location

Las Vegas, NV
We've heard a lot of different stories over the years about how competitors prepare for the OPTIMA Ultimate Street Car Invitational (OUSCI) and what plans they are making for the event, but Dr. Brandon Ranvek gave us a new one that had nothing to do with his 2006 Mitsubishi Evo RS- "My wife and I have hired a nanny for our four kiddos (Kayle 6, twins Aubree Madison 2 and Jaden 11 months) and are planning to be there for the entire week!" said Ranvek. Believe it or not, Brandon's visit to the 2014 SEMA Show and OUSCI will be his first visit to Las Vegas. Ranvek plans to make it a trip to remember, as he will be accompanied by several friends from RS Motors, who will also be competing in the event- RS Motors owner, Ronnie Soliman, AJ Santiago and Andy Smedegard, along with a full ensemble of friends and family.

In the meantime, life is busy for Brandon and making time for cars isn't always easy, but he makes it a priority, because it is his passion. "I'm an owner/dentist with Park Dental in the Minneapolis and St. Paul metro area," says Ranvek. "I enjoy my career- its fulfilling and rewarding, but it can also be demanding, as any business owner knows. My amazing wife, Jasmine, has always supported my racing because she understands its what fuels my soul!"
Brandon will be the first to admit he is fortunate to have a supportive wife who also enjoys cars. He tells us she loves attending events, has been involved as his pit manager for ChumpCar races and just recently got behind the wheel for her first ever autocross event in their recently-acquired BWM E36 M3. "Our kids are very familiar with the "race cars" as I spend a lot of time working on them," says Brandon. "I actually filmed my daughter Madison (2) working on her race car- hood up on the bright green power wheels quad, squatting and reaching under the front end. It makes me so proud to pass on my passion. One of my wise friends told me, "The family that races together, stays together."

From what Brandon has told us, he's making every effort to keep his family together through racing. "I've been participating in ChumpCar races with MKRacing, World Racing League, local track days at Brainerd International Raceway, autocrossing, and of course the OPTIMA events!" says Ranvek. Brandon knows the importance of seat time and he makes sure he gets it in spades, between participating, hosting and even instructing at events. Brandon wants to share his affinity for motorsports with as many people as he can, in a safe, controlled track environment with plenty of instruction for new enthusiasts. He has already helped host four schools this year with RS Motors and is looking at hosting a fifth before the snow flies, which in Minnesota, could be any day now.

"I am fortunate to have become great friends with Ronnie Soliman of RS Motors, who has helped me build one heck of an Ultimate Street Car," says Brandon. "I can't give him enough credit for his time and effort. My car has evolved from a car Corey Ridgick won national events in, competing in BSP autocross, to what it is today." Ranvek tells us he spent a solid five years racing in parking lots, but found himself wanting more. He knew aerodynamics was a downfall of the boxy Evolution body and any racing at high speed would need to consider that reality. "The addition of the aero package I put together turned the Evo into a track-hugging monster," says Brandon. "The car is so confident at speed, that I'm scared to find the limit!"
Ranvek's car always seems to be evolving and he has even made some changes since running in the OPTIMA events at Laguna Seca and Gateway Motorsports Park. "I didn't score well in the Lingenfelter Performance Design Engineering Challenge at Laguna Seca and I wanted to improve," says Brandon. "I made a critical error bringing a street car to an OPTIMA event without a working horn! That was one of the first fixes, along with replacing the center console and adding trunk insulation."
Those fixes gave Ranvek the edge he needed to top the AWD class in the Lingenfelter Performance Design Engineering Challege at St. Louis, but he didn't just excel in that competition. On the track, he was absolutely dominant. In the RideTech Autocross, Ranvek nearly ran a 37-flat pass at 37.028 seconds. The next-closest competitor in any class was Danny Popp at 37.543. A half second in the autocross is like a different time zone and Ranvek laid down the fastest eight runs of the weekend, which means he is also consistently fast.
Brandon's margin of victory in the Wilwood Disc Brakes Speed Stop was similarly-large, as he posted a pass of 12.426 seconds, while the next-closest competitor in any class, his good friend and fellow Evo driver, Ronnie Soliman, could only manage 12.785. It wasn't until the competitors went to the BFGoodrich Hot Lap Challenge, that someone finally knocked Ranvek off the top spot, when Danny Popp drove his Camaro to 1:08.876 lap to Brandon's best time of 1:09.313. That is elite company for a first-year competitor and immediately places Ranvek in what most would consider the elite of the field, capable of winning the OUSCI title in Las Vegas.
"Prior to competing, I had researched the series and learned Danny Popp is one of the fast guys," says Ranvek. "I spent some time looking at YouTube clips and watching previous seasons of the show. Danny always finished up top!" Brandon finally got to meet Danny at Laguna Seca and was immediately impressed with his ability to jump on a new course and relentlessly attack it. Ranvek followed Danny's lead and by the end of the day, he had turned a slightly faster lap-1:45.831 to Danny's 1:45.974. "I was so proud of how my car performed," says Brandon. "I live for those kinds of battles and when we met again at Gateway, I knew he would be turning up the heat."
Ranvek visited with Danny shortly after arriving at Gateway and they picked up right where they left off in Monterey. "Danny is a great guy with a LOT of car and driving knowledge," says Ranvek. "I kept watching his times and I'd love to think he was watching mine! What a fun battle!" Popp was definitely keeping a close eye on Ranvek and chatted with us about him last weekend at the OPTIMA event in Sebring. "He might be the guy to beat this year," said the 2011 OUSCI Champion.
While Brandon believes the standing-start for the RideTech Autocross and Wilwood Speed Stop Challenge lends a big advantage to the all-wheel drive platform, he feels the rear wheel drive cars have more of an advantage in the BFGoodrich Hot Lap Challenge. "I plan to put together the whole package and raise a few eyebrows in Vegas!" says Brandon. "I just finished doing a turbo swap on my car and will be taking her to the dyno doctor, Ronnie Soliman, for tuning," says Ranvek. "I'm hoping to broaden my horsepower curve down low with a quicker spool, while maintaining the same peak power." Brandon is hoping the net result will be about 450 horsepower to the wheels for a car that weighs just under 3,000 pounds.
Brandon is also putting in a more aggressive disk setup in his rear differential to help his car rotate. "One of the issues I had at previous events was a tendency to push under power," says Ranvek. "This tends to be the downfall of the all-wheel drive platform. I've been playing with suspension settings to dial in what feels best and hoping the diff changes will be part of the solution." Once that is squared away, the Evo's transmission will be overhauled with all-new synchros and fresh clutch discs, before being sent over to fellow OUSCI competitor, Andy Smedegard for final alignment.
Since Brandon has never set foot in Las Vegas, he will also be visiting the Las Vegas Motor Speedway for the first time. "I will spend some time doing homework, watching videos online and trying to figure out the layout and the best driving line," says Ranvek. We know Danny Popp thinks Ranvek has a good chance to win it all, but what does Brandon think?
"I really believe I have a great shot at the title, given my standings with some of the strong competitors," says Ranvek. "I love being in the underdog "ricer" or "import" category and making crazy horsepower from a little four-cylinder is exciting to me. I respect all platforms and believe this competition could be won in any one of them. However, this event hasn't seen a four-cylinder or all-wheel drive car win and I plan to be the first to do it!"
If Brandon is able to climb the OUSCI mountain, he'll be sure to give credit to his sponsors and supporters, including RS Motors, 365Racing.net, Ciro Design Racing, MKRacing, Diversified Cryogenics (Frozen Rotors) and 75Designs. Could Brandon Ranvek's Mitsubishi Evolution be the first four-cylinder and the first all-wheel drive car to win the OUSCI?