2014 OUSCI Preview- Brian Hobaugh's 1965 Chevrolet Corvette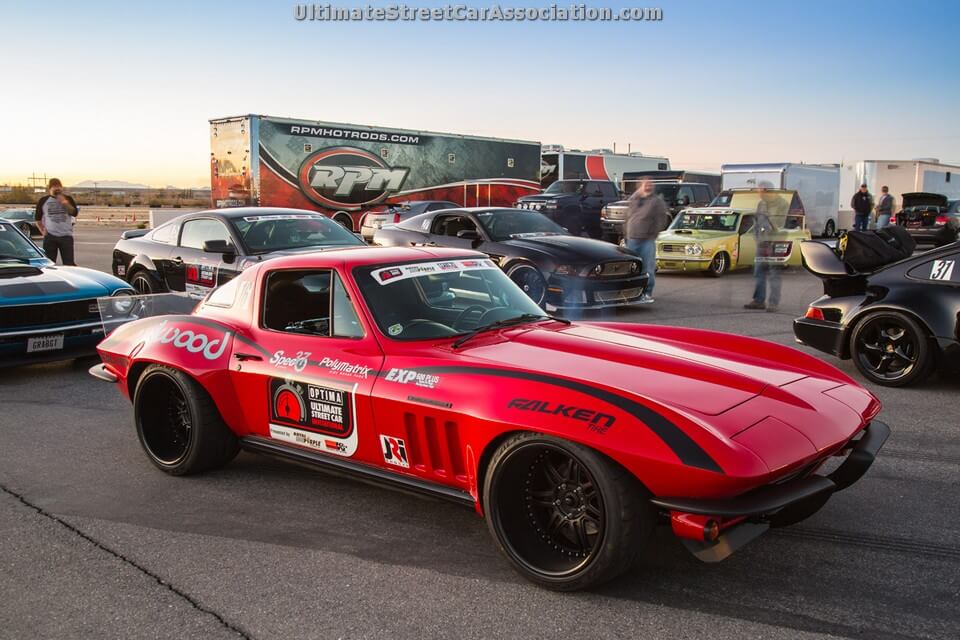 Ultimate Streetcar
Sponsor

OPTIMA Batteries

Location

Las Vegas, NV
Monday marks roughly 60 days until the start of the 2014 OPTIMA Ultimate Street Car Invitational (OUSCI), which means the largest field in OUSCI history will be making it's way to Las Vegas and the 2014 SEMA Show in less than two months from now. That may seem like a lot of time, unless you are one of the competitors and are frantically trying to finish up last-minute upgrades and modifications, while simultaneously trying to plan out logistics and lodging for the week in Nevada.
For that select group of street car owners, we are now entering silly season. Can the parts arrive in time? Can they be installed and the car sorted out before the drop-dead date for heading to the desert? And those are questions people already in the 2014 OUSCI are trying to answer. There's still a whole group of dozens of other car and truck owners, still clamoring for an angle into the OUSCI. Can I make it in on points? Can I make either of the final two qualifying events at Sebring or Pittsburgh? Will my car stand out enough at the SEMA Show to be one of the lucky few who get selected from the show?
One person who doesn't seem pressured to answer any such questions is the 2013 OUSCI Champion, Brian Hobaugh. Hobaugh's 1965 Chevrolet Corvette has long been a favorite of the Internet, showing up constantly in every social media channel that even breathes a mention of anything automotive-related. The driver is every bit as impressive as the car and the end result last year was the OUSCI title.
The big question is- Can Hobaugh become the first back-to-back champion in the event's seven-year history? We caught up with Brian recently and asked his thoughts on the OUSCI and his plans for this year's event. As defending champion, Brian has the choice of bringing whatever car he'd like to defend his title and Brian's garage also holds a very capable (and equally popular) 1973 Chevrolet Camaro, that has also competed in past OUSCI events. So which one will it be?
"I will be bringing back my 1965 Corvette," says Hobaugh. "The Corvette is full of history with my Father and I. We have owned it for over 30 years, but looking past that, my Corvette is better on the RideTech Autocross, Wilwood Speed Stop, and better for cruising in the Detroit Speed Road Rally." The Corvette is very nimble and quick and Hobaugh feels the 525 horsepower on tap is plenty of power for the smaller courses on the autocross and speed stop. It also features a slightly shorter wheelbase than the Camaro, which helps on the tighter corners. "My Camaro is more of a beast and much faster on road courses," says Hobaugh. The Camaro has about 100 more horsepower in the 416 cubic-inch mill than the Stingray's 364 cubic-inch engine and a longer wheelbase.
Brian tells us the Camaro loves higher speeds. "I won the BFGoodrich Hot Lap Challenge at the 2012 OUSCI and 2014 Portland qualifying event with it," says Hobaugh. "At 152 mph at Portland, it felt very comfortable." Hobaugh says driving his Corvette is a different experience north of 135 mph and cruising in it on public roads is a more comfortable experience with it's stock interior. Hobaugh also seems confident the Corvette will score well in the Lingenfelter Performance Design Engineering Challenge and he knows the Camaro would get docked points for missing some key "street car" requirements, which could end up making the difference in the final score.
So what has Brian been up to since taking home the 2013 OUSCI title? "I've attended the Goodguys Shows (and autocross competitions) at Scottsdale, Texas and my home show of Pleasanton, California," says Hobaugh. Brian also managed to win all of those events, using the Corvette in Scottsdale and Pleasanton and the Camaro in Texas. He also ran the Camaro at the OUSCI qualifying event at Texas Motor Speedway, where he won the RideTech Autocross and Wilwood Speed-Stop Challenge. Brian did break the driveshaft on the car during the first session of the BFGoodrich Hot Lap Challenge, so he wasn't able to win the GT3K class there, but he did take the F-body up to the OUSCI qualifying event in Portland, where it did win the GT3K class.
In addition to those national events, Hobaugh has also run both cars at several local autocrosses. "It's been nice to enjoy both cars," says Brian. "I have also been autocrossing with my 16-year old daughter, Jennifer. I bought a 1993 Mazda Miata for her to learn autocrossing in and we started running it two weeks after she was 15 1/2 and received her learner's permit." Both the Camaro and Corvette have been featured in numerous magazines and countless websites, which has been an exciting experience for Brian and includes Speedhunters, Fuel Magazine and Popular Hotrodding to name just a few.
With the Corvette performing so well last year, we asked Brian if any changes had been made or were in the works prior to this year's SEMA Show. "Since the Corvette was really good last year, not much has changed," admits Hobaugh. We made some little tweaks to the motor to squeeze about 25 more horsepower. We also made some spring rate and shock rate changes with the JRi shocks. The interior received new carpet and some interior trim repair, but that's about it." Hobaugh tells us he expects the car to produce about 525 horsepower and weigh in at about 3,170 pounds in Vegas.
Since the 2014 OUSCI is moving to Las Vegas Motor Speedway, we asked Brian if he had any prior experience on the road course there or thoughts about it. "I have never driven on the outside road course at LVMS," says Hobaugh. "I have seen the course map and some in-car video of the track though. It appears to be a flat track with a handful of low speed corners and two long straights that may get us up to about 120 mph. Most of the track is relatively-slower than a lot of road courses."
Hobaugh's sense is that a good-handling car is an absolute must, as most of the time on the track will be spent turning or coming off corners. That could spell trouble for a high-horsepower car that doesn't have handling to match the power, while Hobaugh thinks a good-handling car with low horsepower will struggle as well, because there are enough areas of straight track where some power will be nice to have. "I think the best package will be a great-handling car with at least 500 horsepower for cars weighing 3,000 pounds or more," says Hobaugh. "The lighter cars could also do very well if they have a good power to weight ratio. Hobaugh is confident he should do fairly-well on the BFGoodrich Hot Lap Challenge with his Corvette. "I may not win, but a top-five will be my goal," says Brian. Those are lofty expectations for many competitors, but given the fact that Hobaugh hasn't finished lower than third overall in the past three OUSCI events, he might be underestimating his chances.
So what does Hobaugh think it will take to win this year? "This is turning out to be the most-competitive OUSCI ever," says Hobaugh. "The variety has always been there, but the talent level across the board has increased." Hobaugh believes consistency at a high level will be the deciding factor. "Winning one or two events and having a poor performance in any of the other categories will not get you the win," says Hobaugh. "The winner will place in the top-three in all the driving categories and have a strong showing in the Lingenfelter Design Engineering portion.
Hobaugh's prediction comes from a wealth of experience, but he is quick to acknowledge the assistance he has received from his sponsors. "I owe a lot of my recent success to some amazing sponsors," says Hobaugh. "Wilwood Disc Brakes got me started with the OUSCI by being their sponsor representative in 2011. Since then, they've brought me back for 2012 2013. They've also worked with me on developing a great brake package for both my Camaro and Corvette."
Brian also acknowledges the assistance of fellow OUSCI competitor, Mike Maier of Maier Motorsports, for helping tune the suspension on his Corvette, as well as designing and building the suspension on his Camaro. Brian also raves about the assistance JRi Shocks has offered him. "They've worked with me on both cars and their shocks were the best improvement I ever made on the Corvette," claims Hobaugh. "JJ Furillo has been to many events I have attended and has worked on the cars in between runs to squeeze everything we could out of them."
Brian's other sponsors include:
Falken Tires- "They supplied an awesome tire for both cars that have proven to be winners and have pushed the social media strong with my cars.
Aristo Collection Wheels- "They designed an incredible-looking and performing set of wheels for the Corvette."
Black Widow Exhaust- "They have given the Corvette a new and very cool sound and performance."
Royal Purple- "Their fluids are lubricating both cars giving them great performance and protection."
We're sure Brian would also appreciate it if we mentioned the fact that his paint looks so fantastic, in part, because he is the shop manager at Car West Elite Auto Body in Fremont, California.
If you'd like to follow Brian's exploits more closely, follow him on Instagram- @bdhobaugh
You can also watch a great video profile of Brian's Corvette that was put together by former OUSCI competitor, Mike Musto of Big Muscle here.