2014 OUSCI Preview- Chris Jacobs in the Lingenfelter L28 Camaro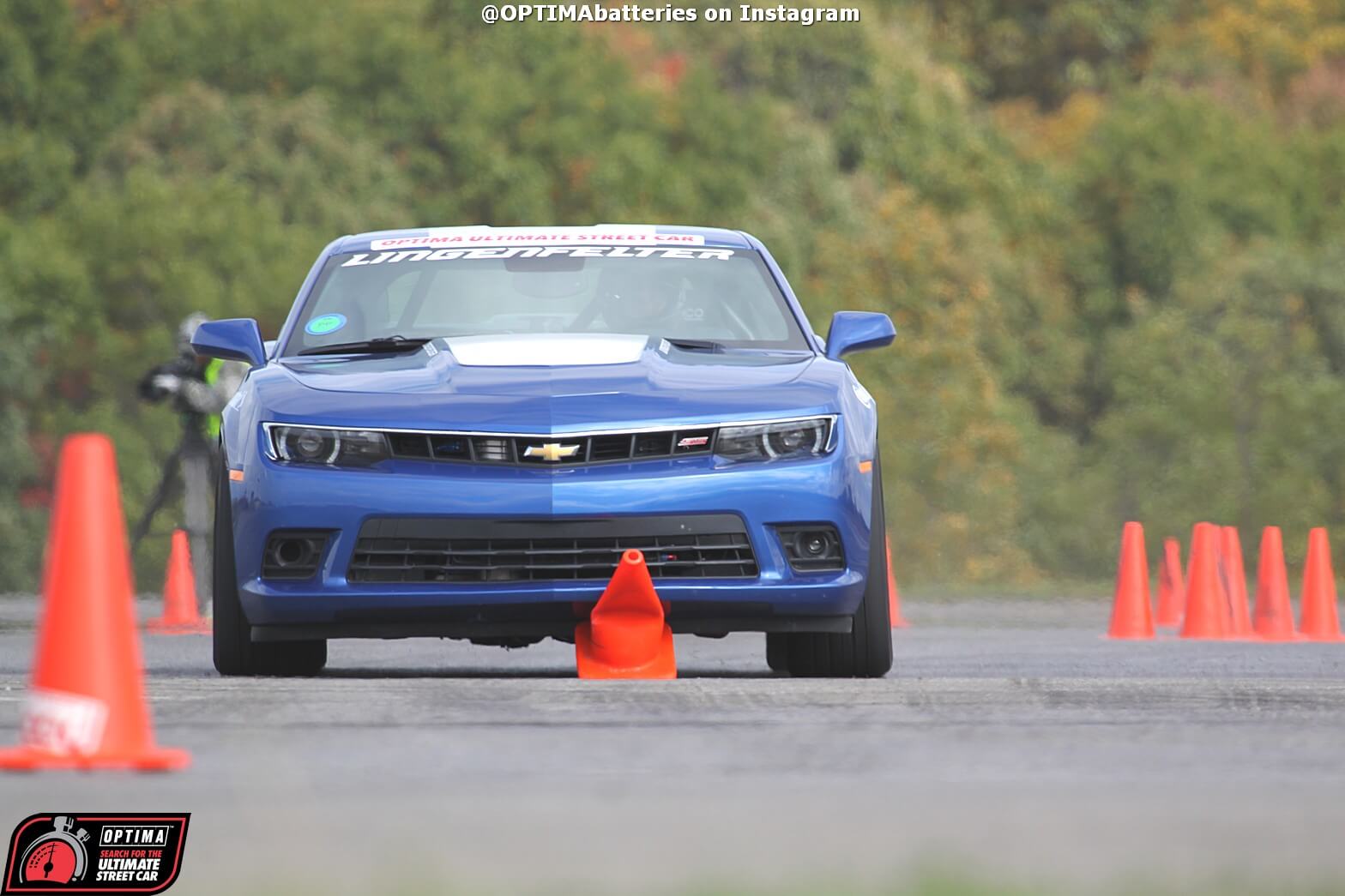 Ultimate Streetcar
Sponsor

Lingenfelter Performance Engineering

Location

Las Vegas, NV
Chris Jacobs is no stranger to Pro-Touring events or the OPTIMA Ultimate Street Car Invitational (OUSCI), having previously-competed in the competition in his Roadster Shop chassis-equipped Chevelle, as well as watching his wife, Lynda, compete in her Chevelle last year. Although Danny Popp had been driving this 2010 Chevrolet Camaro for much of the USCA season, when he qualified for the 2014 OUSCI, presented by K&N Filters, in his Corvette, Chris was a natural selection to get behind the wheel of the Lingenfelter L/28 Camaro on an exhibition basis at the OUSCI, as a great ambassador of the Pro-Touring community.
Chris and Lynda haven't just limited their driving activities to OPTIMA's Search for the Ultimate Street Car series though, they've also competed in SCCA autocross events and Chris just recently competed in his first ChumpCar World Series race, in the OPTIMA Batteries Ford Mustang. The Lingenfelter L28 Camaro Chris will be driving in the OUSCI is one of the most-famous fifth gens around and not just because of the spectacular show Danny Popp puts on every time he gets behind the wheel at OPTIMA events. NHRA Top Fuel driver, David Grubnic, drove the L/28 Camaro at the Sandhills Open Road Challenge and it has appeared in numerous magazine articles and at countless track events around the country.
However, for most of it's life, this Camaro was remembered in it's Red Jewel Tintcoat (one of the rarer hues offered in the 2010 model year), but after sustaining some minor damage at the OPTIMA event at Road America this year, the car received a new blue paint job. The 680-horsepower mill remains the same as we've seen all year and the curb weight with driver will be in the neighborhood of 4,000 pounds.
Chris has not run at the road course at Las Vegas Motor Speedway before, but he is preparing himself by watching as many in-car videos as he can find on YouTube. His initial analysis suggests the short straights and multitude of corners will likely favor the all-wheel drive competitors, however, he thinks the competition top to bottom will be unlike anything anyone has seen at prior OUSCI events.
"With the new USCA sanctioning body and series there will be a much higher level of competition than ever before," says Jacobs. "Half of this year's field will have made their way in by winning an event or on season points, so there will probably be a minimum of 50 experienced driver/car combinations in this year's field, which is much different than in the past."
Chris also thinks the USCA rule package has brought out more late-model vehicles and all-wheel drive cars, which makes it even more difficult for vintage muscle cars to be competitive. However, it's not like the OUSCI hasn't had fast imports and all-wheel drive cars in past years and guys like Bret Voelkel have still found a way to beat them all in the Wilwood Disc Brakes Speed Stop Challenge without the benefit of all-wheel drive, traction control or ABS and guys like Brian Hobaugh and Mark Stielow are still bringing home OUSCI titles with vintage iron (or fiberglass).
If anything, the new format makes it an even greater challenge to pick a winner. "It would be interesting to see if there are actually Vegas odds on the OUSCI," says Chris. "There are obvious favorites and past winners, along with top finishers." Regardless of whether or not the Vegas bookmakers decide to make odds on this event, you won't want to miss any of the action. If you didn't catch the OUSCI live when it happened, add the OPTIMA Network on Roku for free and watch all the past episodes of the TV series.
Chris would like to extend a big shout out to Lingenfelter, for allowing him to get behind the wheel of the "company car" and he's looking forward to keeping everyone updated on his experience on his Facebook page and @jacobsmotorsports on Instagram.