2014 OUSCI Preview- Cris Gonzalez's 1970 Dodge Challenger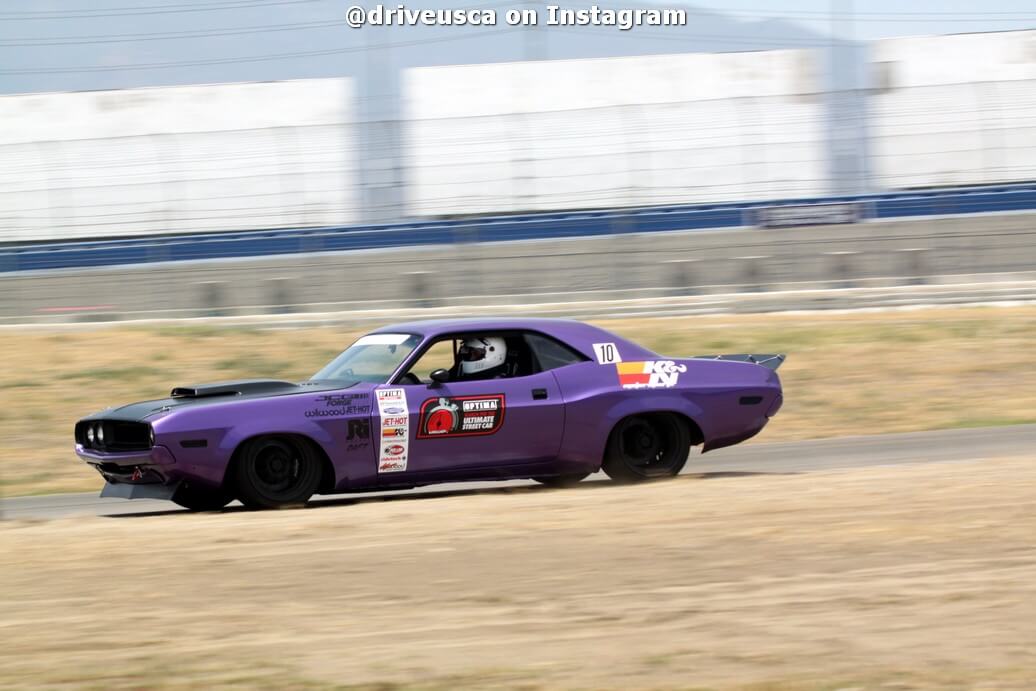 Ultimate Streetcar
Sponsor

Location
It's been a busy year for Cris Gonzalez and it is likely to only get busier, after having three vehicles from his stables qualify for the 2014 OPTIMA Ultimate Street Car Invitational, presented by KN Filters. In addition to this stunning 1970 Dodge Challenger, JCG Restorations also had a hand in getting Karl Dunn's 2002 Z06 ready, as well as Jake Rozelle's 1969 Chevrolet Camaro.
Although those cars represent both different eras and different manufacturers than the purple Mopar, they all share a common bond- LSX power. Mopar "purists" can cringe, cry and complain all they want, we still think Gonzalez's creation is awesome. We can appreciate numbers-matching restorations, but we also love seeing cars being driven hard and pushed to their limits on a race track and the Challenger fits that description perfectly...perhaps too well.
"After the Fontana event, I was tinkering with the car, making some enhancements to the suspension and motor to prepare for Portland," says Gonzalez. "Wouldn't you know it- one week before the event, I hurt the Mast 416 engine doing some testing at the Streets of Willow." Engine trouble never seems to occur at a convenient time, but Gonzalez was able to quickly swap in a stock LS3, which has been in the car for the balance of the year.
However, when the inaugural USCA season came to an end and Cris found out the Challenger had won an invite to the 2014 OUSCI based on points, he decided it was time to get the 416 back into the car that he now calls, "Barney." Even though this is Gonzalez's first OUSCI appearance as a competitor, he has prepped cars for this event before and he knows the work doesn't stop with a simple (or even a complicated) engine swap.
A dry sump oil system also found it's way into the mix, with special attention being paid to elements that will have a direct impact in the Lingenfelter Performance Design Engineering Challenge. Having functional interior electronics is worth two points in the judging, so a radio was added and the lower half of the car was just re-painted, to get rid of the rock chips and cone rash. A fresh set of Falken tires have also been installed.
With the more powerful mill back under the hood, Cris figures he'll be more competitive with the OUSCI front-runners, even though his Dodge still weighs in at 3,500 pounds. Power is about 510 horsepower to the wheels tank next year.
In terms of preparing for the track that will be used in the BFGoodrich Hot Lap Challenge, Gonzalez has struggled to find someone with seat time or sage wisdom to offer. "I've talked to a lot of participants, but have yet to find anyone who has track time on the outside track at LVMS," says Cris. "So, to prepare, I've been watching LVMS videos on YouTube multiple hours everyday, and drinking energy drinks to simulate the adrenaline rush from being in my first OUSCI."
Cris would also be in the camp of folks who believes cars with high horsepower won't hold an advantage on the road course. "From what I've seen on the videos, cars with about 500 horsepower, will be able to use a broader range of their power, than the higher horsepower cars," says Gonzalez. "Specifically, I think purple Mopars with LS motors in the 500 RWHP range should do really well on this track."
Cris does think driver talent will be an important factor and would call out Ken Thwaits, Terry Fair, Brian Hobaugh, Danny Popp, Mark Stielow and Mike Maier as some of the top wheelmen in this year's field. "ABS and AWD are a definite advantage in any form of competition, but especially if the track surface is slippery," says Gonzalez. " I haven't seen the surface at LVMS to know what kind of traction is available, but I hope it's sticky as glue so the AWD/ABS cars don't have too significant of an advantage. In the end, I think the deciding factor will be who is on their game, and who's not. Help!!!"
We asked all the competitors if they were a Vegas oddsmakers and were handicapping the field, where would their entry fall? Cris responded,"How many cars are in the event, 100? Then I'd say my odds are 1 in a 100. lol."
Cris would like to acknowledge the assistance of several folks who were instrumental in making this OUSCI experience he describes as "my dream season" possible. "I am driving a car I built for Karl Dunn to drive in the USCA this year, but he let me take the wheel, when family issues kept him out of the first half of the season," says Gonzalez. "Danny Popp was also a big help with dialing in the Challenger and my driving skills. JJ Furillo from JRi shocks for building some super shocks to keep Barney happy and controlled, Wilwood Disc Brakes for helping get the purple dinosaur slowed down and Forgeline for building really cool and light wheels for all our builds!"
Finally, I'd like to thank and congratulate the USCA for putting on this fantastic series and all the sponsors for their support, including OPTIMA Batteries, Detroit Speed and Engineering, RideTech, BFGoodrich, Jet-Hot Coatings, Lingenfelter Performance Engineering, Holley, KN Filters, Showtime Motorsports, Snap-On, Intercomp, Advance Auto, Racing Junk Dynospeed Racing and Red Line Oil, for the support that makes this all possible.
You can see the grande finale to this incredible season in person. Spectator tickets to the 2014 OUSCI are now on sale and the first 1,500 fans through the gate on Saturday will receive a free event t-shirt. We hope to see you out there!