2014 OUSCI Preview- Dan Ballard's 1972 Chevrolet Nova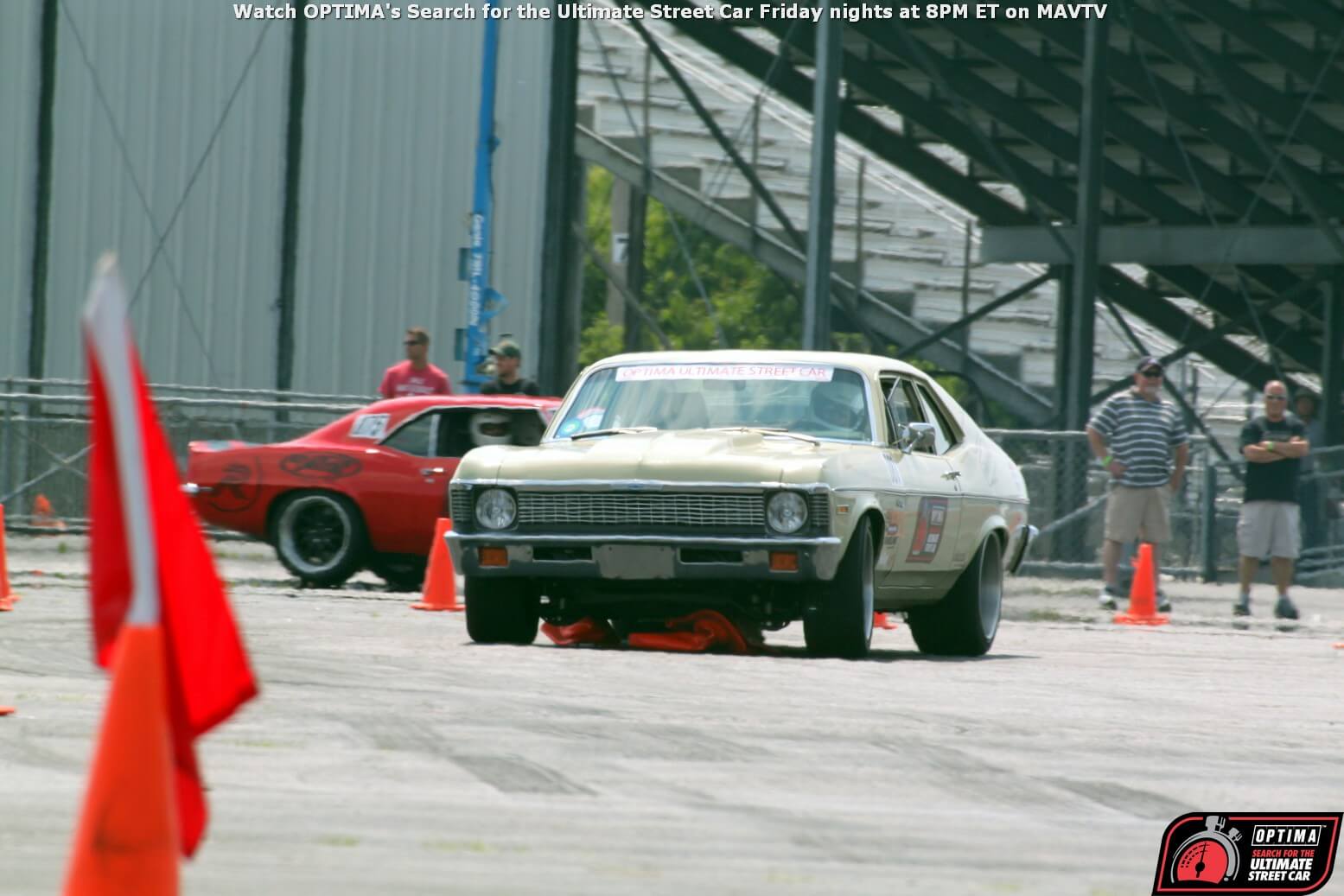 Ultimate Streetcar
Sponsor

Location
It doesn't take long for competitive people to begin to formulate and execute a winning strategy and that's exactly what we saw this year with Dan Ballard and his 1972 Chevrolet Nova. Ballard didn't make an appearance in USCA competition until the St. Louis event in late-July, but he got up to speed quickly.
"I wasn't planning on doing any USCA events this year," says Ballard. "The plan was to only do autocross and work on the car set up and driver skills, but Columbus Goodguys, Chris Smith, Bret Voelkel and Greg Schneider from RideTech talked me into going to Gateway the next weekend. I went, had a blast and I've been doing every event that I can to get ready for the 2014 OPTIMA Ultimate Street Car Invitational, presented by KN Filters.
It just so happened that the St. Louis event was a double-points event, as was the Pittsburgh event Ballard ran later in the year. His performances were strong enough at those two events, plus the Michigan event in between, that the Cincinnati resident was able to earn his way into the 2014 OUSCI on points, without having to venture too far from his home turf.
With an invitation in the bag after the Pittsburgh event and the clock ticking on a departure for Las Vegas, Ballard immediately went to work on downplaying the extent of his preparations and the capabilities of his car. "I washed and waxed the car, does that count?" asks Dan. "Since I knew I was close on points for the OUSCI, I started on winter upgrades early, doing a floater rear end."
While such upgrades can be lead to great improvements, there is some dial-in time that is often needed to get things sorted out. Ballard wisely scheduled an autocross test day last weekend and was very happy with the results. "I got 25-30 runs in and even sat out for a session," says Dan. "I worked on shock tuning (RideTech, of course) and from the beginning of the day to my last run, I was able to drop about two full seconds."
Fellow OUSCI competitor, Danny Popp, also happened to be at that autocross session and he was able to shave an additional second off Ballard's best run of the day in the Nova, showing Dan the potential still available in his ride. The two have been collaborating beyond just a test session, helping each other prepare their cars for SEMA and the OUSCI.
However, Ballard is focused on making sure his car is dialed in and prepared for battle, rather than worrying about chasing horsepower numbers. "I have never put the car on the dyno, and really don't care to," admits Dan. "It's a simple, well-built 372 cubic-inch small block Chevy (yes, I said small block) and not an LS motor. If it put 400-425 horsepower to to the tires, I would be shocked." Is that estimation sand-bagging by a savvy competitor or brutal honesty? He's been hanging around Danny Popp so much, it's hard to tell.
Ballard has never been to the OUSCI's new home at Las Vegas Motor Speedway, so his next visit will be his first and he has only YouTube videos (and probably more great tips from Danny Popp) to work with in figuring out the track for the BFGoodrich Hot Lap Challenge. He does expect the Lingenfelter Performance Design Engineering Challenge will be the deciding factor this year. "Everyone is changing stuff on their cars, to get as many points as they can," says Dan. He is no exception and we think we'll see at least one new carbon fiber addition on his car, by the time it arrives at the SEMA Show.
We expect Ballard's Nova to be ready in every other regard as well. Fellow competitor, Danny Popp will make sure of that. Dan is running all the right stuff to ensure a trouble-free weekend, including a Bowler-prepped T56 transmission, backed by a Spec clutch, running power to 315-series Falken tires mounted on Forgeline wheels and stopped with Wilwood Disc Brakes.
Dan expects Vegas to be a blast and we agree. We know the TV coverage will be great (and rumor has it, will go beyond a single, one-hour episode), but we don't want you to miss a minute of the action. Get your OUSCI tickets today and see it all go down in Sin City!