2014 OUSCI Preview- Jake Rozelle's 1969 Chevrolet Camaro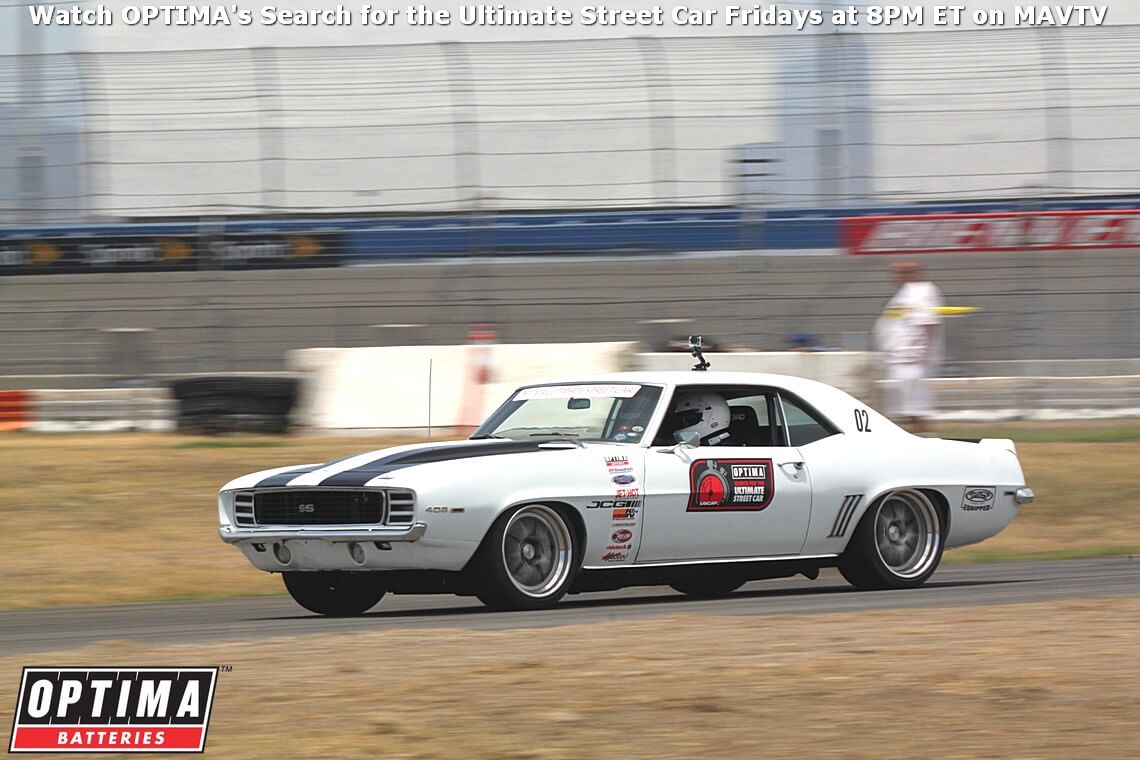 Ultimate Streetcar
Sponsor

Location
Even though Jake Rozelle will be competing in the 2014 OPTIMA Ultimate Street Car Invitational (OUSCI) for the first time in the 1969 Chevrolet Camaro owned by his father, Roy Rozelle, he is approaching this opportunity like a seasoned veteran. Perhaps that is because he has so many seasoned OUSCI veterans helping him prepare?
Rozelle qualified for the 2014 OUSCI by winning the GT3K class at the Ultimate Street Car Association (USCA) event at Auto Club Speedway in Fontana, California. That was the second USCA event Rozelle had competed in, so he knew what to expect and handled it well. He finished fifth in the 27-car GT3K class in the Lingenfelter Performance Design Engineering Challenge, had no hiccups on the Detroit Speed Road Rally and ran consistently well in all three on-track competitions, finishing on the podium in each of them (second in the Wilwood Speed Stop, second in the RideTech Autocross and first in the BFGoodrich Hot Lap Challenge).
It is that kind of consistency across all five elements of the OUSCI that is absolutely critical, if someone wants to contend for the overall title. While the field in Fontana was solid, the OUSCI is a serious step up in competition. Jake knew if he wanted to contend for the overall title, he'd have to step up his game in a lot of different ways, but would he take a chance on big improvements that could jeopardize the consistency he enjoyed at Fontana or would he work to improve the good thing he already experienced?
Jake was fortunate enough to surround himself with some good folks and it sounds like the advice they've offered and the changes he has made should only help him be more competitive in Las Vegas. The Camaro went on a serious diet following Fontana, with a host of carbon fiber pieces from Anvil, including a new hood, flared front fenders, front valence, cowl panel, decklid and rear spoiler. That helped shed about 100 pounds, bringing the F-body in at just under 3,300 pounds, which was the goal Rozelle had set for himself by SEMA. "We decided to do this pretty suddenly," said Rozelle. "We are very thankful to Best of Show Coachworks, who installed everything and cleaned up a few other things on the car in only a week's time."
New carbon fiber pieces were only the beginning though, as Jake called on Troy at California Autowraps, to come up with a new design for SEMA that keeps Rozelle's black and white theme, but gives it a little bit of a twist. Other odds and ends are also being cleaned up to make sure the Camaro receives the best score possible in the Lingenfelter Performance Design Engineering Challenge.
One trend we see every year in OUSCI competition is the desire to turn up the horsepower wick, but Jake elected not to go that route. "The bone-stock LS7 crate motor from GM is rated at 505 crank horsepower. We decided it wasn't worth pulling it apart at the last minute, when we already know it is a proven and reliable package after winning Fontana, which was a far more horsepower-oriented road course than we'll see in Las Vegas," says Rozelle.
Jake did elect to make performance changes elsewhere, which he believes will help improve his chances at the OUSCI. "JJ at JRi and Cris at JCG Restorations Customs spent a full weekend testing and tuning with us, both autocrossing and running the road course, where we sorted out a ton of handling issues with the car, making it far more potent than it ever was before," claims Rozelle. Past OUSCI Champions, Danny Popp and Brian Hobaugh were also present at that test session, offering driving tips that Jake says shaved seconds off his times. "These people we have supporting us are definitely our biggest strengths," says Jake. Those "people" would definitely include Jake's dad, Roy, who has spent countless nights in the garage with him and countless days on the road and at the track, giving Jake the best possible chance of winning. "It was awesome to be able to win the Fontana event on Father's Day with him," says Jake.
Jake tells us he plans on continuing to work on improving his driving skills leading up to the event, both in his daily driver Mustang and of course the Camaro, when it is available, as he really wants to do the car justice in November. All of his racing adventures are fairly well-documented on his Facebook page, but those who aren't friends with him yet can also check out a website he put together, that covers the events he has competed in and goes into more details on the cars involved and his own racing background- Jake Rozelle Racing.
While Rozelle is technically considered an OUSCI rookie, he is obviously familiar enough with the event and the major players to lean on several of them for help in preparing for this year's competition. When asked who he thought might fare well or struggle, Jake had definitely formed some opinions on the subject. "With the level of competition this year you cannot afford to throw away any events, so I think that the super-high horsepower or heavy, big cars that might struggle in the RideTech Autocross will struggle overall, even if they dominate the BFGoodrich Hot lap Challenge," says Rozelle. "I'm definitely watching the Mitsubishi Evos, as their all-wheel drive, coupled with their relative light weight definitely gives them an edge. Mainly though, I'm going to keep an eye on my fellow class competitors from GT3K, especially the Corvettes of Hobaugh and Popp."
Jake also thought John Lazorack III's flyweight, widebody Chrysler Conquest could be a contender for those same reasons. Jake also agreed with Hobaugh's assessment of the road course at the Las Vegas Motor Speedway, believing it isn't super-fast or known as a horsepower track, which he believes will bode well for cars like his, which don't generate huge horsepower numbers, but are nimble and sorted out.
"The car that comes away without a 'bad' showing in a segment is the car that will win, and that's what we are working on bringing," says Rozelle. "If I was a betting man, I would not bet against us ending up on the podium. There are some wicked fast cars coming and in no way do I think we are favored, but if things fall our way, we could pull off a major upset this November." First generation Camaros are certainly no strangers to OUSCI championships. If you'd like to see Jake take on the best street cars in the world, make plans to be there and buy your OUSCI tickets today!