2014 OUSCI Preview- Jane Thurmond's 1964 Chevrolet Corvette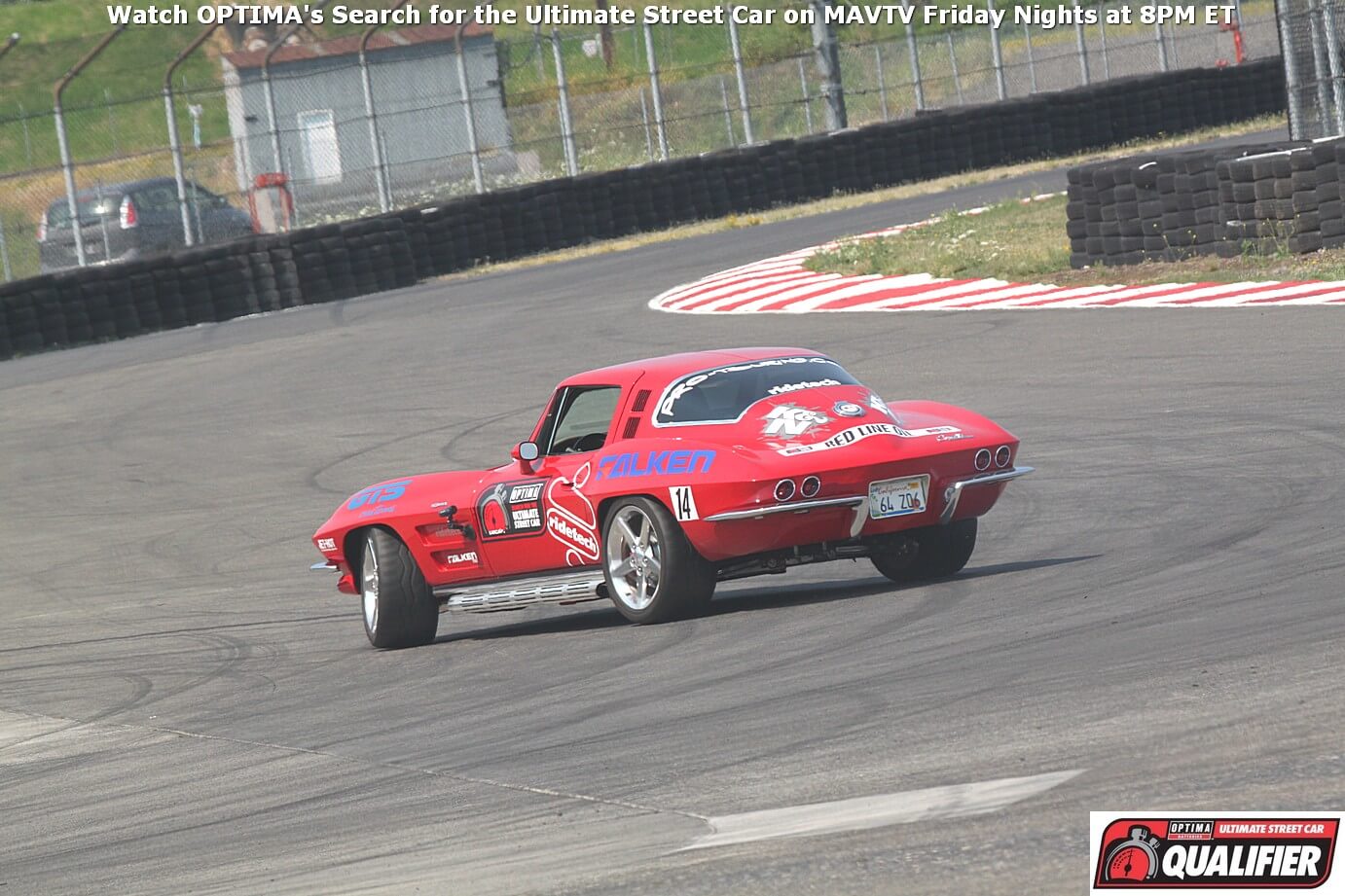 Ultimate Streetcar
Sponsor

OPTIMA Batteries

Location

Las Vegas, Nevada
One of the great things about the OPTIMA Ultimate Street Car Invitational is the way it brings families together. Whether it's fathers and sons like the Langleys or husbands and wives, like Jane and Greg Thurmond. Jane will be bringing her beautiful 1964 Chevrolet Corvette to the 2014 OUSCI, but not without bringing along her husband, Greg.
We started by asking Greg what they've been up to, since receiving the K&N Filters Spirit of the Event invitation for the OUSCI earlier this year at the Ultimate Street Car Association event in Portland. Greg told us he has another Corvette project in the works, which he describes as being "meaner" than "Scarlett," the name they've given to Jane's '64. However, that doesn't mean they've been ignoring Jane's car. "I just finished installing ABS brakes in Scarlett and they work great so far," says Greg. "I'm hoping they'll get Jane slowed down better." Greg was also hoping to add more ponies under the hood, but that hasn't happened quite yet, so as Jane's car sits, it produces about 405 horsepower and weighs in at just under 3,000 pounds.
When we asked the Thurmonds if they had any prior experience at the OUSCI's new venue, the Las Vegas Motor Speedway, Greg indicated he had driven the tri-oval, but had no prior experience on the road course. Welcome to the large and growing club of OUSCI competitors who have that in common! Greg still believes cars that are well set-up and have strong drivers will likely be the top contenders, regardless of familiarity with the track. He also understands the level of competition in Las Vegas and knows his wife's driving ability better than anyone, so he is realistic about her chances and thinks she has the potential to finish in the top half of the field.

"Don't get me wrong, I can do almost any sport well, but I'm talking about the fact that there are some people who have a gift, a natural talent at basketball, gymnastics and even driving!" Jane knows she is a capable driver, but she also understands she has to work much harder than some folks to get herself prepared mentally, chasing away nerves so she can focus on learning the course. "I didn't start driving competitively until early last year," admits Jane. Even within that limited timeframe, Thurmond has made good use of her time. She already has several autocross competitions under her belt, in addition to two USCA events and like her husband, has also run on the oval at Las Vegas Motor Speedway in the Richard Petty Driving Experience.
Physically, Jane is working toward being lighter on her feet. "I'm increasing my workouts and cleaning up my diet," says Thurmond. "I want to be in top physical condition for SEMA and the OUSCI. I know that it will be a long week, so the better condition I am in physically, the more likely it will be that I have a good time." Smarter words may have never been spoken when it comes to preparing for both the OUSCI and SEMA. While the OUSCI can be physically-demanding, folks tend to forget about the physical toll the SEMA Show takes on the body over the course of the week. It's not that you're sweating behind the wheel of a race car for hours on end, but with so much to see at the show each day and so much going on afterwards, it makes for a very long week and many competitors are already dragging physically by the start of the Detroit Speed Road Rally on Friday night.
Thurmond also has the benefit of being located in Southern California, which affords her some opportunities not as readily available to other competitors. "I'm planning on getting to Willow Springs at least once for testing and I'm looking to schedule a trip to Vegas for some practice," says Thurmond.

While Jane wants to have a great time (and we're sure she will), she also wants to send an important message to other women- wives and mothers, that life doesn't end when the kids are grown and go off to college. "I want to show the world that at ANY age we can have a rocking good time and do things others may not think possible," says Jane. "If I could be an ambassador for our sport, I would gladly do it! If by my participating in these events, I inspire someone else to live life to the fullest, then I know that's something I want to do!"

Jane knows the field is stacked with fast cars and talented drivers, but she believes the outcome will be a toss up. "Really, the one who wins is the one who shows up! If you don't show up you'll never win," says Thurmond. We think Jane probably has as good a mindset coming into the OUSCI as any competitor we've ever interviewed. Does she want to win? Absolutely! Does she think she can? Yes!
Jane also knows her car is capable of more than it showed at the Portland USCA event. "When we got home from Portland, we found many little issues that had ultimately slowed me down," says Jane. "The engine wasn't performing as it should and there was an issue with one of the shocks." Thurmond knows she and her car are both capable of faster times and she believes she can catch the field. "I believe I have the heart and soul to win and I believe that if my Scarlett stays together, she and I will do amazing things," says Jane. "I believe that I will be one to watch!" We believe you're going to want to watch her and all the other OUSCI competitors as well.
The Thurmonds would like to thank those who have helped them get to SEMA, including K&N Filters, Ridetech and Falken. If you'd like to keep up with the Thurmonds in social media, you can find Jane and Greg both on Instagram- @janethurmond @gregthurmond.