2014 OUSCI Preview- Jeff Montgomery's 1963 Chevrolet Corvette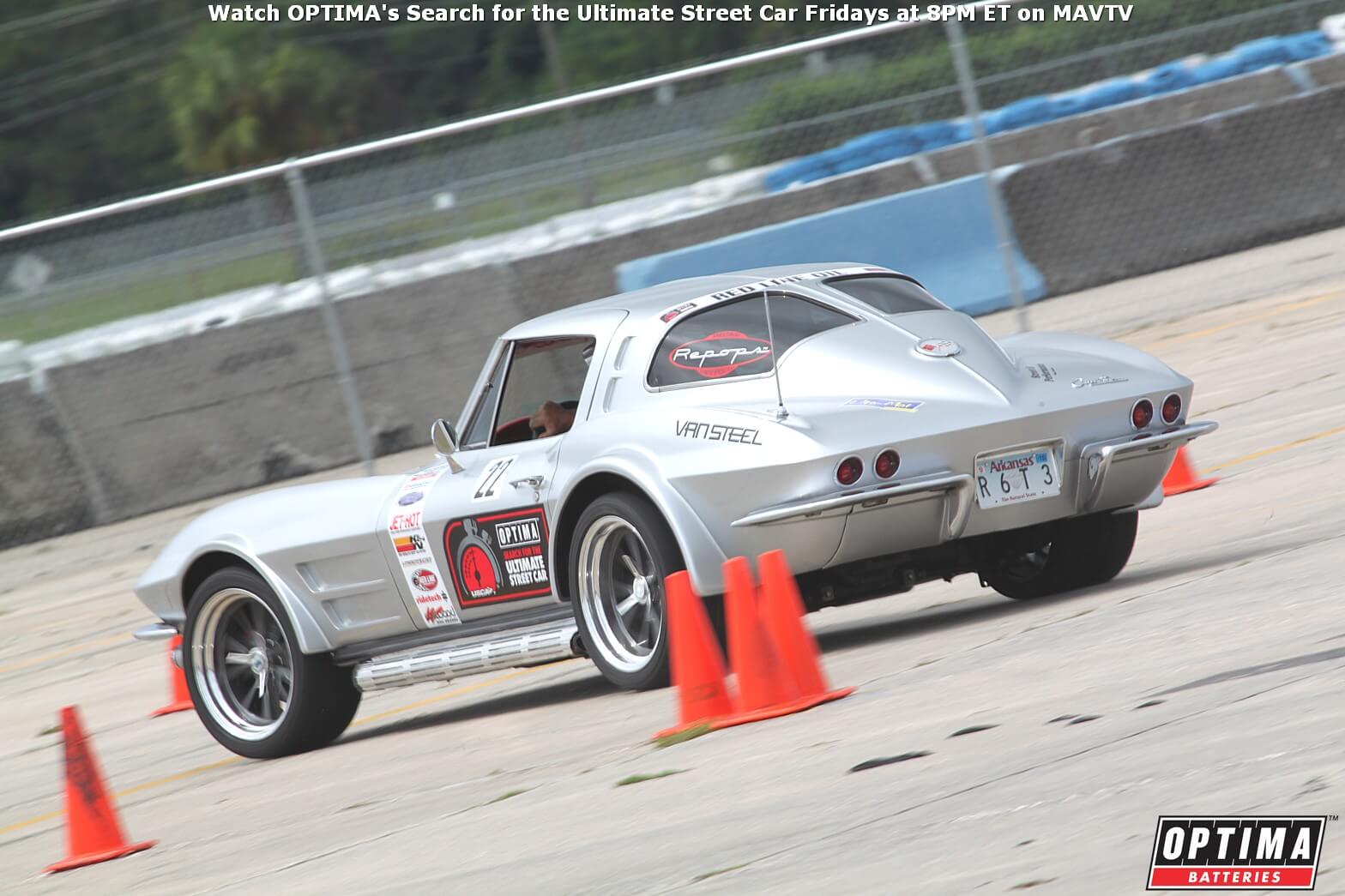 Ultimate Streetcar
Sponsor

OPTIMA Batteries

Location

Las Vegas, Nevada
It's hard to believe we're a month into our previews for the 2014 OPTIMA Ultimate Street Car Invitational (OUSCI) and we haven't even covered half of the field, which is expected to be 100 cars! When we first contacted known competitors, we had a lot of folks respond within the first few days and nearly a month later, they still haven't seen their previews online yet and are now probably beginning to wonder what the hold up is. Jeff Montgomery might be one of those folks, but in the case of his 1963 Chevrolet Corvette, waiting a few extra weeks to profile his beautiful split window Sting Ray was probably a good idea.
Montgomery made what some might consider drastic changes to his car after qualifying at the Ultimate Street Car Association event at Gateway Motorsports Park. After all, the '63 split-window Corvette may be the most-iconic Corvette of all time, with numbers-matching examples selling for well north of $150,000. For some folks, that puts a car into the "too expensive to risk by actually driving" range. Fortunately, that's never been the case for Jeff.
When Super Chevy featured the car more than 12 years ago, it had already amassed more than 300,000 miles, visiting 28 different states. It has since added 20 more states to the list, as well as Canada and Mexico. Not only might this be the highest-mileage car to over compete in the OUSCI, it's probably the only 1963 Corvette that has driven to all of the lower 48 states and two foreign countries (Mark Rife was the first OUSCI competitor to run a 1963 Corvette back in 2011). Snobby purists might cringe at the thought of doing anything to these rare musclecars that deviates from factory specifications, but Montgomery long ago decided he didn't want his '63 split-window to be like everyone else's and we applaud him for that decision.
We're quickly moving toward a day and age (if we aren't there already), where most folks may never get a chance to see a real '63 Vette actually being driven on the streets. Think of all the joy Montgomery has brought to so many people over the decades, by actually driving his car and enjoying it as Zora Arkus-Duntov would've intended. Everyone has their own idea of what the "ultimate street car" might be, including OPTIMA and Jeff is really excited to compete in the 2014 edition of our event. The reality is, in the eyes of a lot of folks, Montgomery doesn't have anything left to prove in Nevada, because he spent the last 44 years showing the hot rodding world what it really means to have the ultimate street car.
Engine swaps during the last four decades are too numerous to mention, but the original 327 is still tucked away in Jeff's garage. The current engine is a modern LS3 producing about 440 horsepower and Jeff has left the engine alone (for now), instead choosing to focus on fitting larger wheels and tires under his Y-body. Montgomery first added fender flares sometime between the Nixon and Carter administrations, before returning to a stock-appearing body.
After returning from St. Louis, the Vette went straight to the body shop to have new Grand Sport-style fenders installed, so Jeff could run 275-series tires up front and 315s in the rear. He also added Wilwood Disc Brakes and rotors all the way around, as well as a Wilwood master cylinder and adjustable brake bias valve. Jeff picked up pretty quickly that the BFGoodrich Rivals are the go-to tire for many OUSCI competitors, but apparently, they're very popular well beyond the OUSCI, as he couldn't find any in stock anywhere in his sizes.
Fortunately, Stacy Tucker from Detroit Speed was gracious enough to assist Jeff with supplying some scuffs from their personal stash for Sebring. Jeff was so impressed with the performance of the tires, that he'd like us to let everyone know he is a cash buyer for anyone sitting on a new set that he can get his hands on before heading to Las Vegas. The larger wheels and tires will likely add some pounds to Montgomery's Corvette, but he should arrive at SEMA at about 3,000 pounds.
Even though Jeff seems to have driven just about everywhere in his Corvette, his trip to Las Vegas Motor Speedway will be his first. He has started studying YouTube videos and his initial assessment is that the road course doesn't seem to be really fast, which should help equalize the competition and reduce some of the horsepower advantage some competitors may have.
Prior to Sebring, Montgomery had only run his car on a wide variety of seven and eight-inch wheels with stock brakes, so he was curious to see how he would stack up against the competition there. Off the track, he had a podium finish in the Lingenfelter Engineering Performance Design Challenge, which should bode well for him in Vegas. The Sting Ray also had no issues completing the Detroit Speed Road Rally. On the track, the new chompers definitely made a difference in the Wilwood Speed Stop Challenge.
From Gateway to Sebring, Montgomery gained on both Ken Thwaits and Todd Rumpke in the Wilwood Disc Brakes Speed Stop Challenge, so his modifications are making a difference. We suspect that with more time, he'll be able to close the gap even more on the front runners. However, things changed once Jeff moved over to the BFGoodrich Hot Lap Challenge and RideTech Autocross. The Corvette was significantly off the pace and the eventual outcome was a blown engine.
Jeff obviously isn't the type who tends to leave engines in their stock configuration, but this late development has put a serious crimp in his racing budget and he tells us stock will have to do for now. While Jeff does have some great sponsors and supporters, outside of paint work on his car, he is largely a one-man show and is hoping for a top-20 finish. In a field of 100 of the most-incredible street cars and trucks on planet earth, even making the field is a great accomplishment.
Jeff would like to thank everyone at his company, Repops and their network of dealers, for supporting him in his effort to compete in the OUSCI. He would also like to thank Street Performance of Mena, Arkansas, for their support with his engine and accessories. If you've never seen a 1963 Corvette on the street, let alone at speed on a race track, buy your tickets to the 2014 OUSCI and make it happen!