2014 OUSCI Preview- Paul Kobza's 2008 Mercedes-Benz CLK63 AMG Black Series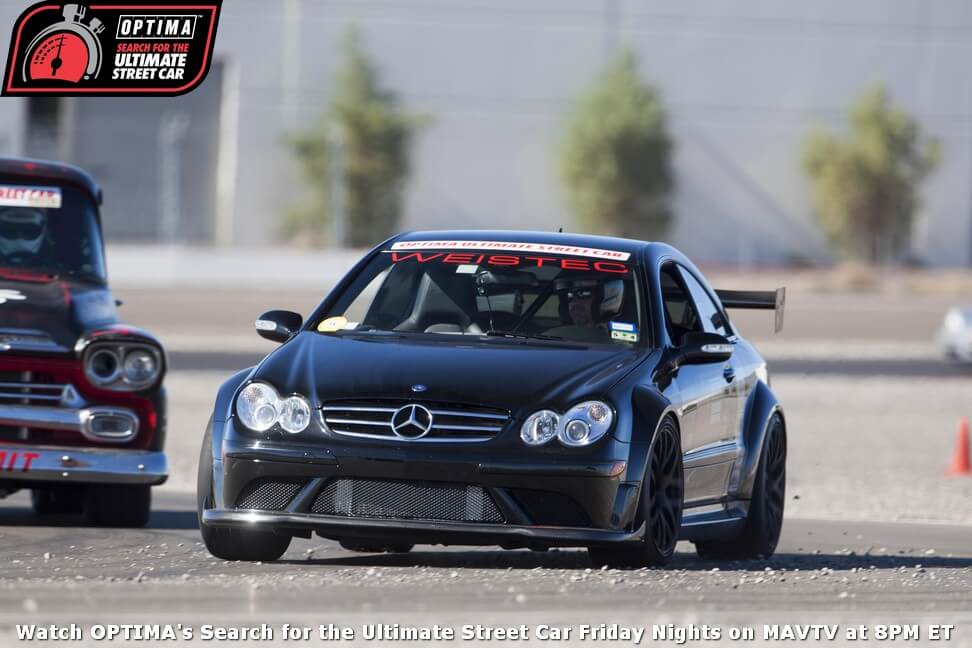 Ultimate Streetcar
Sponsor

OPTIMA Batteries

Location

Las Vegas
The OPTIMA Ultimate Street Car Invitational, presented by KN Filters, can be a long and sometimes unruly name to remember or repeat in conversation, so it is often just referred to as the "OUSCI," but each letter in that acronym is significant. There's no "I" in team, but there is in our event and it stands for "Invitational," which describes how competitors can make the field in Las Vegas. Some win their way in at USCA events or by finishing high enough in USCA season point standings, while others are invited by presenting sponsor KN Filters with their Spirit of the Event invitation.
The "Golden Ticket" invitations at SEMA may be the most well-known (and toughest to come by), but there is also a group of cars each year that are brought into the OUSCI, because of what they represent in the automotive aftermarket. Dr. Paul Kobza's 2008 Mercedes-Benz CLK63 AMG Black Series is one such car. As if this incredible example of German engineering weren't worthy enough on it's own merits, Kobza had it further modified by renown tuner, Weistec Engineering.
A fellowship-trained hand and upper extremity surgeon by trade, Dr. Kobza spends a great deal of time at his practice or performing emergency medicine. He has also been married for nine years and has a three-year old son, who keeps him very busy in his off-working hours. However devoted a husband and father he might be and however dedicated he might be to his profession, guys don't own cars like this Benz or send them to shops like Weistec, without knowing how to let loose and have a little fun behind the wheel from time to time.
In fact, this car was in the final stages of being upgraded when it was spotted and added to the 2014 OUSCI field. By the time it arrives in Las Vegas, it will have a Weistec Stage 3 M156 supercharger system, forged rods and pistons, CNC-ported heads, ARP head studs and a Weistec-built 722.9 transmission. Custom Fluidyne engine and transmission coolers will help keep everything cool.
By the time all the wrenches are returned to what are most-likely immaculately-maintained toolboxes in the Weistec garages, the Black Series Benz will be generating 800 horsepower and 725 lb.-ft. of torque when it hauls 4,400 pounds around a race track. That kind of power and weight can lead to all kinds of driveline problems, if precautions aren't taken. To that end, Weistec has added a carbon fiber driveshaft, racing axles and a Wavetrac limited-slip differential. Upgraded Brembo brakes with CNC-machined calipers make everything stop, when needed.
Dr. Kobza isn't the only doctor in our field, nor is he driving the only entry from the Weistec stables. While he is new to the OUSCI, he has surrounded himself with knowledgeable people who will help prepare him for what's in store at the Las Vegas Motor Speedway. We asked him what he thought of the facility and his competition and he already had veteran insight- "I think the new venue will help level the playing field for everyone," says Paul. "However, with that said, driver skill is the number one deciding factor always. Luck can never be counted out early in competition and hopefully, the combination of all three will yield a great event for everyone."
Kobza knows he is still a long shot to win, although he doesn't expect to be a backmarker in the field and hopes his Weistec upgrades will help keep him competitive. Paul doesn't spend much time on the interwebs, so you can't follow him anywhere in social media, but he would like to acknowledge the assistance of Weistec OPTIMA Batteries for making this opportunity possible. You can see how the good doctor and other first-timers do in the OUSCI, by buying your OUSCI tickets online. Be one of the first 1,500 fans through the gate and get a free event t-shirt!