2014 OUSCI Preview- Terry Fair's 2011 Ford Mustang GT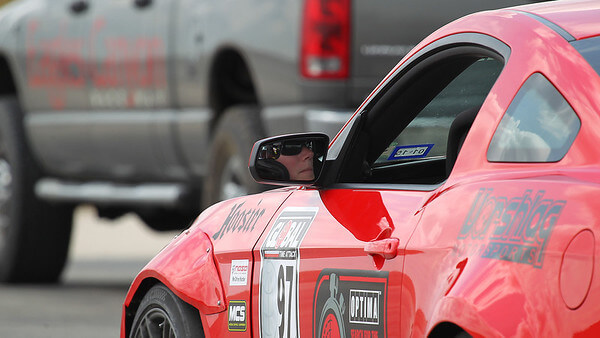 Ultimate Streetcar
Sponsor

OPTIMA Batteries

Location

Princeton, TX
Even though we didn't see Terry Fair's Mustang at any other Search for the Ultimate Street Car events, it hasn't exactly been tucked into a garage. "Our car has had an undefeated record in NASA Time Trial in the TT3 class this season, securing our Texas regional championship in class by winning TT3 at eight straight events," says Fair. "We've also reset all of the TT3 track records from 2013 (we set them previously) by two to three seconds."

"We're pretty happy that this 2011 Mustang is doing so well, considering how heavy we have to run in this class (3802 pounds with driver ballast) to post the power numbers it does (NASA TT3 is a "power to weight" restricted class) and the fact that it still has a bone stock 5.0 motor, which is still under warranty. Even after four seasons of street driving and track abuse it makes good power at 443 rwhp, with ARH full length headers and Vorshlag's own custom exhaust.

Even with massive 345mm Hoosier A6 tires that we run in NASA, and only "stock" power levels, it is still a handful to drive. We're hoping our next Mustang (2015 GT) with IRS will have a bit more traction out back. That car is due sometime in September or October, but not soon enough!"
We asked Fair if he made any changes to the car heading into the OUSCI or planned on making any in the next several weeks and it sounded like the Mustang was in a state of constant change. "We have been racing this car in NASA TT for the past four years, and it has been very competitive during the last two seasons. We have only done a few upgrades in 2014, namely moving to wider tires (335F/345R). Right after the Texas round of the Ultimate Street Car series we also added the larger carbon fiber rear wing (pictured). This is giving more downforce, stick and higher speed through the corners, while producing less drag than the old wing we used."
Fair tells us they also recently made a nicer-looking set of aluminum uprights for a customer's 2013 Mustang (pictured) using the same wing element, so they will likely emulate that on Fair's Mustang before SEMA.

Fair tells us the biggest thing to happen to the car since he won the GT3K class in March was a crash he had at Road Atlanta in May (pictured). "I was at a Global Time Attack event there trying to practice for the NASA Nationals, which were to be held there in August," says Fair."After a long stint at this high-speed track, I lost the brakes going into a corner at 155 mph- no pedal at all, totally boiled the brakes. I went into a gravel trap, ripped the splitter off, tore up the bumper cover, bent two wheels, and ripped the front flares to bits," says Fair. "I managed to limp the car back to the pits, rolled out of the car next to the ambulance station, and got help fast."
Terry tells us the vertical impact coming out of the gravel trap (about a 12-inch jump) sent the car airborne and broke his back, crushing the vertebrae and breaking a rib, both of which Terry tells us were very painful right after the crash.

Fair says damage to the car was fairly minor and the repairs to the front end were completed in less than a week. "My wife, Amy, took over driving the Mustang, while I was in a back brace recovering for about eight weeks," says Terry. For those who are unaware, Amy Fair is a three-time SCCA Solo National Champion and a serious time trial racer as well. Terry tells us he plans on having a dedicated car built for her to compete in Ultimate Street Car events next year.

After more than two months out of the driver's seat, Fair was going stir crazy, but he tells us he has run four events in the car since the crash and feels better every week. Fair has also been spending a lot of time in the gym, trying to build strength in his back, which was not utilized while wearing the brace.
"I'm fairly certain I will be back to 100% by OUSCI," says Terry. "As long as I don't do anything stupid in the next two months," he adds. Fair is moving to a new shop (twice as big) in the next 45 days, so we're hoping he takes it easy when moving equipment.

"We learned a lot after the crash at Road Atlanta," says Fair. "Most notably, to not ignore brake temperature data." Fair says they had been monitoring the caliper temps at or above 490°F this season on a road course, but didn't see this as the warning it was, and paid the price with the loss of his brakes. They've since upgraded their front brake ducting from 3-inch to 4-inch hoses, which dropped caliper temps by 80 degrees and also made some other small upgrades as well.
Fair has generously shared all of his experiences and learnings online and other owners of these cars, like the new brake ducting solutions he came up with to the point that Vorshlag actually started producing and selling them. Terry has no plans to change anything else other than some cosmetics (new front flares, repainting the replacement front bumper cover), so he expects it to be back to about 443 rwhp and about 3550 without driver or ballast at the OUSCI, although he expects the altitude in Las Vegas to knock the power down a little on his naturally-aspirated engine.

While Fair's 2011 Mustang GT has seen more track duty than many track day toys, it is still a full-weight street car with all the trimmings (NAV, A/C, airbags galore), plus 18x12" wheels, a giant wing, a heavy aluminum splitter, and no significant weight reduction modifications.
"This car is nowhere near optimized for the OUSCI," admits Fair. "It's too heavy by 600 pounds, it's under-powered compared to almost anyone else in the top-25, and its a real deal street-driven car. It sees all weather, all sorts of events, but it works pretty well at all of it." That sounds like a bit of sand-bagging to us, as Fair more than held his own at the Texas qualifier against some very stout competition.
Fair posted the fastest GT3K time on the BFGoodrich Hot Lap challenge in his "heavy, under-powered" car, out-running such Ultimate Street Car heavyweights as Ryan Mathews, Kyle Tucker, Brian Finch and defending OUSCI champion, Brian Hobaugh. Some could argue he had a home-track advantage, but Fair did nearly as well in the RideTech Street Challenge Autocross, finishing second to Hobaugh in that event. The story was very similar on the Wilwood Speed-Stop Challenge, where only Hobaugh and Finch topped Fair's best time.
The surprising difference-maker for Fair may have been the Lingenfelter Performance Design & Engineering Challenge, which usually isn't a strong suit for late-model vehicles. The true street-ability of the Mustang was evident to the judges and Fair's ponycar didn't get penalized at all for missing "street car" components that tripped up other competitors, such as a functioning radio or roll-up windows.
Fair already has an agreement to sell the car as-is after SEMA and the OUSCI, so there's no leeway to make the car lighter or faster (look for the Mustang to compete in the 2015 Pike's Peak hill climb though). Don't expect that sale to end Terry's involvement in the Ultimate Street Car series or interest in the OUSCI though. Terry's plans for 2015 include the previously-mentioned 2015 Mustang and a Scion FR-S.
Fair's initial impression is that the course for what he thinks will end up being the BFGoodrich Hot Lap Challenge looks pretty tight, which he hopes will favor cars with more downforce and less power (like his). He does like that the venue is relatively-unknown to most of the field, unlike the previous venue, although another factor is definitely on his radar- the AWD cars. "They (the AWD cars) worry me the most, as they have a huge advantage in corner exit traction in any low-speed, tight corners," says Fair. Terry also expects such corners to be very common on all three timed events.
While Fair's concerns are certainly valid, his track record (literally) suggests he'll be able to hold his own against the AWD cars as well. After all, he ran faster than Todd Earsley's Evo and Steve Kepler's GT-R in all three timed events in Texas, although the margin between his car and Earsley's Evo was just .007 seconds on the Wilwood Speed-Stop Challenge. "I come from an autocross background," says Fair. "I've done ok at the national level in SCCA, but I've never won a championship," he admits. However, some of Fair's best performances have come on street tire-shod cars with plenty of downforce- something he hopes will translate to some measure of success in the OUSCI. "With the extra weight I have and the lack of horsepower, I'm not betting on a win," concedes Fair. "I'd be happy with a top 10 finish."
Since the OUSCI is now in Vegas, we'd say a top-10 finish is definitely in the cards for Fair. The oddsmakers at Pro-Touring.com agree and have put him at 10-1 odds to win it all.
Terry would like to acknowledge the assistance of several sponsors, including Whiteline, who made some of the suspension components he uses, Motion Control Suspension for the shocks on the car, BFG for making the Rival in such big sizes, and Forgestar wheels. Everything else on the car was built at Terry's shop, Vorshlag. Vorshlag has an active following on several internet forums, and this particular Mustang has a build thread with over 200,000 page views. They definitely have their supporters! You can also find them on Instagram, YouTube and Facebook.
How do you think Terry fared? Add the OPTIMA Network on Roku and find out!