2014 OUSCI Recap- Andy Smedegard's 2001 Honda S2000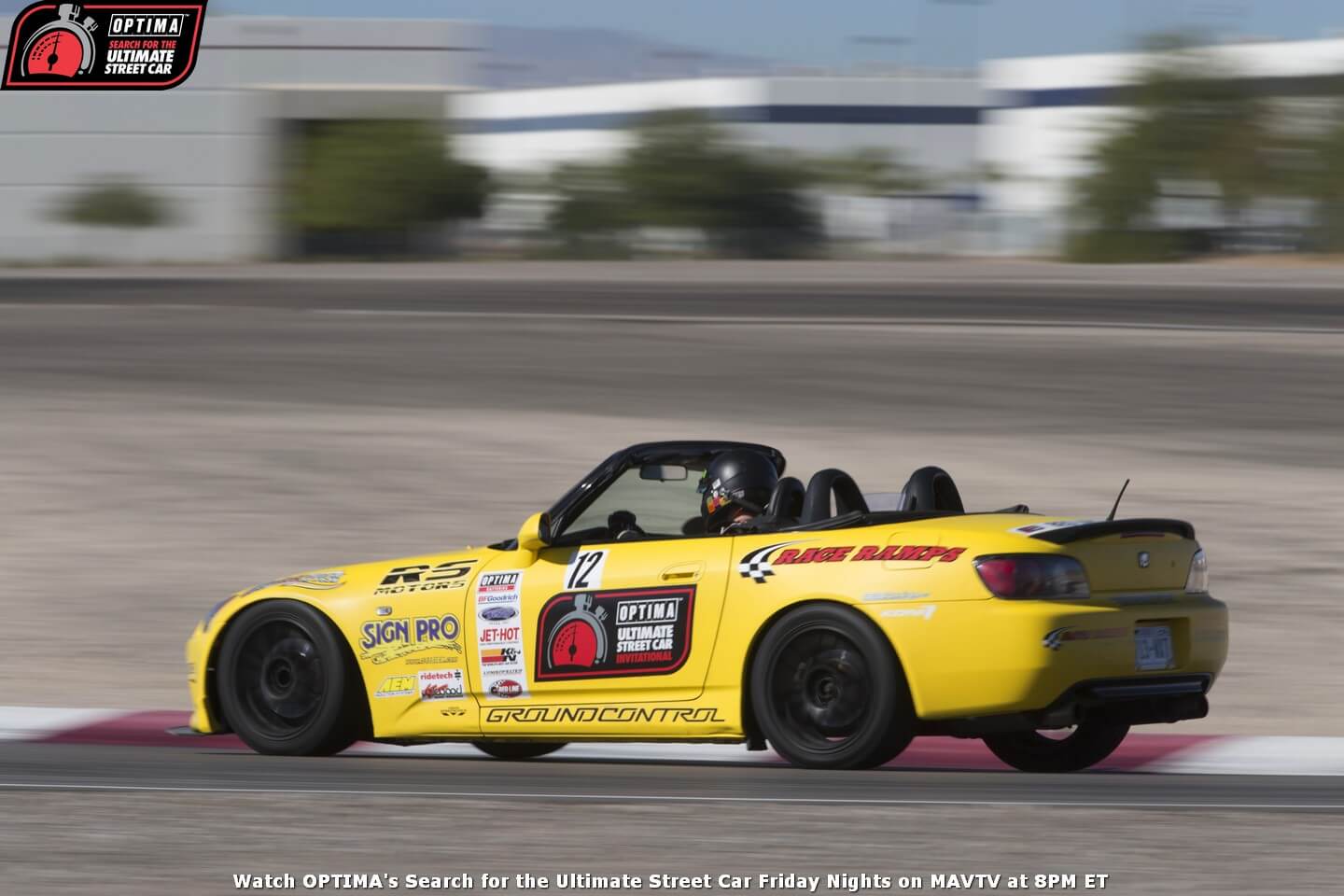 Ultimate Streetcar
Sponsor

OPTIMA Batteries

Location

Las Vegas, NV
The OPTIMA Ultimate Street Car Invitational (OUSCI), presented by K&N Filters, brings in some incredible street-legal cars and trucks to find out which one really is "The Ultimate." There are no restrictions regarding what make, model, year or drivetrain are allowed to enter, so we tend to see anything and everything under the automotive sun, spanning nearly a full century's worth of production vehicles. While the vast majority are rear-wheel drive, V8-powered cars and trucks, that isn't always the case.
Andy Smedegard's 2001 Honda S2000 is one such exception- a four-cylinder, import powered by only the rear wheels. On the surface, that doesn't sound like it has the potential to be a serious contender in the OUSCI, but that's exactly how it played out. In the process, Smedegard's Honda single-handedly shot all kinds of holes into claims that the only serious competitors have either big V8s or all-wheel drive. Even the tires underneath his car are relatively-pedestrian 255-series rubber riding on 17-inch wheels.
By the time the OUSCI awards were handed out and the group photo was taken, only ten competitors finished ahead of Smedegard's little Honda in the final standings. Smedegard made it all happen on the track too, as he placed near the very bottom of the field Lingenfelter Performance Design Challenge. So how did Andy think he did? "Better than I thought I would," says Smedegard. "More specifically, I did better in certain events and did worse than I thought in others."
Andy really thought he was going to suffer in the Wilwood Speed Stop Challenge, since his S2000 was one of the more under-powered vehicles in the field at just over 300 horsepower and wasn't nearly as light as most folks assumed- 2,850 pounds with the driver. "I ended up running a 14.662 on a nearly-perfect run, coming inches to the cones at the end of the box," says Andy. That time was good enough for eighth place overall and just .329 seconds from a podium finish.
The RideTech Autocross was one event where Smedegard thought he would have an advantage, but those feelings changed when he saw the course layout. "The drag racing start didn't help and with so many changes done to the car recently, it just didn't seem 100% dialed in and wanted to do a bit too much over-steer," says Andy. "Or maybe I was trying too hard to catch the rest of those dang AWD Evos." Regardless of what Smedegard thought his issues were on the Autocross, he still managed a top-ten finish in the event and the same .329 seconds margin was the difference for him between tenth and seventh place.
On the BFGoodrich Hot Lap Challenge, Andy was hoping to do a little bit better than his 24th-place finish. "After actually
driving the track
and realizing how often you are on throttle, I feel I did as good as I could," says Smedegard. "Again, the car balance was a bit off and I hope to get everything a bit more dialed in for next year. Maybe even some more power too?" Andy's Honda was still in very good company, as one of six vehicles to post a 1:51.x lap time. A Conquest, Camaro and an AMG Mercedes may have finished ahead of him in that group, but he managed to best a Nissan GT-R, a Mustang and a whole bunch of other cars and trucks that have way more of everything, from brakes and tires to traction and cylinders.
As we've seen with so many other competitors, reliability was one of the key factors to Smedegard's success. Whether he was in bumper to bumper traffic on the Detroit Speed Road Rally or tearing up the track at Las Vegas Motor Speedway, Andy suffered no major issues and only made small alignment tweaks and suspension adjustments along the way.
"My weekend was darn near perfect," says Smedegard. "I'm afraid if I changed something about how I prepared for it, I could've brought on a new set of problems. There is one thing I often wonder to myself and it's how well I would've done, if I could have driven an Evo? My roots always fall back to an Evo, as that's what I've learned on over the years. I feel at home in an Evo and my dedicated track car is a 2006. I wish I could transplant it's drivetrain into a street-able Evo, because mine is too far gone and is lacking too many street car qualities at this point. When I signed up for the Michigan Ultimate Street Car qualifying event, I was doing it just for fun and used my daily-driven S2000. I didn't expect to win, and I really didn't expect to use it for the OUSCI in Vegas."
Even though Andy's invitation was a surprise, we're always happy to have daily drivers join an OUSCI field, which certainly impressed Andy. "Some of the cars that ran in this event were simply breath-taking," says Smedegard. "I've never been to SEMA before and seeing those cars on the showroom floor was awesome, but then to see them doing burnouts and flying around the track was just crazy. Some of the modifications and design work in these cars is something you can't see anywhere else but at SEMA." Any was also pleasantly surprised by the people involved with the event. "Everyone was SO nice and helpful, not only the competitors, but the staff and the fans."
When we asked Smedegard which competitor impressed him the most, it sounded like he didn't have to think hard to come up with a name. "Brandon Ranvek. Second place overall with only ONE timed lap on the road course???? That's impressive!" says Andy. "He did kill it in the Speed Stop and Autocross, showing everyone how lethal an AWD car with a good driver can be, but it's not like he did this with a 1000 whp- he just drove that car to the fullest and the results show it.
If you're ready to jump into the USCA with your street car, for a shot at the 2015 OUSCI, Andy has some advice for you- "Get ready, it's a wild and crazy ride, the story of a lifetime! Don't let anything stop you and find a way to get behind the wheel!"
To read more about Andy's wild crazy experience with the RS Motors crew in Las Vegas, check out the
365racing.net blog
. You can also see more video footage on the BoostedFilms
YouTube channel.
Andy also has an Instagram account-
@dizmm