2014 OUSCI Recap- Doug Wind's 2004 Dodge SRT4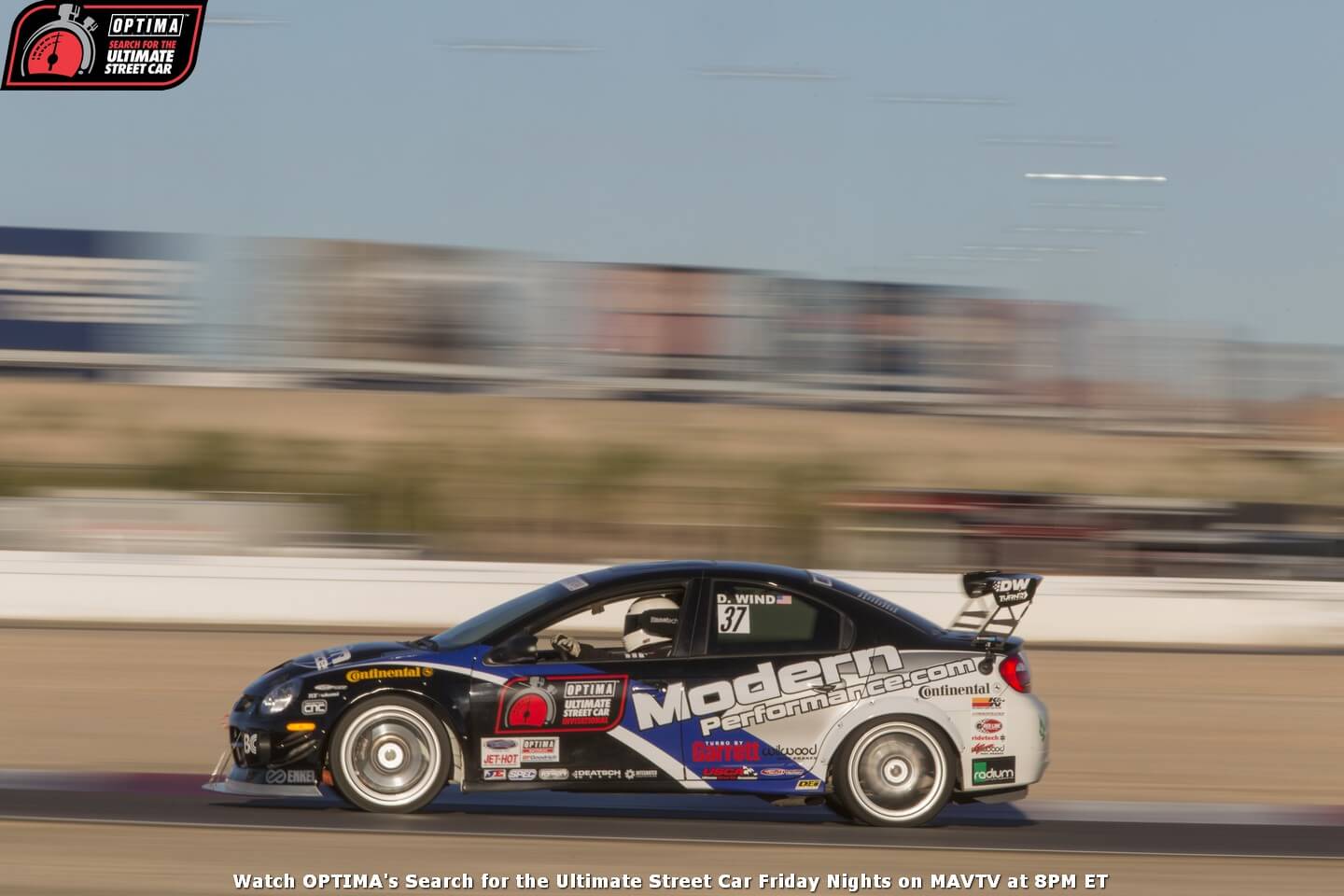 Ultimate Streetcar
Sponsor

OPTIMA Batteries

Location

Las Vegas, NV
The amount of information posted online these days all but eliminates the chances of anyone showing up at a competitive automotive event as a "sleeper." There's just too much information out there and too many folks with cell phone cameras capturing and posting everything that goes on. While Douglas Wind's 2004 Dodge SRT4 may seem like a sleeper candidate on paper, it is anything but in reality. Wind has an extensive and well-documented racing resume, including a class win in the One Lap of America, NASA NARRA Time Trial wins and a TT1 Championship in GTA/RTA/SLB Time Attack. His Mopar is no slouch either, boasting 600 horsepower and 640 lb.-ft. of torque from the boosted 2.4-liter mill.
When Wind won the GT2K (under 3000 pounds) class at OPTIMa's Search for the Ultimate Street Car event at Sebring, those in the know expected him to be a serious contender in the OPTIMA Ultimate Street Car Invitational, presented by K&N Filters. Wind himself had high expectations, but as is often the case in the OUSCI, factors enter into the equation that no one could've possibly anticipated. For Douglas, it was a power steering pump.
"We were shooting for a top-15 finish," says Douglas, "but the power steering pump seized first thing Saturday morning, moving us into survival mode. Survival mode for Wind still ended up being a very respectable outing. Faulty power steering pump or not, the Dodge notched a 36th-place finish in the Lingenfelter Performance Design & Engineering Challenge and followed that up on the track with a 34th-place finish in the Wilwood Speed Stop Challenge. However, that finish came at the expense of a burst stainless steel brake line and Doug only managed a 60th-place finish in the RideTech Street Challenge Autocross.
With the Detroit Speed Road Rally successfully completed on Saturday night, Douglas hoped for better fortune on Sunday, but it didn't seem meant to be. Wind somehow managed to pick up a screw in his tire on Sunday, which created a mad scramble to mount his spare onto his wheel in time for his final session in the BFGoodrich Tires Hot Lap Challenge and the group photo at the end of the day. However, Wind's performance on the track resulted in a quick lap time of 1:54.563, one of six competitors to log a 1:54.xxx lap time, which placed him 34th in that event and moved him into the top-40 (39th overall) for the weekend.
In spite of the difficulties, Wind still seemed to have a great time and would only bring along a spare power steering pump if he had it to do all over again. "There were some amazing cars and it was great to see so many people that build them to drive them hard and not just look good," says Wind. "The biggest surprise was JF Launier's Riddler-winning 1964 Buick Riviera- Totally Awesome! The whole RS Motors team was also great- well prepared and very well-driven."
The mirrored autocross course was also a surprise for Douglas, but he seemed to enjoy that as well. His advice for future competitors is simple- "Bring the best car you can and prepare to have a TON of fun." If you'd like to see more of Wind's car, be sure to check out the Windspeed Motorsports website and Facebook page.