2014 OUSCI Recap- John Lazorack III's 1988 Chrysler Conquest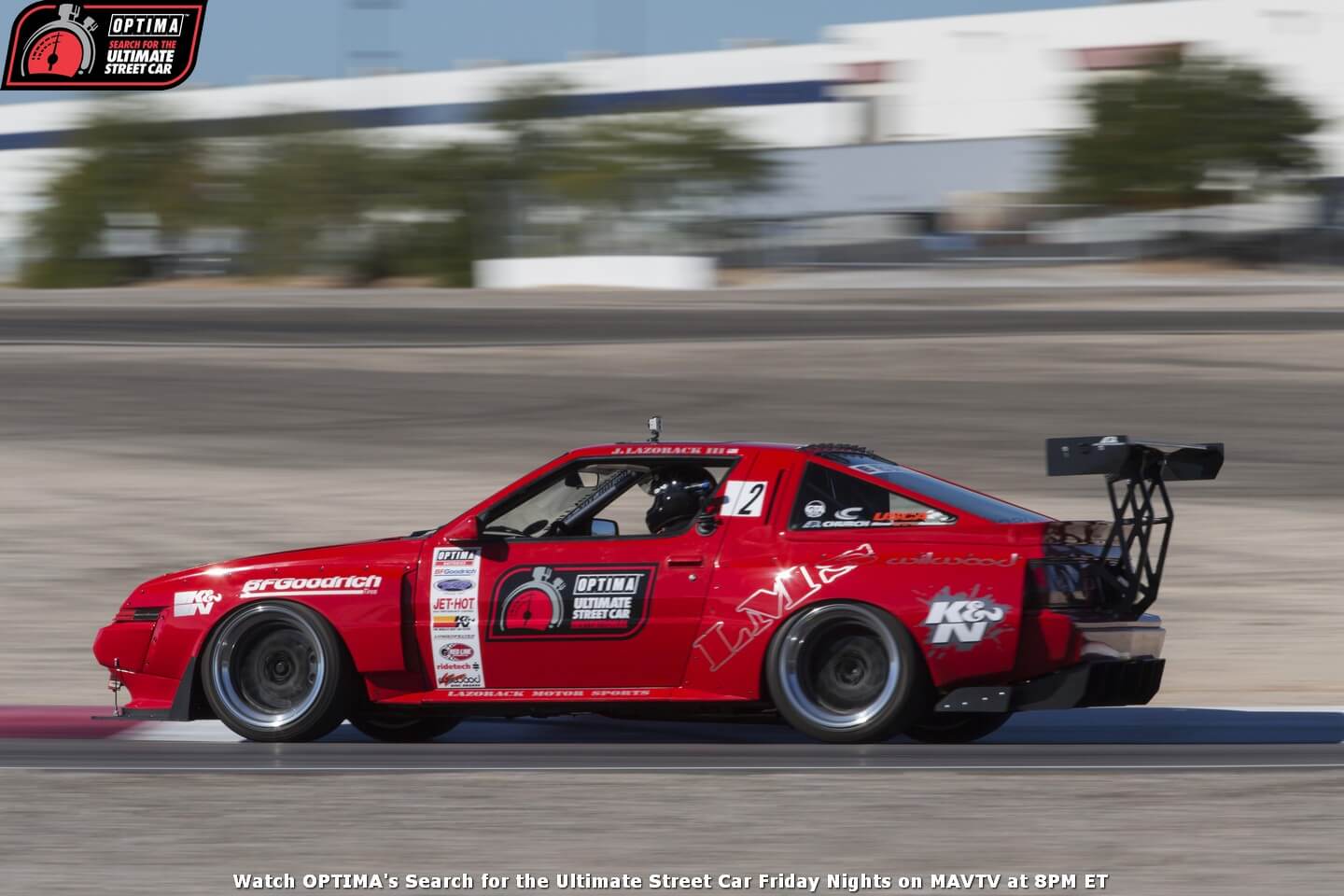 Ultimate Streetcar
Sponsor

OPTIMA Batteries

Location

Las Vegas, Nevada
John Lazorack III's 1988 Chrysler Conquest made it's debut in the OPTIMA Ultimate Street Car Invitational, presented by K&N Filters, in 2013 and immediately he was hooked by the competition. Not content to stand pat on an already potent combination that finished in the top-20 in his rookie campaign, John went to work improving the car for the 2014 Ultimate Street Car Association season. A custom-fabricated widebody kit now graces the car and his efforts resulted in a GT2K (under 3000 pounds) class win at the USCA event at California Speedway and a return invite to the 2014 OUSCI.
The field expanded significantly from the 2013 edition, but it wasn't filled with backmarkers. Instead, the level of competition increased accordingly and we've already seen many examples of how razor-thin the difference were with competitors. Lazorack took his Starquest to the next level, but would it be enough to improve on his impressive performance in 2013? He got off to a good start with a 19th place finish in the Lingenfelter Performance Design Challenge.
The Wilwood Disc Brakes Speed Stop proved to be more of a challenge for Lazorack. "I kept hitting the cones in the chicane, which ruined most of my runs," says John. "It was extremely tricking having to shift into third for just a second, before stomping on the brakes. Even then, I found myself stopping way too early." His best pass of 15.35 seconds placed him 30th overall, but not far from the top-20, which was only three tenths of a second away.
Lazorack's performance in the Ridetech Street Challenge Autocross had a better result, but not without it's own challenges. "I ran ok, but had trouble getting into the groove because of the long lines and a lot of delays (I ran in the afternoon group)," says John. "My final runs being in the direct sunset didn't help me much either. All in all, I could've driven better and had higher expectations for myself there." Lazorack ended up being one of 15 cars to post combined autocross times on the mirrored courses in the 43-second range. Unfortunately, he was the 15th of those cars, so instead of ending up with a top-10 finish in that event (as Mike Maier and Andy Smedegard both did), John finished a very solid 23rd.
With those two events completed, John's day was far from over, as the Detroit Speed Road Rally still remained. "I absolutely loved the format this year," says Lazorack. "Having to do a road rally after a grueling day of abuse at the track was great. One of my favorite parts of this event is cruising downtown Las Vegas terrorizing the strip with a bunch of ridiculous, raced-out, sticker-covered street cars. Scaring pedestrians is just simply...awesome!"
When Sunday rolled around, the BFGoodrich Hot Lap Challenge came with it, but John and his Chrysler were both ready. "The car did everything I asked it to do," says Lazorack. "I ran the snot out of it on the road course and ran some very respectable times. The lack of power in the car (less than 400 horsepower) is something I knew would prevent me from taking a top position overall. Handling-wise, the car had it down, but there's nothing more frustrating than pushing a car through the turns and not having the power to pass when the straight comes. That said, I didn't have one mechanical issue to speak of all weekend. It's a very good feeling being among all those amazing, high-dollar cars and to be one of the few that wasn't on jack stands."
Unlike the autocross, John was at the front of a pack of six cars that laid down 1:51.x lap times, placing him 21st in the BFG Hot Lap Challenge and 24th overall. "I had high expectations for this year's OUSCI and I'm very proud of where I placed," says John. "The only thing I would've done differently, if I had the means, would've been more power. Other than that, maybe more seat time (I should've ran a few autocrosses for practice, but I did the best I could have with what I had)."
Once again, John was very impressed with the OUSCI field. "The cars this year were awesome- hands-down, just amazing," says Lazorack. "There's nothing better than seeing a guy who put over $100,000 into his car, out there destroying the paint when he bombs off the track. That's really what makes these events- the extremely wide range of platforms. More impressively, the guys who are drivers, who don't have huge sponsors and don't have a million dollars into their car, but know what they're doing behind the wheel. Anyone can build a fast car, but not everyone can drive a fast car to it's full potential."
Of all the competitors in the field, it was Bryan Johnson who most impressed Lazorack. "Just by looking at his car, you wouldn't think it would be as fast as it was," says John. "There's something to be said about cars that are perfectly dialed-in. Also, the RS Motors team had a tremendous group effort. It was awesome to see such a passionate group of people travel so far and damn near dominate an event of this caliber."
John's advice for future competitors is to run as many USCA events as possible, so you know where you stand and what you can improve on. "Win or lose, it's the most fun you can have in your car," says Lazorack. If you'd like to track John's exploits behind the wheel and under the hood, be sure to follow @Lazorj on Instagram.