2014 OUSCI Recap- Wes Drelleshak's 1959 Chevrolet Apache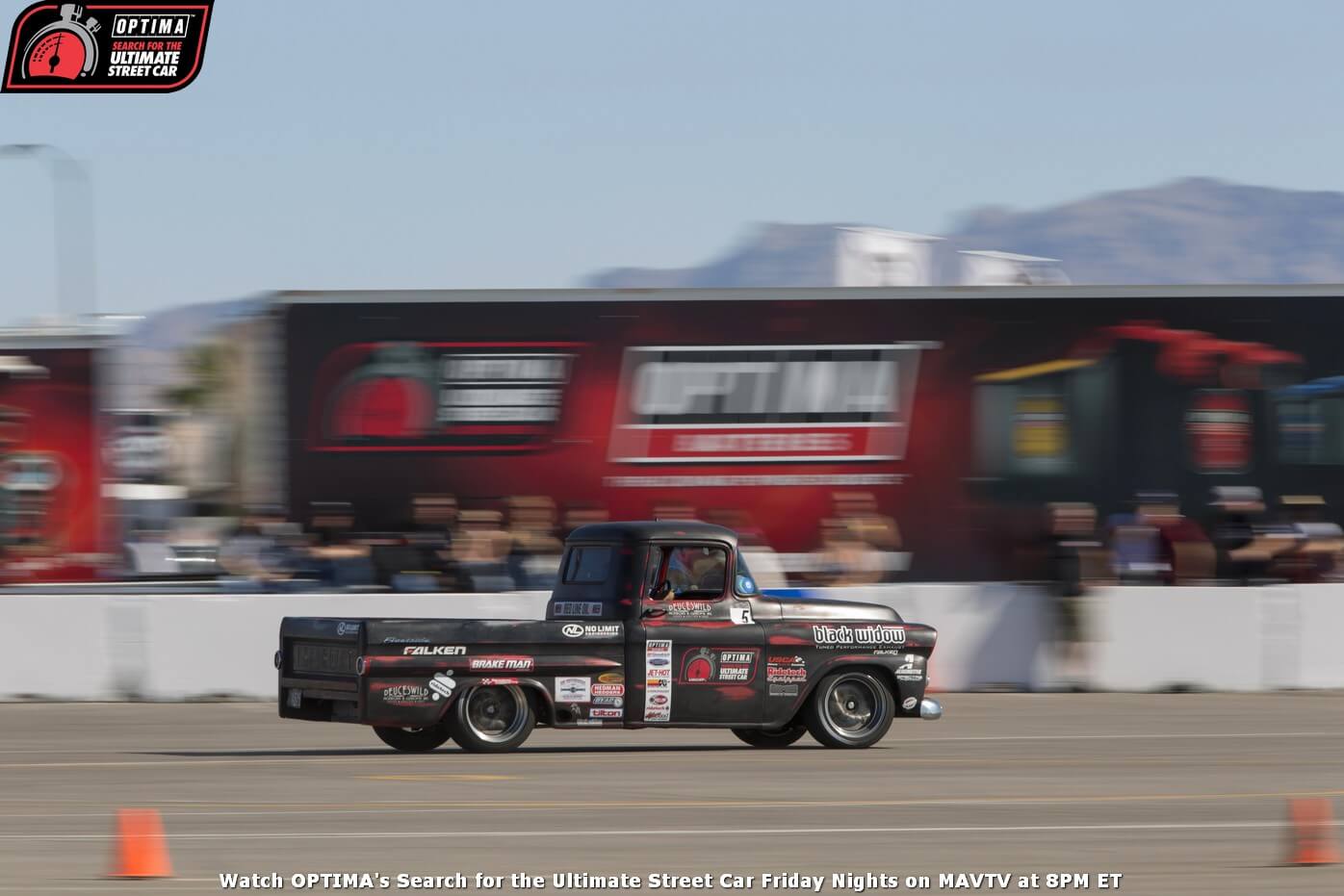 Ultimate Streetcar
Sponsor

OPTIMA Batteries

Location

Las Vegas, NV
The OPTIMA Ultimate Street Car Invitational (OUSCI), presented by K&N Filters, always brings out some exciting, exotic and unusual entries. Within the field, you'll find cars that surprise you and even a few trucks that have some tricks up their sleeve. Wes Drelleshak's 1959 Chevrolet Apache would definitely be one such entry, as few would expect a vehicle that once served as a farm truck could ever end up competing in the OUSCI.
However, this Apache is a long way from where it first started out. Whatever engine (or engines) it once had are now gone, in favor of a small-block 383, packed with all the good stuff from Lunati and Comp Camps. The stock dog dish wheels have been replaced by 18-inch Weld wheels wrapped in 295-series rubber and the suspension has received some major upgrades from past OUSCI competitor, Rob MacGregor's company, No Limit Engineering.
Wes knew the competition would be tough, but was still hoping for a top-50 finish. "I was really happy when the individual results came out for the Wilwood Speed Stop Challenge and the RideTech Street Challenge Autocross, because I placed well considering we were dead-last in the Lingenfelter Performance Design Competition." The Apache's performance in that event should not be construed as a knock against the truck, but the fact that the field from top to bottom was incredibly impressive, with the difference in scoring among all the competitors being just over five and a half points in total.
On the Wilwood Disc Brakes Speed Stop Challenge, Wes' pickup finished in between a newer Mustang and and a Conquest (which they only made for a few years, so it could probably be considered both new and old) in 29th place. On the RideTech Street Challenge Autocross, the Apache did even better, finishing just ahead of Steve Kepler's Nissan GT-R and just behind Bret Voelkel's Chevrolet Camaro in 26th place.
The competition was even tougher on the BFGoodrich Hot Lap Challenge, where Wes' Apache was one of five vehicles to run a 1:58.x lap time, which placed him 56th in the event. Throughout the three track events, Wes' TKO600 transmission would not shift past 5000 rpms, which he felt really hindered his performance. "I feel with a better transmission, overall times would have improved," says Drelleshak. Still he wasn't disappointed at all with his performance. "I'll take 37th place overall, because the vehicle we ran was originally a farm truck," says Drelleshak.
The one thing Wes would do differently, would be to spend more time getting into shape before the event. "Mentally, I was 110% and that really helped my driving, but phyiscally my body was drained from walking SEMA and the dry desert climate," admits Drelleshak. His advice to future competitors includes bringing snacks and tons of water. "The desert will dehydrate you faster than you think," warns Wes. "Don't drink the night before and get rest in when you can, because SEMA always wears you out. Plus, if you budget for $1,000, bring $2,000. Parking, fuel and hotels get very expensive!"
Overall, Wes was very impressed with the OUSCI field in 2014. "I loved seeing how we placed among some of the best cars and trucks in Pro-Touring," says Drelleshak. "We were the fastest truck on the autocross and that is an amazing accomplishment, since we have 500 horsepower, versus the 750+ of Chris Smith's C10. Wes was also surprised by the mirrored autocross course. "The tracks were short, but fast and the truck liked that," says Drelleshak. "Also, the Speed Stop was a great mix of drag racing, slalom and stop box, which was better for all-around car/truck performance. The road course was pure addiction. I can't wait to hit that track again!"
Wes' favorite cars in the competition were Martin Pond's Ford Fairmont and Aaron Oberle's Chevelle. I had to stop myself from watching them go around the track and tell myself to stop watching the cool cars and focus on driving," says Wes. If you'd like to see more of his truck, follow @wes_d on Instagram and look for the hashtag #projectlongshot every in social.