2016 Nitto King of The Hammers to Be Powered by OPTIMA Batteries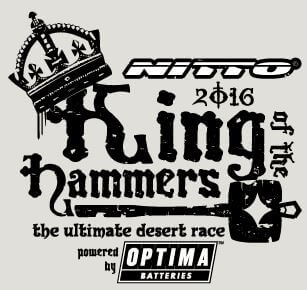 Events
Sponsor

OPTIMA Batteries

Location

Johnson Valley, CA
Hammerking Productions, Inc. is proud to announce the 2016 Nitto King of the Hammers will be powered by OPTIMA Batteries. After years of supporting ULTRA4 competitors, OPTIMA Batteries is expanding their involvement with the largest off-road race in North America. More than 400 competitors are expected to participate in this year's event held during the first week of February in Johnson Valley, California.

This expanded partnership comes at an exciting time in King of The Hammers history as 2016 marks the tenth annual event. What started as 12 friends racing for bragging rights has turned into a full week's worth of racing events that include; motorcycles, UTVs, modified four-wheel drives and purpose-built unlimited four-wheel drive race vehicles known as ULTRA4s. 60,000 spectators attended the event last year with another 400,000 watching the live stream from around the world.

"No endurance racing event in the world tests the durability of products like King of The Hammers. "said Cam Douglass, OPTIMA Batteries' Director of Marketing. "OPTIMA Batteries have been helping competitors cross the finish line for years. We're very excited to now have a larger role in supporting the toughest one-day off road race in the world."

Dave Cole, Founder of King of The Hammers said, "OPTIMA batteries are known for their durability even in harsh conditions and I can't think of harsher proving grounds, than racing The Hammers." Cole went on to say, "OPTIMA's been powering rigs in Hammertown since the very beginning and we're excited to see our relationship with them expand in 2016."

The 2016 Nitto King of The Hammers Powered by OPTIMA Batteries week starts on Friday, January 29th and goes through Saturday February 6th. Tickets to attend the event are $20 per person for the week.
ABOUT ULTRA4 RACING
ULTRA4 is a vehicle type, class and series. ULTRA4 Racing was born from the popularity of the annual NItto King of the Hammers Powered by OPTIMA Batteries, considered to be the toughest one-day off-road race. The vehicles are unlimited four-wheel drive, capable of competing in multiple racing disciplines - extreme rock crawling, high-speed desert racing and short course. In seven years, the sport has grown significantly from the inaugural King of the Hammers to an eight race national series, and a four race International series. ULTRA4 Racing is managed by Hammerking Productions located in Temecula, California. To learn more, head to www.ultra4racing.com.