2019 RECARO GTS Points Projections After Four Events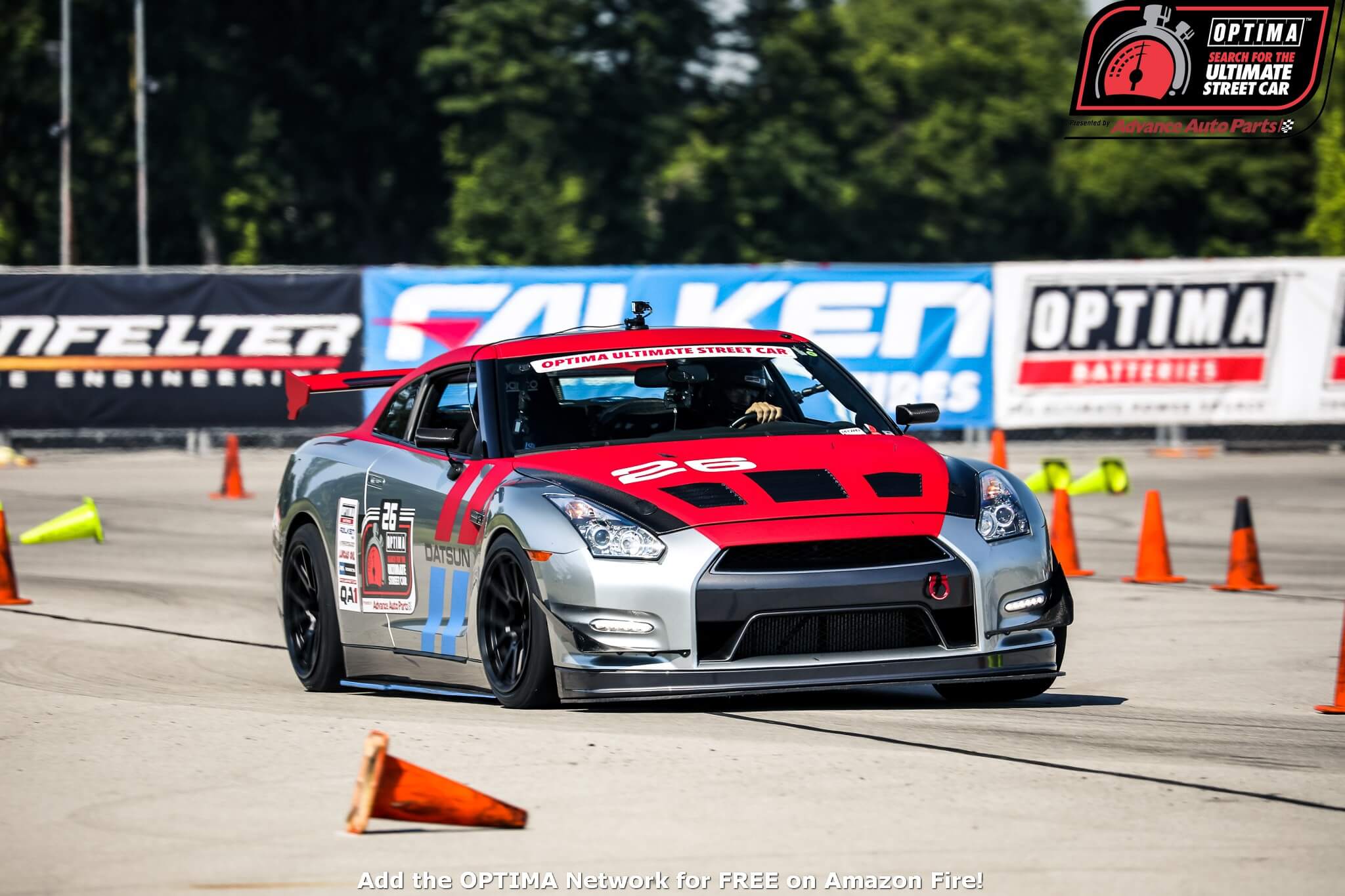 Ultimate Streetcar
Sponsor

Advance Auto Parts

Location

Nationwide
Four events have been run in OPTIMA's 2019 Search for the Ultimate Street Car, presented by Advance Auto Parts and the points chase in the RECARO GTS class is red hot! Current points leader, Steve Kepler, saw his 2013 Nissan GT-R win the class points championship in 2016, but Austin Barnes' Dodge Viper has grabbed the title in the last two seasons. However, 2019 is shaping up to be a very tight battle. While Barnes easily grabbed his OUSCI invitation at the season-opener in Las Vegas with a 491-point performance, Kepler set a series single-event record, when he grabbed 498 out of 500 possible points in Daytona.

The two finally went head to head at Pike's Peak International Raceway and the battle was fierce. However, Kepler was slightly off the pace on the QA1 Autocross, which allowed Barnes to pull away with the class win. Pike's Peak did have four RECARO GTS cars that all scored at least 90 points in every segment, including the Corvettes of Jordan Priestley and Jake Rozelle, both of which topped Barnes on the QA1 Autocross and sandwiched him on the PowerStop Speed Stop Challenge.

It would be easy enough to say those four will be the ones to watch in the RECARO GTS Class, but the competition for the top spots are deeper than that. Ryan Mathews' Corvette is a legitimate threat whenever it runs and he accomplished something at NCM Motorsports Park that almost no one else did- he score more points at NCM, than he did at Daytona. The Porsche of Michael Levitas is also lurking in the weeds, having only run one event so far this season, but scheduled to run two more before the season ends. Levitas posted top-three overall scores in all three timed events at Daytona, including posting the fastest overall time on the Falken Tires Road Course Time Trial by a pretty significant margin.

Road America should be a very interesting event for the GTS Class, as everyone in that group but Rozelle & Barnes will be there. Last year, no one had an answer for Levitas' Porsche on the Falken Road Course or the PowerStop Speed Stop, but Barnes & Priestley finished ahead of him, thanks in part to their scores in the Lingenfelter Design & Engineering Challenge and solid finishes in the three timed segments. The bottom line heading into Road America is that Priestley needs to post 492 points (along with Kepler holding steady and Barnes not scoring more than 469 points), but it is still attainable.

The advantage Priestley & Kepler hold over Barnes, Levitas & Mathews is that they are both running five events, whereas none of the others are running more than four events. While only your best three events count toward your season-long point total, running more events gives you more opportunities to improve your score and also gives you more chances of running at an event where points are easier to accumulate (Daytona was easier than NCM). As of right now, Barnes needs to score 470 points to pass Kepler, but that could change before he gets the chance.

We anticipate Levitas will grab the RECARO GTS class invitation to the OPTIMA Ultimate Street Car Invitational (OUSCI) at Road America, regardless of whether he wins the class outright or not. We expect Mathews will do the same at NOLA and Bob Sobey will likely pick up the OUSCI invite at Auto Club Speedway in his Nissan GT-R. Based on performances we've seen so far this season, this is how we could see the points playing out at the end of the year:

1. Austin Barnes 1,468
2. Steve Kepler 1,463
3. Jordan Priestley 1,434
4. Michael Levitas 1,404
5. Jake Rozelle 1,402
6. Ryan Mathews 1,399
7. Michael Gallagher 1,324
8. Bob Sobey 1,273
9. Glen Barnhouse 1,194
10. Thomas Marquez 1,122
11. Kevin Schultz 1,087
12. Matthew Bacon 1,062
13. Andy Voelkel 993
14. Jonathan Stroup 971

There are some wildcards in these projections, beyond the possibility that someone may not score as well as predicted or simply drop out (Barnes is desperately searching for more tires). Matt Bacon already grabbed his OUSCI invitation for his C3 Corvette, so he may choose to run that car and Kevin Schultz could score significantly higher, as he had a 251 and a 418 in his first two events of the season. If Ben Cowling makes it through the wait list at NOLA, he could easily finish in the top-10 and knock everyone behind him back one position.

The top-three non-qualifiers from each class will earn invitations to the OUSCI at the end of the season, which at this time projects to be Gallagher, Barnhouse & Marquez. After that, the top-ten point totals regardless of class affiliation receive invitations. Historically, we've seen the 1,000-point mark as the cut-off for earning those points invitations to SEMA and the OUSCI. If that holds true again in 2019, the C7s of Andy Voelkel and Jonathan Stroup will miss the cut.

However it shakes out, you won't want to miss a minute of the action. You can add the OPTIMA Network on Roku for free and watch all the past episodes anytime you'd like, including the 2019 season, after it airs on MAVTV.