93 of the Craziest Ford Broncos from the 2023 SEMA Show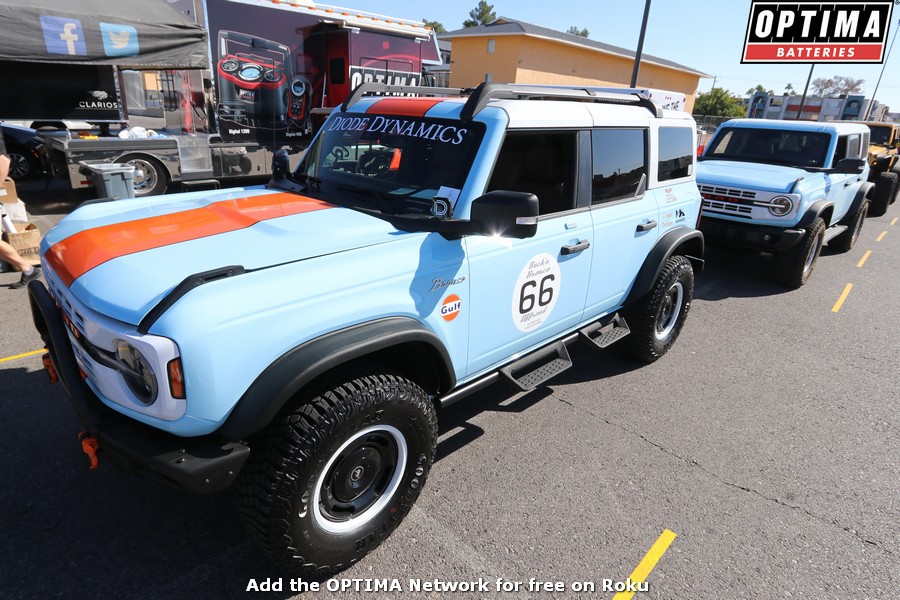 Trucks
Sponsor

OPTIMA Batteries

Location

Las Vegas, NV
We've been excited about the return of the Ford Bronco since day one, especially because OPTIMA Batteries offers direct-fit upgrades for these trucks with either our
DH6 YELLOWTOP
or
DH7 YELLOWTOP
. Those are massive batteries compared to what the Broncos of previous generations ran, but newer vehicles of all shapes and sizes have never been more-demanding from an electrical standpoint.
Case in point, a new Ford Bronco Sport with a tiny little 1.5-liter three-cylinder Ecoboost engine uses a
54-pound DH6 YELLOWTOP
, but a '79 Ford Bronco with a massive 6.6-liter V8, like OPTIMA Jim used to own, could start all day with a
REDTOP that weighs less than 32 pounds
! It's pretty obvious from that example, that if an engine that is 340% larger can operate effortlessly with a battery that is 41% smaller, then there must be some significant electrical demands on a battery that aren't related to how much cranking power they can provide.
Newer vehicles use electricity all the time, so automakers have responded by using larger batteries to handle that constant draw. If you drive your Bronco every day, your alternator should have no trouble maintaining your battery, but if you own one of the Broncos in the gallery below or your Bronco doesn't see daily use, then you'd be well-served to keep the battery fully-charged with a proper battery charger and
OPTIMA offers a whole family of chargers and maintainers
. We're so confident these chargers & maintainers will maximize the performance and lifespan of Ford Bronco batteries,
we'll extend the free replacement warranty on your OPTIMA battery by a full year
, if you purchase your OPTIMA battery and a
1200 series charger
at the same time!
Enough battery talk! Check out this massive gallery of nearly 100 Ford Broncos from the 2023 SEMA Show below and if that's not enough, check out an even larger gallery of Broncos from the 2022 SEMA Show
here
!