A Closer Look at Danny Popp and his OUSCI-Winning Corvette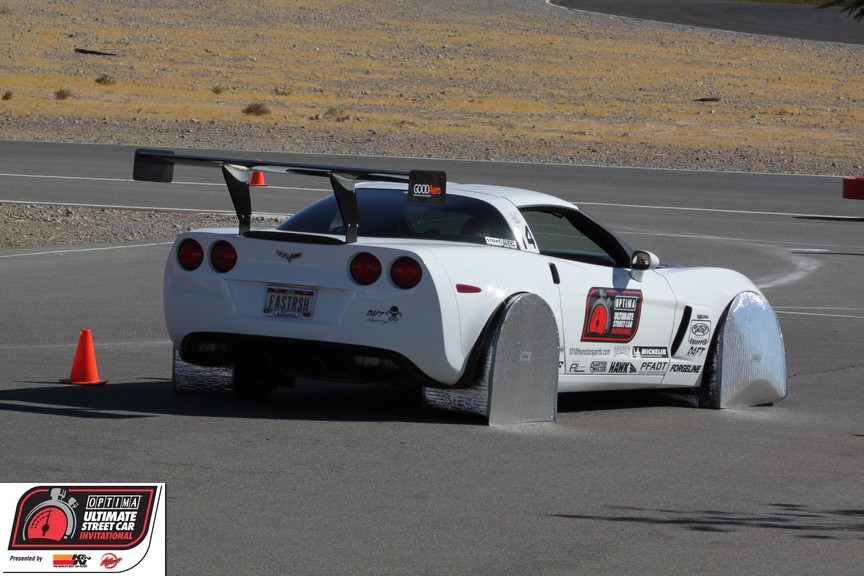 Ultimate Streetcar
Sponsor

OPTIMA Batteries

Location

Pahrump, NV
With the completion of the 2011 OPTIMA Ultimate Street Car Invitational, presented by K&N Filters & Wilwood Brakes, we thought we'd take a closer look at Danny Popp and his winning Corvette. In the weeks leading up to the 2011 OUSCI, we had sent out an e-mail to the known invitees, asking them for some basic information on their cars.
What we received from Danny Popp three weeks prior to the event, was the picture of a shell of what looked like a Corvette, sitting on a hoist. In short, it looked like all the king's horses and all the king's men would be needed to get the Corvette assembled and running by SEMA. Accomplishing that task and getting the car dialed in was no small feat.
The fact that Danny is both an ASE-Certified Master Technician and a GM-Certified Corvette Repair Specialist at McCluskey Chevrolet, probably helped to expedite this build. Danny Popp is also an accomplished amateur racer, who nearly lost his amateur status (and invitation to the OUSCI) earlier this year, when Lou Gigliotti tried to secure a ride for him in his Grand Am Rolex Corvette.
If money were no object, Danny would've been in Gigliotti's Corvette and out of the OUSCI. However, that wasn't the case and Danny continued wrenching on Todd Rumpke's Corvette, which is what he ran in the OUSCI.
In an OUSCI field where several competitors were boasting 1,000+ horsepower numbers, Popp's high-compression, 7.0-liter LS7 was relatively-tame at just 575 rwhp, with some help from one of Lou Gigliotti's camshafts. Other additions included American Racing headers and a QuarterMaster racing clutch. Suspension-wise, Popp added a RAFT-proprietary mono composite leaf suspension, Pfadt adjustable sway bars, spec'd by RAFT, Pfadt suspension spherical bearings and Koni/RAFT valved, double-adjustable shocks. A RAFT custom aero package was also added.
StopTech rotors and Hawk pads are now found behind Forgeline wheels wrapped in Michelin rubber and outside of some SKF race wheel bearings and a new paint job, not a lot else was done to the Corvette, prior to the OUSCI. More work or at least more testing was planned in the weeks leading up to the OUSCI, but a tragedy in the Popp family prevented that from happening.
Danny's driving ability is certainly on par with that of any of his fellow OUSCI competitors, but there were certainly more powerful and highly-modified cars and those with far more resources at their disposal. That Danny was able to win against the toughest field of competitors in OUSCI history, while dealing with personal tragedy is an amazing accomplishment and a testament to his resolve. We congratulate Danny and send our best wishes to him and his family.

Watch past TV coverage of the OUSCI for free, anytime on the OPTIMA Network on Roku.