All-Purpose Toyota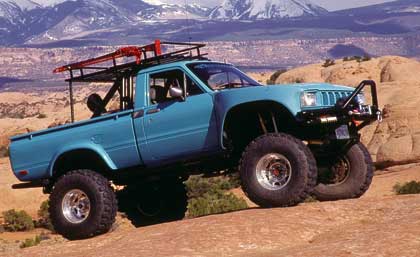 Trucks
Sponsor

OPTIMA Batteries

Location

United States of America
As Robert Boggio's kids grew up and moved out, the need for his massive Suburban subsided. He still needed an all-purpose off-road vehicle that could tackle the toughest trails and still provide reliable commuter transportation, so he built this sweet Toyota as a replacement.
The Toy is heavily-outfitted with all kinds of amenities, including XM radio, a Cobra CB, a Fosgate amplifier, dash-mounted GPS, and a Warn 9500 winch. We noticed an OPTIMA REDTOP installed under the hood and that battery is a perfect choice for starting Robert's 4.3-liter Chevy, but with all the other electrical demands present, we're hoping he has an isolated YELLOWTOP hidden somewhere to help power those accessories.
The OPTIMA YELLOWTOP is the ideal battery for any application that may involve deep-cycling, including winching, running a large stereo, lots of auxiliary lights or since we're getting close to winter, snowplows. If you'd like more information on selecting the correct battery for your application, you can find it here or just drop a line to OPTIMA Jim on the right hand side of this page.