Anthony Bongiovanni Wins With OPTIMA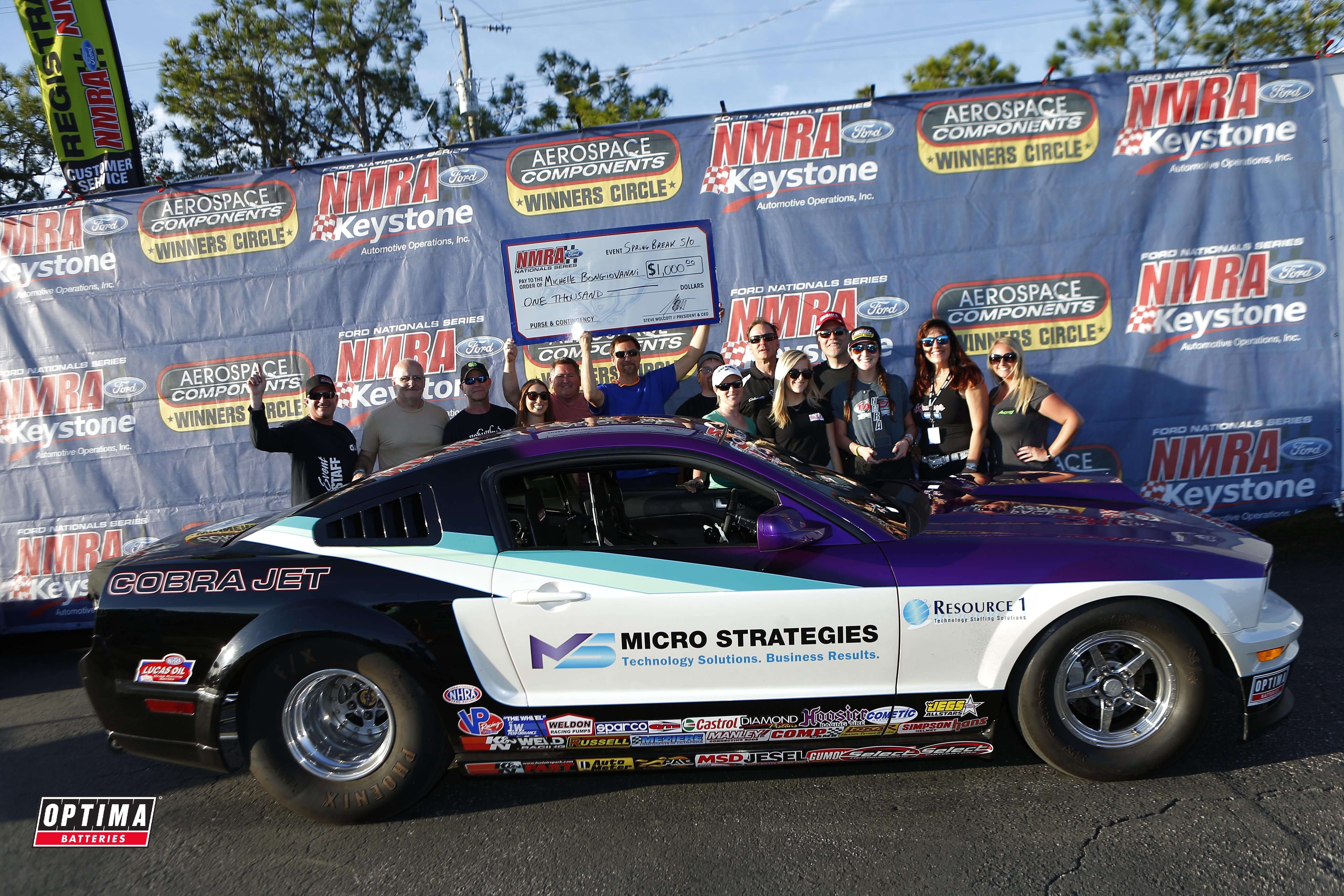 Events
Sponsor

OPTIMA Batteries

Location

Hopatcong, NJ
In just over 10 years on the track, Bongiovanni Racing has amassed an impressive drag racing resume, including NHRA national records, victories in NMRA and NMCA competition, NHRA Best Engineered—plus, Anthony Bongiovanni has scored multiple NHRA Class titles and regional wins. His biggest, however, came in 2018 when he topped the field in Super Stock at the NHRA New England Nationals to claim his first major national event victory.
With so much success, it might be a shocker to learn that Anthony didn't set out to field a team of winning Ford Cobra Jet Mustangs. In fact, his addiction started innocently enough after a weekend watching a buddy compete at an NHRA national event.
"My friend and now co-worker Ray Scardelli invited me and my kids to watch him compete at an NHRA national event," said Anthony. "During the weekend Ray mentioned his kids also compete in the NHRA Jr. Dragster League and my daughters thought that was the coolest thing," he added, speaking of Michelle and Genna, who were 8 and 13 at the time. Michelle was especially excited about getting behind the wheel, and Anthony was game, so before long Michelle and Genna had a pair of racecars sitting in the garage. And at that moment Bongiovanni Racing was born.
The NHRA Summit Racing Jr. Dragster League allows kids 5-17 years of age to drag race in a safe, controlled environment. The competition is head-to-head, just like the pros, and kids race at many of NHRA's 130 member tracks across the United States and Canada. The cars are half-scale versions of Top Fuel dragsters and are powered by single-cylinder engines. Older kids can go as fast as 85 mph and as quick as 7.90 seconds in an eighth-mile. Younger competitors are restricted to slower times/speeds.
With the dragsters prepped, the girls hit the track and fell in love with the sport. They learned about winning, losing, what it means to work hard and sportsmanship, too. In roughly a decade of competition, the girls combined for many race wins and Michelle brought home two track championships. Michelle and Genna have since graduated from Penn State University and compete in much more powerful Cobra Jet Mustangs.
While tuning his daughters' Jr. Dragsters were challenging and fun, Anthony's desire for competition grew. And after many years serving as crew chief, he decided to strap in himself. Anthony began his drag racing career with a 2008 Ford Mustang for NHRA Stock Eliminator. The late-model Ford was especially attractive since it requires savvy computer tuning to coax maximum performance from the engine. And computers are Anthony's field of expertise.
Much of his success comes from his experiences growing Micro Strategies Inc. (microstrat.com), a company he started in 1983 that has since become a leading IBM business partner.
"I started Micro Strategies to write custom software for businesses, Anthony told us. "We wrote small applications, such as accounting or inventory control systems to enable customers to gain efficiency within their organizations and become more profitable and responsive. As our client needs began to outgrow what we could provide, we became an IBM business partner. This gave us additional resources to support customers, which enabled them to utilize technology for their own business benefit. We want to be excellent at everything we do," he added. "Over the past five years, we've focused on what's critical and what makes the most sense to provide real business value to our customers, deliver great opportunities for our staff members and develop even stronger relationships with our partners.
Micro Strategies Inc. provides IT solutions including Managed and Cloud Services, Infrastructure, Enterprise Contract Management, Business Process Management, Big Data, and Analytics and Security solutions. These include server, storage, and network infrastructure, content management and collaboration, database application development, web/e-commerce development, security, analysis and remediation, remote access and digital voice recording," he explained.
Not surprisingly, Anthony's success on the track has come from a dedicated commitment to learning and refining his craft. He's grown his team and now fields a stable of Cobra Jet Mustangs in Stock Eliminator, Super Stock and Factory Showdown competition. The team also participates in NMRA/NMCA Ford Performance Parts Cobra Jet Showdowns, where they've accumulated three victories.
"We run a variety of engine combinations and model-year Mustangs, which utilize electronic fuel injection, data-recording, plus high-capacity electric fuel pumps, water pumps, and fans. They rely on consistent battery performance and we've found OPTIMA Batteries do extremely well in the harsh racing environment. There's not always time to charge the batteries, especially when you're hot-lapping, so lap after lap your batteries need to have the capacity and capabilities to provide reliable power for the multitude of critical systems. And that's one reason we use OPTIMA Batteries."
Maintaining the fleet is the job of crew chief Ricky Hertzog, who operates from the team's New Jersey-based shop. Hertzog is kept plenty busy, whether he's swinging engines, driving the rig to the races or helping Anthony dial in the 1,000-plus horsepower engines.
Anthony's workhorse is the 2014 Super Stock Cobra Jet that took home a 'Best Engineered' award at the 2014 NHRA Keystone Nationals and the win in New England. The Martino Race Engines 5.0L Coyote delivers over 1,000 hp thanks to a 2.9L Whipple blower. It has run 8.30s at 160 mph—but Bongiovanni is looking for more.
Back at the barn, you'll find small-tire 2012 and 2014 CJs fitted for Stock Eliminator, 2010 and 2012 Super Cobra Jets and a 2019 Cobra Jet for the School of Automotive Machinists and Technology Factory Stock Showdown.
"We've had wonderful success so far and we really enjoy working with partners like OPTIMA Batteries," Anthony said. "In drag racing, there is virtually no room for error; you have to be prepared properly when you go to the starting line. Everyone likes winning and performing well," he added. "I also enjoy racing because it allows me to extend and grow our business. As a family, we like traveling, seeing new places, meeting new people and interacting with other families. I'm proud of the success my daughters have had in the Jr. Dragster League and of the camaraderie we enjoy with other racers at the events. My kids have learned responsibility, sportsmanship, and how to lose well—because racing can be a humbling experience."
You can follow along with Anthony on his social media handles on Facebook, Instagram, and, Twitter to see more on his work, family and passion for drag racing. Evan J. Smith is the photographer of these photos within this blog post.