Are you really saving money shopping online?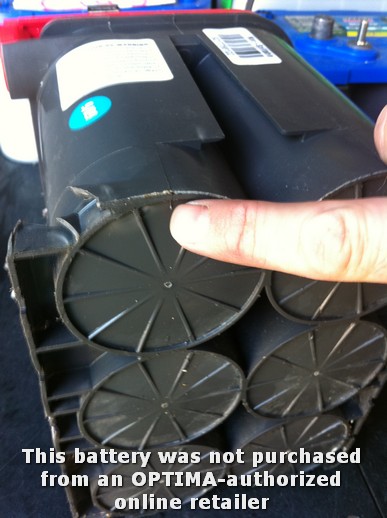 Tips & Support
Sponsor

OPTIMA Batteries

Location

Glendale, WI
The age of the Internet can be a wonderful thing, especially when it comes to comparison shopping and finding the best price for the product you want. However, there are some instances where it makes sense to weigh more factors in a purchase decision, than just the cost of the product itself.
We think batteries are one example of a product that shouldn't always be purchased from the retailer with the lowest price. Batteries are heavy items with a finite lifespan. When you purchase an OPTIMA battery directly from us or one of our authorized retailers, you can have confidence that your battery is not old stock and will be shipped safely in a box that can prevent damage if someone accidentally drops the battery during shipment (if shipping is necessary).
More importantly, if you do have a problem with your battery, when you buy it directly from OPTIMA or one of our authorized retailers, your concerns can be handled by your original retailer properly and in a timely fashion.
The battery pictured here was not purchased at an authorized online retailer and has obvious impact damage that may have occurred during shipping, as has been the case with many other batteries shipped by this particular unauthorized retailer. This battery went into a pristine, low-mileage muscle car (5,700 original miles), where a leaking battery could easily cause significant damage to the engine compartment.
Fortunately, that didn't happen in this instance, but when the customer had an issue with their battery, their original retailer would not honor the warranty, even though this is required of all of our authorized retailers, whether they are brick and mortar stores or mail order giants.
In this instance, we were able to assist this customer in receiving a warranty replacement, but that process involved a 96-mile round trip drive to our nearest processing center. Any savings this customer thought they were realizing by purchasing an OPTIMA from an unauthorized online retailer likely vanished during that drive, if not sooner.
Whether you are purchasing an OPTIMA or any other brand of battery or product, make sure your retailer of choice is authorized to sell and service what you are buying. Buy a battery from an unauthorized retailer and you could run the risk of getting an old battery or dealing with a retailer who will not offer warranty service for damaged products. You can find a list of authorized OPTIMA retailers near you, by using the "Find Your Store" link at the top of the page.
If you are considering making a purchase from an online retailer and you want to make sure they are an authorized retailer, be sure to verify that they do the following:
Ship OPTIMA products in approved shipment packaging
Answer a toll free service phone number during business hours
Adhere to and honor the OPTIMA factory warranty policy
Provide an in-house warranty program
If you're still not sure, send us an e-mail at info@optimabatteries.com or give us a call at 888-8-OPTIMA and we'll let you know if you're dealing with an authorized OPTIMA retailer. Whether you buy your battery online or at a local store, be sure to inspect your battery for damage as soon as you receive it. Our batteries can still function with damaged cases. If you notice damage to your battery as soon as you receive your product and bring it to your retailer's attention right away, it is much easier to get warranty service, than if you approach them two years later, swearing up and down that you never damaged the battery and just noticed the damage recently.