Bob Benson's 1972 Pantera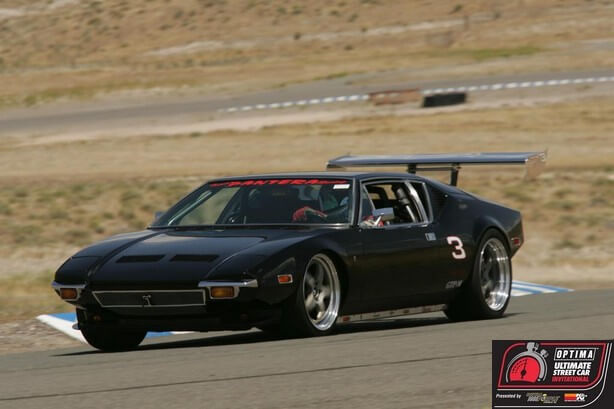 Ultimate Streetcar
Sponsor

OPTIMA Batteries

Location

Pahrump, NV
When we request information from competitors for previewing their vehicles for the 2013 OPTIMA Ultimate Street Car Invitational (OUSCI), presented by Royal Purple and K&N Filters, the amount of information they provide often varies. The more they give us, the more we can share with you. Bob Benson was very generous in what he shared about his 1972 DeTomaso Pantera, so we're going to pass along as much as we can, with very little editing.
Bob bought the car about 12 or 13 years ago and it is a 1972 pre-L, meaning an early car with smaller bumpers, a dual pod dashboard and flat deck, built in January of 1972. Benson believes it was autocrossed early in its years, but was later set up for tracking, although he doesn't think it ran much. At that time, it had a 351 Cleveland, with a four-bolt main, and 4v heads.
The Pantera was a little rough when Bob bought it, but he started cleaning it up, buying 18-inch Kinesis wheels, a laydown Fluidin radator etc... It already had the RECARO seats and at the time, Benson felt it was more of a show car, so he bought a 1965 Mustang GT 350R clone, which was basically a gutted street legal race car and tracked that for a year or two before scattering its 347 motor on the front straight of Thunderhill (he kept kicking the chip up to 6800 before it went boom).
Bob then bought a 302 Dart block and was starting to do a 331 stroker, when one of his Pantera buddies bugged him so bad about his DeTomaso, that he decided to build a motor for the Pantera instead. He sold the 302 bought a 351 Windsor and stroked it to 411 inches. He sent the spec sheet on that motor to us and it had all the right parts- Brodix heads, Scat crank, Weisco pistons, etc... The sheet indicated a 390 engine with similar components dynoed at 570 horsepower, so we expect Bob has surpassed 600 with his engine.
Bob then pulled the old engine, had the bay detailed more than it had been previously and dropped in his new block, along with 180 headers, which he feels are the best feature on the car. At that time he also installed Chassis braces from the Byer Brothers, a new four-point roll cage, a custom Fuel Safe cell, an MSD coil, distributor and 6AL ignition, a K&N Filter, Wilwood brakes from an old Grand National car, a new master cylinder from an S-10 pickup and a Holley 830 NASCAR carb. Hoosier R6's or Kumo V710's were Benson's tires of choice for both the track and street for the last eight years, but he has decided to purchase a set of BFGoodrich's new Rival tires for the OUSCI.
The first time Bob tracked the car, he won his class and beat many full-on race cars, even though his is very much street-legal. Benson told his wife the car was a lot better than the Mustang, which he later sold.
The most controversial modification on Bob's Pantera is the rear wing, which Benson says was created with the help of Pogy Wings, although he had to fabricate his own mounts. Benson has run the car with and without the wing and didn't notice a significant difference, besides the reaction Pantera vendors expressed when they saw it, which he describes as a love/hate relationship. In fact, Bob tells us the Editor for the national and local club asked him if he would take it off for the OUSCI, but Bob tells us it will definitely be there.
Bob races the car every year at the club Pantera Event, which also includes autocrossing and drag racing. He has also driven the car to Vegas and back home on Hoosier R6s. It has also run at Reno/Fernly, Thunderhill, Sears Point, Laguna Seca, Firebird Raceway and the first few years after it was built, he also ran at what is now Spring Mountain Motor Ranch, where the OUSCI will be held. He also enjoys taking it to local cruise nights and drives it on a regular basis.
Bob has been into modifying wheeled-vehicles since he was six and started racing motorized go-karts when he was 12, before graduating to dirt bikes and then finally cars, where he started out autocrossing a 1969 Camaro Z28. After too many tickets, his father made him sell the car and Bob went back to dirt bikes. Later on, Bob picked up a 1969 Trans Am clone and autocrossed that for a few years, before putting the engine and transmission into a 1970 Firebird, which led to some SCCA regional and divisional championships, as well as several Slush Series championships.
After that, Benson migrated back into dirt bikes, before returning to four wheels with the Mustang and Pantera, although he hopes to get the Firebird back out again soon (street-legal 755 horsepower with a five-speed). Bob obviously has a lot of track experience and has watched OUSCI greats Mike Maier and Brian Hobaugh grow up and win national championships, so he knows what the capabilities of the top OUSCI competitors.
He thinks his Pantera will be a bit of a handful on the Ridetech Autocross with slow steering, but should perform a little better in the BFGoodrich Hot Lap Challenge, where it's well-balanced 3,040 weight will do well. Benson believes his biggest challenge will be in getting the Wilwood Speed/Stop Challenge figured out in just three passes. Bob's new tires are also a mystery for him, but something tells us he'll be able to figure things out.
While Bob sees Hobaugh and 2011 champion Danny Popp as favorites, we wouldn't count him out of the mix. He certainly has the car and the skills to contend for the title. If you've only seen Panteras at shows and would like to see one on the track, add the OPTIMA Network for free on Roku!