Bradley Yonkers' 2002 Chevrolet Corvette | 2014 OUSCI Recap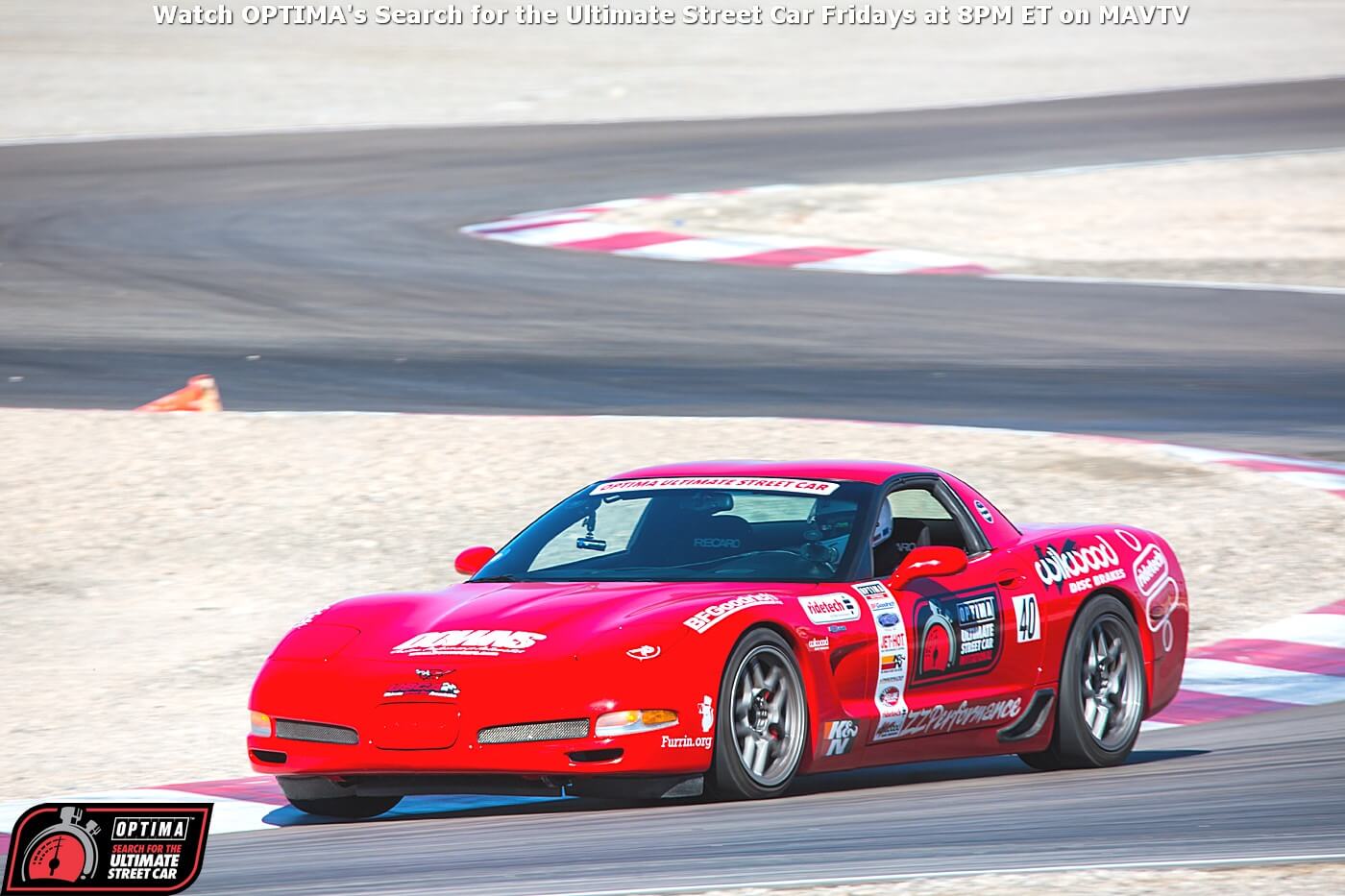 Ultimate Streetcar
Sponsor

OPTIMA Batteries

Location

Las Vegas, NV
As the dust begins to settle from the 2014 OPTIMA Ultimate Street Car Invitational (OUSCI), presented by K&N Filters, and we look toward the 2015 season, we wanted to check in with competitors from the 2014 OUSCI and ask them about their experience. We begin these looks back with Bradley Yonkers and his 2002 Chevrolet Corvette (because he was the first one to respond). Yonkers earned his invitation to the 2014 OUSCI by winning the GT2K class (under 3,000 pounds) at the qualifying event at Pittsburgh International Speedway.
Yonkers' Vette came to Vegas ready to take on the competition, but Brad had realistic expectations. "I didn't want to finish last and was hopeful of finishing in the top half and possibly getting a 25th or higher in at least one segment," says Yonkers. "I met both of those goals finishing 41st overall and just barely missed my final goal with a 28th in the BFGoodrich Tires Hot Lap Challenge, which surprised me, as in the past the BFG Hot Lap Challenge has been my weakest segment."
As a refresher, Brad's C5 was powered by a 450-horsepower LS6 with XS Power longtube headers, BFG Rival tires mounted on the stock wheels and upgraded brakes from Wilwood. "The only real unexpected issue I had was how much better the Wilwood brakes stopped, versus my old setup," says Yonkers. "I hadn't gotten to do any track testing with them prior to arriving in Vegas, so the Wilwood Disc Brakes Speed Stop wound up being my shakedown. I found myself constantly stopping too soon or double-braking and sliding through the finish cones and I feel my overall standing there (52nd) reflects that."
Yonkers' results were even closer than the numbers indicate and drive home the point of how close the competition was and how much difference just a few ticks on the clock can make. Just 1.21 seconds was all Bradley needed to move into the top-25 BFGoodrich Hot Lap Challenge, while that same margin would've easily landed him in the top-20 in both the RideTech Street Challenge Autocross and the Wilwood Speed Stop Challenge.
"The only things I would've done differently, would've been to fly down earlier and enjoy the entire week at SEMA," admits Yonkers. "The event is so big, that when we flew down and only had Thursday and Friday to explore, we couldn't come close to seeing everything! I'd also probably not modify anything on the car without having at least one shakedown event prior to the big show."
Like many competitors Bradley was very impressed with the field of cars in the 2014 OUSCI. "No event I've ever been to had such a large variety of makes, models and years and the competition was far tighter than expected!" says Yonkers. "It's a lot of fun competing with such a varied group of cars that are all so close in performance."
Bradley was surprised by how many competitors raised the bar for the SEMA Show and the OUSCI. "Cars that I had previously beaten soundly were boasting double the power and more suspension and tire, along with improved drivers," says Yonkers. "I really had to re-calibrate my sights and step up and drive my best to keep up!" Yonkers was surprised that the event seemed a bit more hectic and lacked some of the things he'd taken for granted at qualifying events, but he also appreciated how much larger this event was and knew growing pains were to be expected.
"The 15-minute segments on the BFGoodrich Hot Lap Challenge suited me just fine," says Bradley. "Normally by about 10 minutes or so the tires have overheated and its impossible to go any faster, so the shorter sessions worked well in that respect. The shorter sessions were overall a bit easier on the car, which I appreciated, as we had to make a 2,000-mile drive back to Michigan after competing all weekend! (which was a lot of fun and added another fun element to the trip)"
We know where the official results say everyone finished, but we're always interested in hearing which vehicles impressed the competitors the most. It is the respect and admiration of peers that often means more than any finishing position in the OUSCI, so we'll be asking the competitors who their favorite vehicles were from the OUSCI. Bradley cast votes for John Lazorack III's Chrysler Conquest and JF Launier's Buick Riviera. "John's Conquest was my personal favorite car, because the attention to detail is so incredible for something built as a track weapon and John is a really humble guy to talk to," says Yonkers. "I was also impressed that JF Launier was there beating on his priceless Riddler award-winning car!"
Bradley also wanted to tip his hat to the RS Motors guys. "Andy Smedegard and Michael Vida picked us up from the airport at midnight when we flew in because I overlooked renting a car," says Bradley. "These awesome folks were guys I'd only met once or twice before and they took us in like family! Honestly, everyone at the OUSCI is so impressive, the stories all so unique and friendly, that it's hard not to be impressed by every single person in attendance."
The only advice Yonkers would have to offer other potential competitors is to get out there and do it! "Any car, any skill level, it doesn't matter," says Yonkers. "If you like going fast and meeting cool car people, you owe it to yourself to at least try one event. Sure, you might not win, but I guarantee you'll meet new friends and have a blast anyway."
If you'd like to see more of Bradley's Corvette and find out what he has planned next, you can read his build thread at CorvetteForum.com. The folks at Boosted Films also put together an OUSCI video that features Yonkers' C5.